Cheatsheet: Kroger leans on private label growth to drive sales, offset digital investments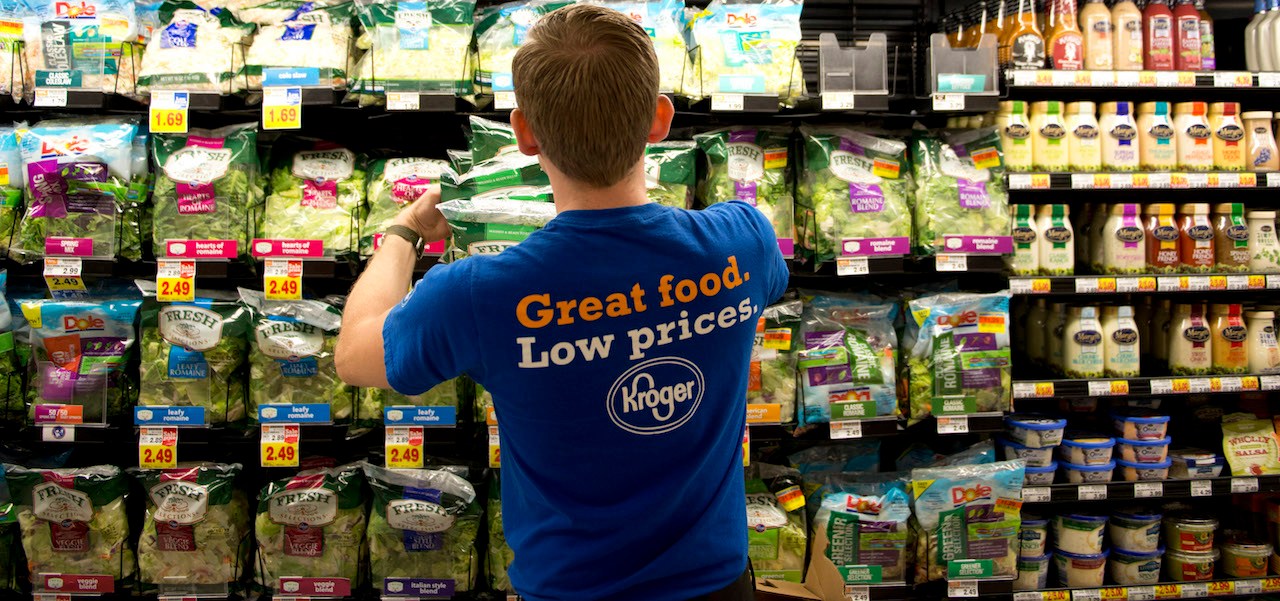 During its fourth quarter earnings on Thursday, Kroger reported its biggest increase in operating profit all year, a sign that its cost-saving measures are starting to pay off even as it makes costly investments to grow its online business.
Kroger reported that fourth-quarter identical sales, excluding fuel, were up 2%, while digital sales were up 22%. Total company sales were $28.9 billion, compared to $28.3 billion last year.
Additionally, operating profit during the fourth quarter was $537 million, up 37%. Kroger has struggled to grow its operating profit this year while it's in the midst of an initiative called Restock Kroger. Announced in 2017, Restock Kroger is an initiative that called for Kroger to invest more in tech and infrastructure updates, as well as using its shopper data to improve e-commerce sales and  create new lines of business, like a precision marketing arm.
While the initiative called for $1.7 billion in investments, the hope is that it would generate $400 million in incremental operating margin by 2020. In 2019, Kroger said its alternative lines of business generated over $100 million in incremental profit. Most of that profit came from its personal finance business and media business.
"Restock Kroger is the right framework to reposition our business," CEO Rodney McMullen said during a call with investors. 
Below are other highlights from Kroger's earnings today.
Private label bonanza
Kroger generated a lot of sales growth this year from private label products, which also help Kroger improve its margins. Kroger said that its private label brands generated a record $23.1 billion in sales in 2019. In total, it has three private label brands that have eclipsed $2 billion in sales. This year, Kroger leaned heavily into the trend of plant-based products, introducing 39 plant-based products in 2019 like meat substitutes.
Kroger doesn't just sell private label pantry staples, but also has released more higher margin private label items in recent years like meal kits, clothes and office supplies.
"Across all of own-label, a lot of effort is made in-store to display products well and marketing via email is also strong," Neil Saunders, managing director of GlobalData Retail said in an email. "Because of both these things, Kroger consumers are very familiar and trust the company's various brands."
Coronavirus
Kroger, like other big-box retailers, declined to say how the coronavirus might impact its sales this year.
"From a financial standpoint it is too early to tell the effect on our business," McMullen said. We are not seeing anything so far that would cause us to change our guidance." 
When asked on the call whether its seeing a sales bump for any particular products, CFO Gary Millerchip said that February sales were in line with expectations, and it was too early to extrapolate anything from March sales data so far. Some CPG companies, like Campbell Soup, have already said that they see retailers buying some more of their typically less popular, but more shelf stable items.
But on its website, Kroger now has a notice posted that it will be limiting the number of sanitization, and other cold and flu related products to five per order, due to high demand.
E-commerce isn't free
Compared to Target and Walmart, Kroger is an outlier in that it charges a fee for its order pickup service. The fee varies by region, but according to Kroger's website, the grocery pick up fee is waived the first three visits.
McMullen said during the earnings call that over the holidays, Kroger testing dropping the pickup fee in select markets. He declined to say, however whether Kroger would commit to dropping the fee in the future.
"At any point in time we will probably have 20 or 30 different types of tests going on [related to pickup]" McMullen said. He said that the company has found that consistently providing fresh, high quality produce, as well as a "seamless" experience, continue to be the most important levers in getting customers to come back to Kroger for its grocery pickup service. 
"Kroger is still in the process of growing its digital business so the impact is masked right now by the addition of new stores into the pickup service," Saunders said. "Once the business matures a bit, the decision might need to be reviewed."