'A second landing page': Checkout feature forces brands to rethink Instagram reliance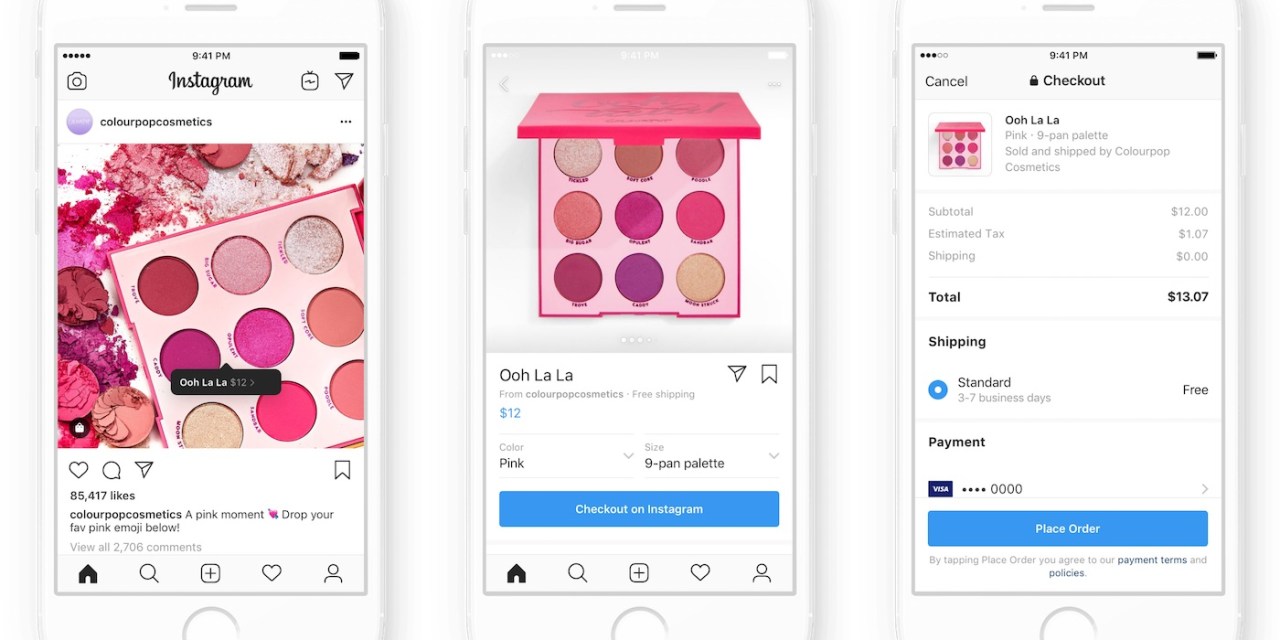 Instagram's new checkout feature means a whole new way to shop on Instagram. But for direct-to-consumer companies, it could pose new questions around how reliant they want to be on the platform.
Announced Monday, Instagram is testing a checkout feature in closed beta with over 20 brands, including DTC companies Outdoor Voices and Warby Parker. It will allow customers to pay for and manage their orders directly within the Instagram app. For now, Instagram checkout will accept payments via Visa, Mastercard, Discover, and PayPal. When the feature expands, brands will be able to integrate with Shopify, BigCommerce, and other platforms. And this means that nobody would need to leave for retailer sites to buy products, which means the company will own all the data during the discovery, shopping and checkout process, letting Instagram (and Facebook) strengthen its own data capabilities.
And it's likely not the only new shopping feature that will be coming from Instagram this year — Instagram's head of product told Bloomberg that he sees shopping as the next big business opportunity for the app, after advertising.
"We view checkout as a way to make shopping even easier for our users, and if eliminating the need to leave the app makes that process more seamless, we're comfortable with that," Warby Parker co-founder and co-CEO Dave Gilboa said.
One of the biggest concerns for the new program is data. For brands, directing customers to purchase items on yet another third-party platform means giving up more data control — and less info about the customer than if the purchase was on the brands own website.
"The downsides [of checkout] include losing the customer behavior info that Instagram won't share with us, and the chance for customers to browse around other products on our sites, as well as a fee that will likely not be negotiable or more competitive than our existing e-commerce one," Vadim Grinberg, vp of consumer growth and insight for DTC handbag brand Dagne Dover said when asked what he thought about a feature like Instagram Checkout. Still, he said that Instagram is one of Dagne Dover's main acquisition channels, and that if they used Instagram Checkout when it becomes available, "it should result in more Dagne customers overall."
First party data is so important for DTC companies because that's one of the reasons why many of them cut out the middlemen in the first place — before, when these types of companies would have had to sell through wholesale partnerships, they would have had no insight into how those customers discovered their products, and how often they return to purchase similar items. Instagram has said that merchants will get the contact info and address of customers who buy through Instagram Checkout — but there's no question that companies would get more if purchased through their own website.
Still, when it comes to Facebook and Instagram, many of these DTC companies are between a rock and a hard place — there likely won't be enough DTC brands to have leverage over Facebook to say, change the cut of each fee it takes. But, for many of them Instagram remains their most valuable referral channel — which means that given the option, they don't have the choice to not enable checkout.
"I am always thinking about the future and making sure we're not too reliant on a platform who can change the rules," Jacquelyn DeJesu, the founder of DTC bathing cap brand Shhhowercap said. DeJesu says she views Instagram as a "second landing page." "I think a good rule of thumb for any founder is to make sure your company can survive if Instagram or Facebook shut down tomorrow. A lot of companies wouldn't be able to say they could. That's scary."
While Facebook has the reputation of being the launching pad for the earliest DTC companies like Warby Parker and Casper, the DTC companies Digiday spoke with say that Instagram is actually more valuable for them than Facebook. A spokeswoman for Burrow, which sells couches direct-to-consumer, said that money spent on Instagram accounted for 18 percent of the company's total marketing budget in 2018, and that it has "consistently been in the top three for driving amount of orders and net news customers for Burrow."
"We're pretty excited [about Instagram Checkout] — I think as a DTC brand, Instagram and every social media platform, they are such very important doors for our consumer to interact with the brand and get to know our product," Gianmaria Schonlieb, creative director for Burrow said.
Aaron Luo, the CEO of luxury bag and accessories brand Caara, believes that enabling customers to pay on a variety of platforms is the cost of doing business for DTC brands today. Caara is active in China, so he said the biggest thing he wants to know is how similar the payments experience on Instagram will compare to WeChat.
"With WeChat, it's pretty seamless for a customer," Luo said. "With Facebook or Instagram I don't think we're quite there in the U.S."
—
Sign up for the Modern Retail Briefing to get retail news, analysis and insight delivered to your inbox every morning.
Want to discuss this with our editors and members? Join here, or log in here if you're already a member.