Cowboy boot brand Tecovas targets $200M in gross sales as it adds new CEO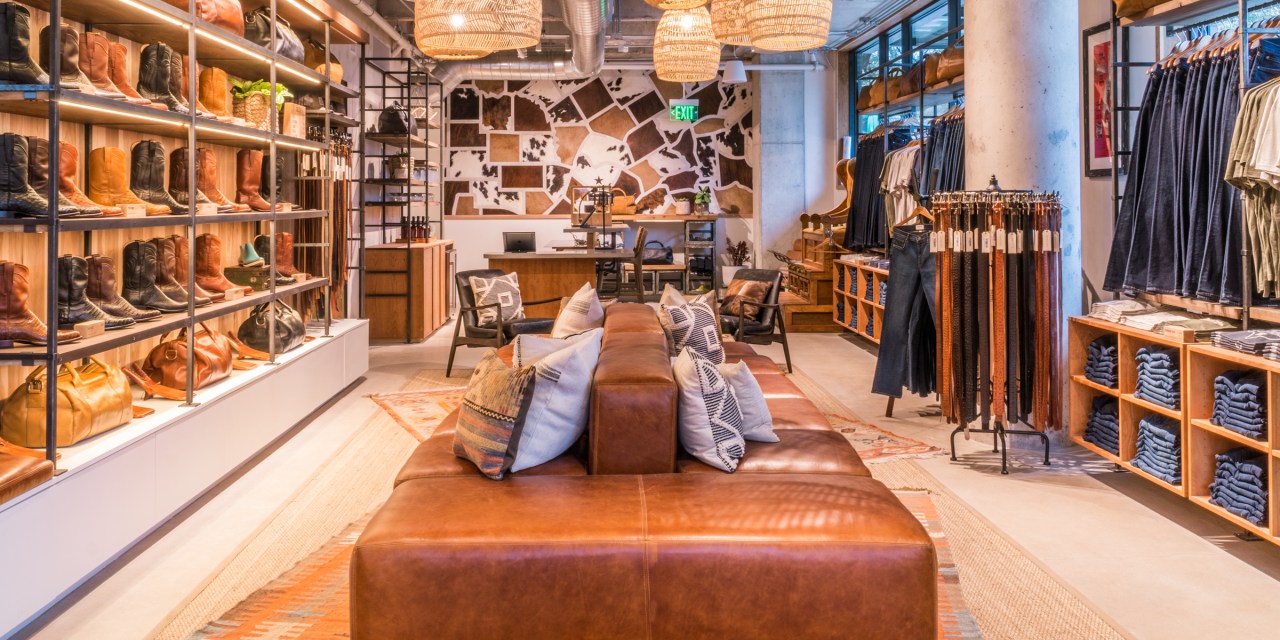 Tecovas
Tecovas, an Austin-based startup that sells cowboy boots and other western apparel, is bringing on a new CEO as it hopes for a massive year of growth. 
Last week, Tecovas announced that Deckers chief operating officer David Lafitte would be joining the startup as its CEO, effective June 27. Founder Paul Hedrick will be transitioning to executive chairman. The c-suite shuffle comes as Tecovas is projecting over $200 million in gross sales this year (which the company calculates as revenue after discounts, but before refunds from returns) after growing more than 70% last year. The company was also profitable last year. 
In order to reach that goal, Tecovas plans to open 15 new stores in the next 18 months. Today, the company has 20 locations. Another big area of focus will be adding new product lines. Tecovas got its start selling cowboy boots, but now 20% of its revenue comes from accessories like leather wallets, as well as men's apparel. This year, Tecovas will expand that assortment to include women's clothing. Put together, Tecovas' next phase of growth is centered around reaching new types of customers and transforming the company from a regional name into a nationally-recognized brand. 
"We're in really early days, especially on apparel," Hedrick told Modern Retail. "We've really only focused on making sort of the basics and getting some tight seasonal runs. We think there's a pretty big opportunity there." 
Tecovas, founded in 2015, is looking to capture a greater share of the Western wear market — which includes cowboy boots, but also ranch-inspired wear like jeans and trucker jackets. Boot Barn is one of the biggest players in this space, reporting $1.5 billion in sales last year.
In addition to Lafitte, Tecovas has also brought on four other executives so far this year: a new chief marketing officer, chief product officer, chief supply chain officer as well as a senior vice president of retail.
In an interview with Modern Retail, Lafitte said that he first met Hedrick roughly three years ago. "I think Paul is an incredible merchant," Lafitte said. "[Tecovas] isn't trying to do everything for everybody… I think it's a very approachable brand for consumers who may not be cowboys, but they may like the Western lifestyle." 
Tecovas' core product is what Hedrick describes as "high-end, comfortable, long-lasting" cowboy boots that start at around $255 on the men's side. More than 70% of the company's business today comes from men.
While some Tecovas customers do want to stock up on multiple pairs, the goal of the product is that "you don't really need to replace it," Hedrick said. In order to drive more repeat purchasing, Tecovas' has relied on a variety of products and services outside of its core cowboy boot collection. The company offers boot restoration for $150. The company launched apparel in 2018, and for now only sells 15 items in the men's category — mostly limited to basics like jackets and t-shirts.
Hedrick said that in addition to building its apparel collection, the company is also looking to do more limited-edition and seasonal collections going forward. The company launched its first limited-edition line in 2019, a collection of snakeskin boots that sold out within a day.
NPD Group analyst Beth Goldstein told Modern Retail in an email that Tecovas appears to be taking a similar approach to many luggage startups, in betting on new product categories to drive up repeat purchase rates. "Because purchase frequency is low in this category and brands have really focused on quality and durability, they have launched peripheral products to complement the core suitcase offerings," Goldstein wrote. She cited Away as one such example, which now sells tote bags, backpacks and pet carriers, in addition to its roller suitcases. 
The company is also betting on new products to drive store sales, especially for those customers who don't yet know if they want to shell out $300 on a pair of cowboy boots from a startup. According to Goldstein, roughly 60% of footwear stores still come from stores, though that's down from almost 70% pre-pandemic.
Right now, Tecovas' stores are largely concentrated in the southeastern and southwestern U.S. Tecovas opened its first store in Austin in 2019, and nearly half of its stores are in the Lone Star State. When the pandemic hit, "we kept all of our new stores in the pipeline, even though those were the things that pretty much every other brand we knew was trying to cut out," Hedrick said, with Tecovas opening eight stores between February 2020 and August 2021.
"In the near term, you'll see us more focused still on the southern [U.S.], kind of radiating outward," Hedrick said. He said that Tecovas is focused on becoming a national brand — and that wholesale and international expansion are not near-term focuses for the company.
Lafitte, for his part, said that his big area of focus as he takes over as CEO is "to make sure that we don't have constraints in the supply chain that would constrain growth."
"Things are going well," Lafitte said. "The worst thing you can do is come in hot with a bunch of action items when you don't know what needs to be taken care of.