Despite profit hit, Home Depot proves out its digital bets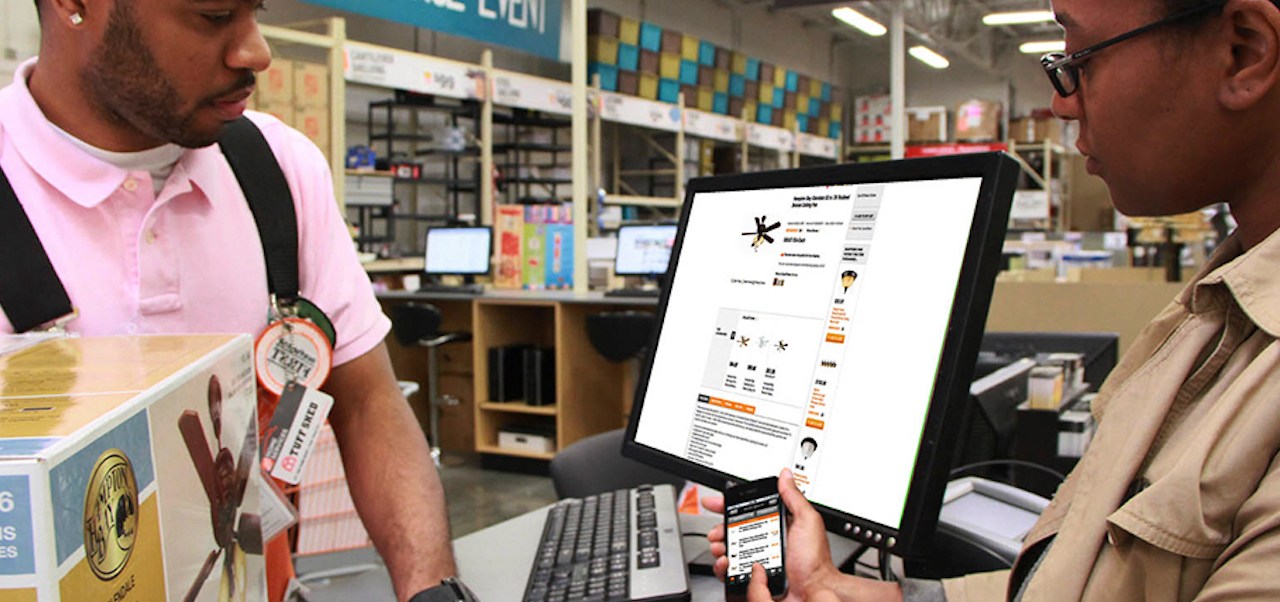 Home Depot's digital investments are finally paying off.
The company has spent the last four-plus years revamping its digital infrastructure, through a program called "One Home Depot." The idea was to invest $5.4 billion to update all of its e-commerce and fulfillment capabilities as well as build out a better digital infrastructure for its business-to-business offerings.
While One Home Depot has been in place since 2017, it hadn't produced the intended effects. The company estimated its fiscal 2019 sales to grow 2.3% year-over-year, but they only went up by 1.8%. Home Depot had announced it planned to hit $120 billion in revenue by 2020, and that target was looking less and less feasible.
Now, Home Depot's sales saw a major boost. Revenue grew by over 7% year-over-year this past quarter to $28.26 billion. Same-store sales also saw a 6.4% boost. Net income, however, fell 10.7%. This had to do with the company paying associates bonuses and doubled overtime over the last few months, as well as the increased cost of digital sales; online sales grew 80% according to the company. And over 60% of the digital sales opted for in-store pickup fulfillment.
"As shelter-in-place orders were rolled out across the country in mid to late-March, we saw our digital businesses accelerate from approximately 30% growth in early March to triple-digit growth by the end of April," said Ted Decker, Home Depot's evp of merchandising, during the retailer's earnings call.
All the same, Wall Street wasn't too thrilled on the hit to operating income — the stock fell by about 2% once the earnings hit. The revenue growth, however, is almost certainly thanks for earlier digital investments. Home Depot is "once of the companies to really dive into online," said David Marcotte, svp of cross-border retail at Kantar. Competitors like Lowe's, he went on, have been "somewhat behind."
The lowered profit margin, he said, was due to both the acceleration to online — which has more costs associated — as well as the fact that the world was turned upside down. Stores had to "absorb additional costs [as well as] deal with a bunch of different vectors," he said. "They just went through three months of chaos and came out looking really good," Marcotte said.
Six months ago, much of the conversation was around whether or not investing in better digital infrastructure would provide quick enough dividends. "This will be a dilemma for a lot of retailers as they look to invest in digital," Neil Saunders, managing direct of GlobalData Retail told Modern Retail last November. "It is far easier to justify this in a fast-growing market. As things slow down some might look to cut back or reduce the pace of digital spend.
Now, things have changed significantly. "When the crisis hit, [Home Depot was] more nimble," said Amar Singh, principal analyst at Kantar. He pointed to robust digital features like in-store mapping which made it possible for customers to feel more safe and efficient when making purchases. The only thing that Home Depot needs to invest more in down the line to keep this momentum, he went on, is automation. "The back end stuff will be automated," said Singh, which will free up associates from fulfillment needs to help with more customer-facing activities.
This quarter — as well as next — will be a real test for big retailers. Margins and profitability will almost certainly be hit, but the winners will be the companies that had the right digital infrastructure in place.
Home Depot's omnichannel program, said Singh, "is considerably more robust than it was before — more robust than most other companies."