Earnings
// November 20, 2019 ■ 5 min read
Home Depot's digital investments are not paying off as expected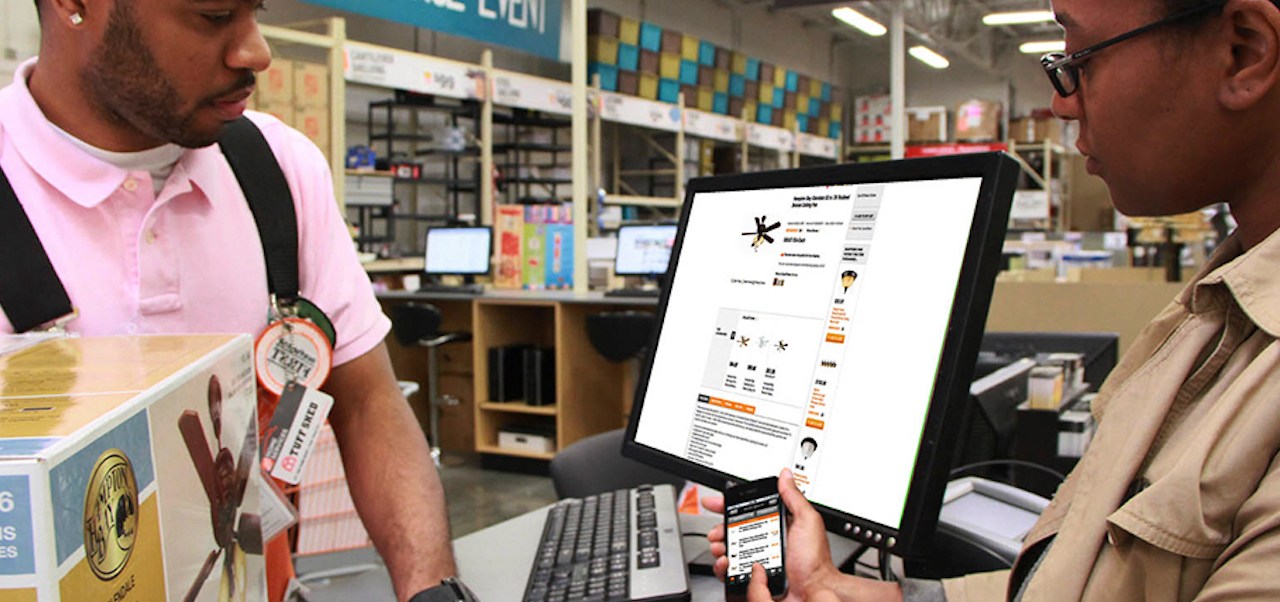 Home Depot has been spending a lot of money to improve its website and fulfillment capabilities over the past couple of years, promising investors it will help drive both in-store and online sales. So far, signs suggest those investments haven't delivered the returns the company expected.
In 2017, Home Depot unveiled "One Home Depot," which called for the company to invest $5.4 billion over the next three years to improve e-commerce capabilities, add more fulfillment capabilities like buy online, pickup in-store, and to redesign the website for its business-to-business customers, which the company refers to as "pros." In return, Home Depot expected sales to hit $120 billion by 2020.
But Home Depot is finding that it's taking longer than expected to roll out some of its new capabilities. During its third-quarter fiscal year earnings on Tuesday, the company cut its sales forecast for the rest of the year and said it was taking longer to see the payoff from digital investments than it had initially anticipated. Initially, Home Depot had expected its fiscal 2019 sales to increase by 2.3% compared to the prior year. On Tuesday, it revised those expectations down to a sales increase of 1.8% year-over-year. For Home Depot, this puts added pressure on the company to ensure that the rest of its digital investments go according to plan, and to hit its sales targets in subsequent quarters.
Many legacy retailers are trying to justify expensive, short-term investments in their digital or omnichannel business by making rosy projections about how revenue it will bring in the long-term. Not all of these projections will come to fruition — Kohl's, which also reported earnings on Tuesday, slashed its profit forecast for the year as it's still waiting to see a greater sales lift from enabling Amazon returns at all of its stores in July. Meanwhile, Under Armour also recently cut its revenue forecast for the year as it struggles to boost direct-to-consumer sales. But many will try to point to other signs of health in their online business in order to continue to convince Wall Street they're on the right track.
Neil Saunders, managing director for GlobalDataRetail, noticed that Home Depot's slowdown in growth also coincides with a general slowdown in consumer spending in September. Home Depot is also facing greater competition as its biggest rival, Lowe's, posting better sales growth than Home Depot last quarter for the first time since 2016.
"This will be a dilemma for a lot of retailers as they look to invest in digital," Saunders said. "It is far easier to justify this in a fast-growing market. As things slow down some might look to cut back or reduce the pace of digital spend. Such a short term view will likely help the bottom line but it's the wrong step in terms of the future viability of the business."
"Our rolllout is largely on track and we're realizing benefits, it's just taking a little longer than our initial assumptions," CEO Craig Menear said on a call with investors. During the third quarter, Home Depot reported total sales of $27.2 billion, up 3.5% year-over-year. The biggest issue, said Menear, is that it's taking longer than expected to complete some necessary IT work "before turning on additional elements of personalization and functionality for our larger pro customer."
Menear pointed to other positive signs of growth in Home Depot's business. Online sales grew 22% during the third quarter, and more than 50% of its online orders are now picked up in stores, which helps the company save money that would have been spent on shipping. And, the average price per transaction in the third quarter of $66.36 was up 1.9% from last year.
Home improvement chains such as Home Depot and Lowe's are, like other retailers, eager to grow online sales as in-store sales have slowed or declined in recent years. But they also face a couple of unique challenges. One, many items that these stores sell like light fixtures and lumbar are heavy and difficult to ship to individuals, so they have to invest more in building out buy online, pickup in-store capabilities. Home Depot has installed lockers dedicated to picking up online orders in 1,300 of its stores 2,290 stores.
Second, Home Depot generates about 45% of its sales from professional contractors, who need a different digital and in-store experience compared to individual or "do it yourself" customers, as they typically tend to buy more in bulk.
"We think of these [home improvement] companies as being B2C focused — but the dirty secret is a big chunk of both companies' business is B2B," Jason Goldberg, chief commerce officer for Publicis, told Modern Retail earlier this year.
This year, Home Depot rolled out a new website for its pro-customers, and has on-boarded about 780,000 or 30% of its pro customers to its website. Home Depot is looking to the new website to help it increase both the number and volume of transactions. This quarter, it added a "buy it again" button to its website to encourage repeat purchases.
But some of the projects that will be most critical to increasing transaction number and volume are the ones that are taking longer than expected to implement, like adding personalized product recommendations to its homepage. This quarter, the company was also finally able to link the legacy has made available to pro customers to the website, so they can get loyalty points for any purchases made both in-store and online.
"The investments being made in multichannel, improving store layouts and signage, and the continued development of the professional segment will all become increasingly important as Home Depot tries to maintain its edge," Saunders said.