Despite recent digital inroads, Pepsi's growth relied on in-person sales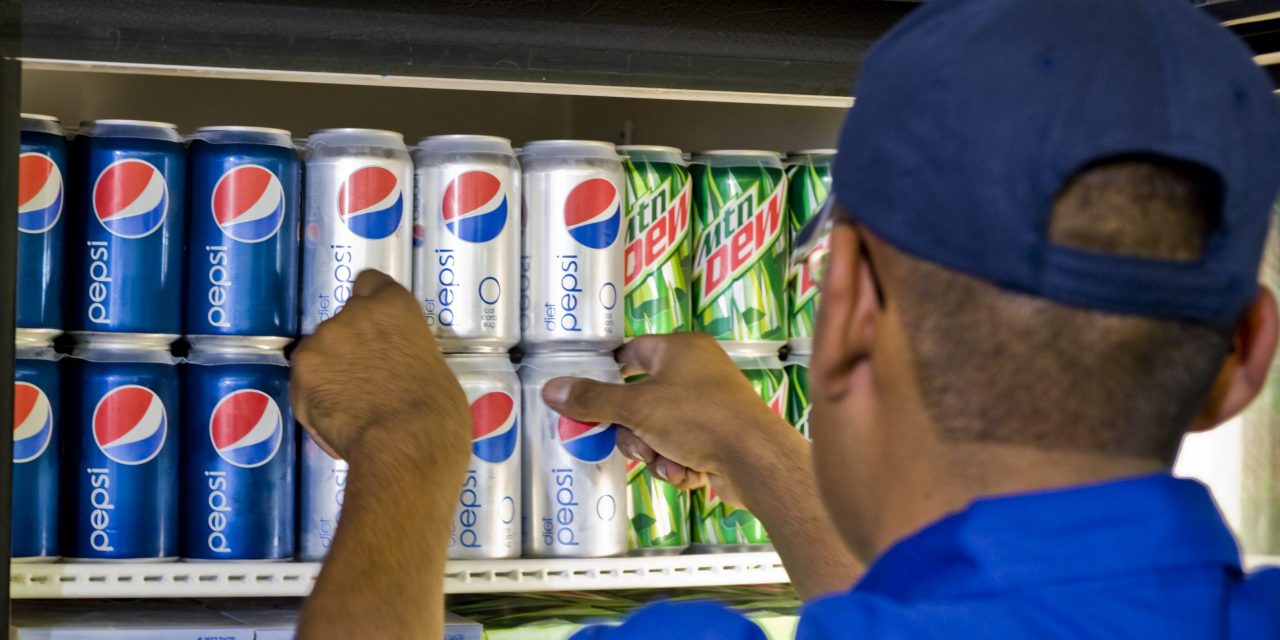 PepsiCo
After a year of heightened e-commerce sales, PepsiCo's focus has shifted back to in-person sales.
On Tuesday, PepsiCo announced second quarter net revenues were up 21% year-over-year to $19.2 billion. In North America, Pepsi-Beverages' revenue grew 24% year-over-year, outpacing Frito-Lay's snack-based assortment, up 7%, as well as Quaker Oats, down 13% after a second quarter pandemic boom in oatmeal products last year. A return to in-person consumption and buying at bars and restaurants and big box and convenience stores — rather than e-commerce — drove sales. Going forward, company executives suggest Pepsico will focus on sustainable and healthy branding as well as in-person sales.
"Globally our beverage business is growing much faster in the away-from-home business, obviously as the stores are open and people are moving around," said PepsiCo chairman and CEO, Ramon L. Laguarta.
Hugh F. Johnston, PepsiCo vice chairman and CFO, added that, in particular, foodservice doubled and convenience stores experienced "double-digit" growth. Johnston suggested that this was less about Pepsi's unique efforts and more about consumers' return to pre-pandemic buying behaviors.
"I don't view this [as] extraordinary, I just view it as we're getting back to sort of a more normal world," said Johnston.
As the world has returned to normal, PepsiCo has started to resume more marketing campaigns with restaurants — the company partnered with Papa Murphy's locations to offer a Frito pizza, and built a campaign with fast food retailer Pep's Place that has consumers order their drink first then be offered food that pairs well with their favorite Pepsi product.
During the height of the coronavirus pandemic, Pepsi pivoted towards e-commerce, with its its e-commerce sales doubling quarter-over-quarter in the third quarter of 2020, bolstered by an uptick in grocery delivery.
Also during the pandemic, PepsiCo launched two of its own direct-to-consumer websites: Snacks.com and Pantryshop.com. However, traffic to both of these websites has been "volatile" since launch, said Alisha Kapur, senior manager of travel and e-commerce at web analytics firm Similarweb.
"Pepsi's investment in Snacks.com and Pantryshop.com is a long-term play to build a stronger direct relationship with their consumers," said Kapur. "Snacks.com is the more successful venture so far…[traffic] is four times higher for Snacks.com than its launch in May [2020], whereas Pantryshop's traffic is down 54%."
Kapur added that Snacks.com's customizable, 20-bag variety pack of chips and snacks, in particular, drove multiple consumer traffic spikes to the website and that 31% of the site's total site traffic goes directly to that variety pack page. However, while consumers may still head to these sites to buy in bulk in 2021, neither site was mentioned at any point during PepsiCo's earnings presentations.
Instead, prepared remarks stated that Frito Lay's most successful channels were convenience, gas, and food service, while Pepsi Beverages excelled in large format retail, convenience, and food service. These channels each saw double digit growth, suggesting a return to more traditional snack and beverage buying behaviors – in-person and in smaller quantities – is the more likely future for Pepsi.
Promoting healthier products
Another focus going forward for PepsiCo is a continued focus on sustainability and health. Full-sugar soda sales have been declining for years while bottled water sales were up 5.7% in 2020. Under a company-wide push towards increasingly healthy options, PepsiCo highlighted that it plans to reduce added sugar across its portfolio by 25% globally by 2025.
Health, explained Laguarta, has driven the rise of multiple sales trends including "portion control" and "non-sugar." Because of the former, the company has seen "huge growth" in variety and multi-pack snack bags that offer smaller, pre-portioned servings of chips and other snack foods.
In a play for the latter, the company is continuing to invest in non-sugar beverage research and development, continuously creating new products with no or low calories and sugar and adjusting zero-calorie formulas to align more closely with full sugar products, as well as building out a fuller line of low or non-sugar beverages via acquisitions.
Over the past two years, for example, Pepsi invested in an expensive marketing campaign tied to the Super Bowl to promote its preexisting Pepsi Zero product, launched a zero calorie sparking water brand called Driftwell with products made with ingredients like L-theanine and magnesium to promote "stress relief" and acquired Chinese low-calorie-drinks and healthy-snacks brand Be & Cheery. Gatorade Zero alone, said Laguarta, drove over $1 billion in sales in 2020.
"I think we're getting very good at providing the consumers with very good taste experiences and functional experiences with zero sugar," said Laguarta. "We have a much higher share in the non-sugar category than we have in the sugar category… we see that trend not stopping for the foreseeable future and [it] is where we are putting our R&D investments, our brand investments and our innovation investments."