DTC brands see frozen food as the next trending category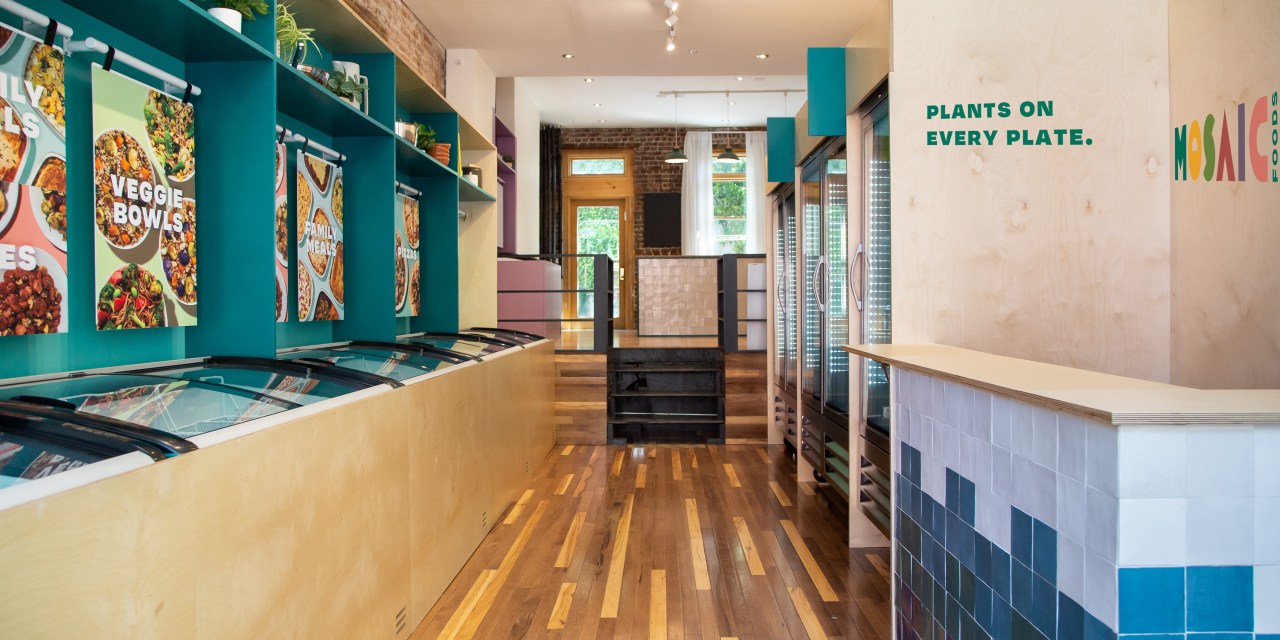 Mosaic Foods
Frozen goods may have gotten a bad rap in the past for being a quick and unhealthy food option, but several direct-to-consumer food brands are now turning the narrative around by mixing high-quality products with convenience.
Mosaic Foods, a company that launched three years ago, has centered its business around delivering healthy frozen meals that can be ready in five minutes. Fly by Jing, which started as a Chinese condiment brand, expanded into the fresh and frozen category by adding dumplings to its assortment back in November. Just under two months after Fly by Jing unveiled its dumplings, the company sold over a million, while Mosaic has sold over a million meals to date.
Food startups are trying to reinvent the frozen category by appealing to people who want healthy and easy-to-prepare foods that look more like a complete meal. During the pandemic, when people were stocking up their pantries, DTC brand founders interviewed by Modern Retail said they saw a demand for products in the frozen category. Frozen food sales rose 21% in 2020, which is double the rise of fresh food sales, according to a report from Deloitte in September. As consumers continue to rely on frozen foods for convenience, the category may see continued growth and competition. 
"A lot of people who had walked away from the frozen category in grocery were more open-minded to it when going to the grocery store felt like a more daunting task in the middle of COVID," said Matt Davis, co-founder and CEO of Mosaic Foods. "People were under lockdown, people were trying to limit exposure. And so, a lot of people turned to online retail and different food subscription services to try to get that unmet need."
Thanks to rising consumer demand, Mosaic Foods – which sells veggie bowls, soups and oat bowls – grew 200% year-over-year, Davis said. Inspired by frozen-only stores in Europe like that of French food company Picard Surgelés', Mosaic opened its own frozen-only pop-up store in Brooklyn's Prospect Heights neighborhood in May and plans to explore additional channels for growth in the future. The company has raised $10 million in funding to date. 
"What we realized is that if you cook great food, freeze it when you reheat it, it's still great food," Davis said. "As simple as that sounds, it's not necessarily what you see in today's grocery aisle."
According to the same report from Deloitte, consumers are not as tolerant of perishable now as before the pandemic. Katie Hotze, CEO and founder of retail tech company Grocery Shopii, said that people are looking for solutions to minimize the stress of household responsibilities like cooking. She added that there were plenty of opportunities for online brands to provide innovative solutions. 
Other companies are charting out growth plans in the frozen category as well. Daily Harvest – a DTC food brand offering frozen smoothies and grain bowls, among others – began offering a selection of ready-to-bake dishes in January called Harvest Bakes. Frozen kids' meal brand KidFresh has added new frozen products to its assortment in May and has been building out its brick-and-mortar strategy by partnering with Whole Foods and Publix, among others in recent years. 
"There's post-pandemic meal fatigue: You have stressed out moms, you've got parents who are sick of cooking in their kitchen," Hotze said. "Everyone's looking for solutions."
For Fly by Jing founder and CEO Jing Gao, launching frozen dumplings was a natural extension of her business. "One of the feedback that we've received over the years from our customers is that one of the top things that they put their sauces on are dumplings," she said.
The frozen dumplings received an immense amount of press coverage, which made the product go viral. Gao said Fly by Jing plans to launch a plant-based version of the frozen dumplings towards the end of this year.
"It's reaffirming our North Star of continuing to produce products that are super high quality," Gao said. "We kind of made our products for ourselves because we didn't see anything out there."
Mosaic's Davis said the frozen category is growing increasingly crowded with players launching more frozen products. Even traditional brick-and-mortar retailers are banking on the frozen category to take off. Home retailer Williams Sonoma, for instance, also sells a variety of frozen prepared meals like bacon macaroni and cheese as well as zucchini and corn casserole. PetSmart has partnered with DTC brand Nom Nom to bring fresh frozen dog food at select PetSmart stores and PetSmart.com
"So many food brands are telling you that they're healthy, they're convenient, they're affordable," Davis said. "What I would say is we turn to our customers as the ultimate vote."
One of the ways Mosaic attempts to differentiate itself from competitors is its investment in its product. The company has an in-house team of chefs that makes Mosaic products. Mosaic also launches new products every quarter. One of its upcoming products is a line of smoothies, which comes in nine different flavor profiles and ingredient combinations.
With all the innovation happening in the frozen category, Davis said he expects the category to see broader adoption as the stigma against frozen food diminishes. Brands like Magic Kitchen and MealPro, among others, have also come up with various business models in the frozen category. Magic Kitchen delivers meals without obligatory subscriptions or contracts, while MealPro lets customers customize their plates.
"People are looking with fresh eyes to a category that was once sort of abandoned," Davis said. "You'll see a lot of new companies explore frozen, and a lot of consumers come back."