DTC Briefing: How Monica + Andy is preparing for a mix of in-person and virtual events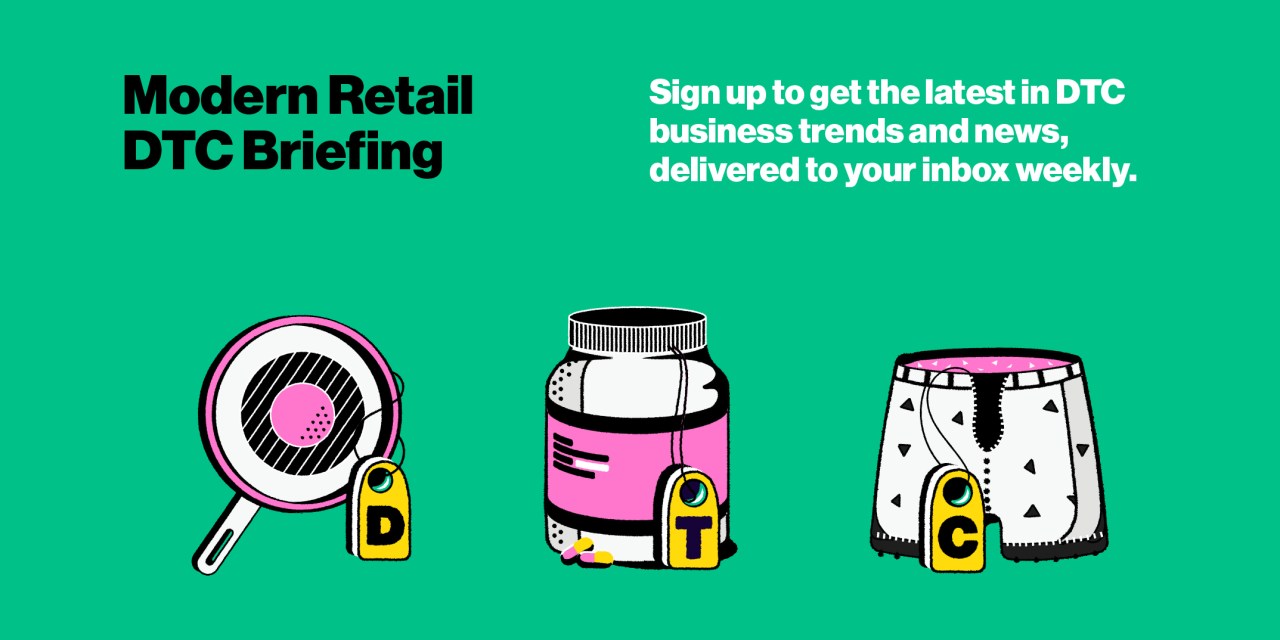 Ivy Liu
This is the latest installment of the DTC Briefing, a weekly Modern Retail+ column about the biggest challenges and trends facing the volatile direct-to-consumer startup world. More from the series →
This is the latest installment of the DTC Briefing, a weekly Modern Retail column about the biggest challenges and trends facing the volatile direct-to-consumer startup world. To receive it in your inbox every week, sign up here. 
Over the past year, many retail startups experimented with virtual events. But for Monica + Andy, an eight year old baby clothing brand, virtual events became a regular part of its marketing strategy.
Monica + Andy has hosted more than 500 virtual events over the last twelve months, which have attracted over 10,500 attendees in total. Events ranged from a panel discussion on dealing with pregnancy and postpartum during Covid to music sessions for kids. Roughly half of the events are free, while ticket prices for paid events started at $10.
Founder and CEO Monica Royer said that going forward, she anticipates half of Monica + Andy's events will be in-person, and half of them will be virtual. As capacity restrictions are lifted on stores and people resume in-person shopping, more DTC startups are considering hosting events once again. Monica + Andy is one of the first brands to commit to a hybrid approach, using in-person events to reach customers who live near one of its stores, while using virtual events to reach those further away.
Before the pandemic, Monica + Andy regularly hosted events at its four stores located in New York City and the Chicago area. Royer describes Monica + Andy as an "events-driven commerce brand," adding that "people discover us around the event of having a baby." Events are a mix of those geared towards parents, as well as those that are geared towards toddlers and kids.
Monica + Andy began hosting virtual events in April 2020. The brand first hosted events to help expectant parents navigate the various changes caused by the pandemic, such as what to expect at the hospital. Over time, the brand started hosting events for a greater group of prospective customers, such as grandparents.
For Monica + Andy, one of the biggest benefits of hosting virtual events was simply that they could reach more people — Royer estimated that the brand's four stores could host anywhere from 20 to 60 people at a maximum; its most highly-attended virtual event, meanwhile had 800 people tune in. Roughly 54% of virtual event attendees thus far have been return customers, while the remaining percentage have been new customers.
"The scale of the ability to reach people was really surprising and fun to discover," said Royer, adding that the virtual events helped the brand reach more new customers on a national level. "Suddenly, we weren't talking to people that were in a specific geographic area."
Rebekah Kondrat, founder of consultancy Kondrat Retail, said that in the early days of the pandemic, "all brands were trying to do some kind of virtual event," in order to maintain connections with customers while stores were closed. But the brands that were most likely to stick with virtual events were the companies who have customers that are connected by a shared interest or experience. In the case of Monica + Andy, nearly all of the company's customers are parents or expectant parents. Children's toy store Camp was another retailer that consistently hosted virtual events throughout the pandemic, such as kids birthday parties and summer programming in partnership with Walmart.
Before the pandemic, events had become one way that brands tried to draw people in-stores often partnering up with other DTC brands to do so. Direct-to-consumer sofa brand Burrow partnered with Ollie, Wild One and other startups to throw an event for pet owners at its Soho store. But many of these events were conducted on a one-off basis.
Now, as brands resume in-person events, the big question is what, exactly, it will take to bring customers back to stores. The pandemic has shown many customers that curbside pickup or other same-day fulfillment options are worth it to forego shopping in stores. Kondrat said in her experience, events hosted by retailers are most successful when there's an educational component, "or it feels like there's a real purpose that ties back to the product."
Melissa Gonzalez, founder of experiential firm Lionesque Group, said that she's seeing brands utilize outdoor spaces more for events, at least through the summer, particularly those that have access to a building rooftop.
Royer said that Monica + Andy started resuming in-person classes at some of its stores in June, starting with a focus on activities for kids, like music classes. "We've found that parents of older children didn't want more screen time over the summer," she said. Monica + Andy is also looking at adding a livestream component to its in-store event, now that it feels like there's still an appetite among its customers for virtual events.
"Our consumers to us at a very similar place in their lives, but all at very different stages," said Royer. "Sometimes customers like being able to [attend a class] at home in the evening after work, rather than coming in to one of our stores after work."
How Food52 is using its latest acquisition to gather customer feedback
In May, Food52 announced that it was acquiring Danish homewares brand Dansk for an undisclosed amount. Found in 1954, Dansk produced over 2,000 SKUs through the height of its popularity. At the time, Food52 said that it planned to relaunch some of Dansk's most popular items from the archives.
Now, that strategy has started to come to life. On the Dansk Instagram page, Food52 has been polling customers for the past few weeks about what products they would like to see Food52 bring back to life, asking them to comment on posts about what their favorite Dansk flatware set has been, or what size stockpots they'd like to see from the brand. Dansk's instagram following has grown by 56% — or about 4,000 followers – since the acquisition. It's indicative of how Food52 views the Dansk acquisition — not just as a new revenue stream or new customer acquisition tool, but also as a content creation tool.
"Because of the history behind the [Dansk] brand, and the loyal following, there's a ton of storytelling and content creation that is available to us," said Warwick Blunt, Food52's vp of e-commerce.
Before the Dansk acquisition, Food52 has been building out its own private label line, Five Two. The line now contains upwards of a dozen products, but pales in comparison to the breadth of Dansk's archives. The Dansk acquisition allows Food52 to supercharge its private label efforts. Blunt declined to give a timeline as to when Food52 might reissue the first Dansk products, citing the fact that the "global supply chain is a mess right now."
"We are working very quickly to think about which items make sense to bring back, as well as what we can bring to market given the current situation, " he said.
What I'm reading
What we've covered
A growing number of startups, like Mighty Gum and Quip, are trying to sell chewing gum online. It's a more difficult task considering gum in convenience stores and pharmacies only cost a few bucks, so DTC startups are trying to tout added health benefits to convince customers to buy their gum online.
Suitcase brands like Away and Australia-based July are coming out of hibernation as travel ramps back up, moving forward with new product launches and expansion into new markets.
Rent the Runway styling service Stitch Fix are among the brands entering or considering entering the resale space. More on why resale is the next gold rush for many brands.