DTC Briefing: Startups brace for fallout from the iOS14 update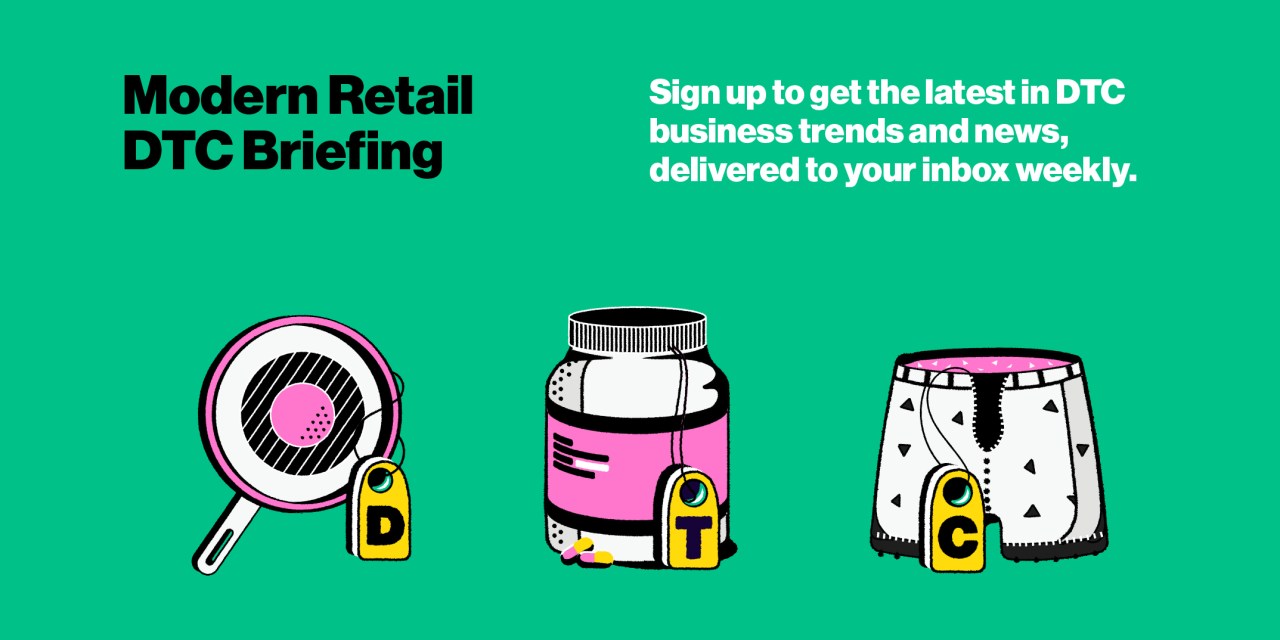 Ivy Liu
This is the latest installment of the DTC Briefing, a weekly Modern Retail+ column about the biggest challenges and trends facing the volatile direct-to-consumer startup world. More from the series →
This is the latest installment of the DTC Briefing, a weekly Modern Retail column about the biggest challenges and trends facing the volatile direct-to-consumer startup world. To receive it in your inbox every week, sign up here. 
This week, the biggest news in the direct-to-consumer space isn't a flashy new product or brand launch, but a software update.
Apple has said that the fifth (and what's expected to be the last) version of its iOS14 update will hit users' phones this week. As part of that, iPhone users should start receiving the App Tracking Transparency (ATT) prompt. With that, iPhone users will now receive a push notification from every app they have downloaded on their phone, asking them if they want to let that app track their activity across the web. As the update hits users phones, it could start wrecking havoc on direct-to-consumer startups' marketing plans. 
This update will have the biggest impact on social media apps (aka digital advertising businesses) like Facebook — and their advertisers. Namely, direct-to-consumer brands often turn to Facebook as an early way to begin quick customer acquisition. Over the course of two years of reporting on direct-to-consumer startups, I've spoken with startups (often those who are one or two years old) that spend as much as 80% of their advertising budget on Facebook, mostly to acquire new customers. So if half of a DTC brands' target audience decides against letting Facebook track their web activity, and that DTC brand spends the majority of their advertising budget on Facebook — that could be a huge deal. 
"We're both curious and anxious to know how it will impact our acquisition strategy," said the head of e-commerce at a shoe brand who said her company depends on "paid social" for the majority of its new customer acquisition. (I spoke with her last week during a working group I hosted last week about how brands are preparing for the iOS14 update, as well as Google phasing out support for third-party cookies.) This gets at a more universal industry sentiment: no one exactly knows how much it will impact advertising performance — as no one knows yet exactly how many people will opt out of tracking.
One of the most immediate ways that brands are preparing for all of these unknowns is to further diversify their advertising spend, so as not to be too reliant on one channel. "It's like having a plan before getting into a boxing ring with someone," said Duane Brown, founder of performance marketing agency Take Some Risk. "You may have to throw everything out the window the minute the bell gets rung — everyone has a plan until they get punched in the face." 
But, performance marketing agencies advise that there are a few things brands can start tracking in the coming days or weeks, to determine just how much the performance of their Facebook ads will be impacted. 
Brown said that for his clients, he is primarily tracking revenue against ad spend across all of the platforms they advertise on, in order to monitor if his clients see a dip in performance. What's unclear with the iOS14 update is just how effectively and quickly Facebook's ad manager will still be to track certain pieces of data — for example, which users add an item to their cart after viewing an ad. Brown will be looking to see just how much data is still flowing into Ad Manager in the coming weeks and months, compared to before the iOS14 update. 
Anders Piiparinen, CEO of digital marketing agency Wallaroo Media, said that for the past several months his company has started using Facebook's one-day click attribution window to measure the effectiveness of more ad campaigns (previously, he might have used a seven-day attribution window) in preparation for the iOS14 update.
For iOS users who opt out of the tracking prompt, Facebook will no longer be able to track what their activity is like on days two through seven after viewing or clicking on an ad, so the fear is that a seven-day attribution window may direct more traffic and spend towards Android users. Facebook will still be able to track, however, if someone who opted out of tracking bought something immediately after clicking on an ad.
Piiparinen said his team will continue to use this attribution window over the coming days, as well as look at how multiple blended metrics shift for various clients — like return on ad spend and cost per revenue — in order to get more of a "big picture" sense of how this is impacting its clients. 
Depending on just how quickly these metrics tank (if at all), some brands may start to more aggressively diversify their marketing spend. Brown said that he is trying to encourage clients to invest more in marketing channels that they have more control over, like email, SMS, and user generated content.
"More brands need to be more media agnostic and not just think that Facebook will save them," said Brown.
CPG brands are exploring ghost kitchens 
Last year, food and beverage companies had to completely rethink the ways in which they tried to get their products to consumers. Many restaurants became combination grocery stores as fewer people dined out, Meanwhile, CPG brands also had to become e-commerce brands, as more people did their shopping online. 
Now, a new trend is emerging: the rise of delivery-only restaurants is leading some food and beverage startups to make ghost kitchens a part of their distribution strategy. 
The most notable example is Nuggs, a brand that sells plant-based chicken nuggets. According to Sam Terris, chief operating officer of Nuggs' parent company Simulate, the brand first launched with its own direct-to-consumer site, but found that e-commerce had some drawbacks. "It's not instant gratification — you order, it takes a couple of days to come, and it's frozen," said Terris. 
So in order to get products into customers' hands more quickly, Nuggs decided to launch its own ghost kitchens, where customers can order Nuggs, french fries, and other sides. Nuggs partnered with a ghost kitchen company called Reef Technologies to do so, launching first in San Francisco, followed by Los Angeles. Other frozen food brands have employed similar tactics like Strong Roots, which tested out a partnership with a ghost food truck last year.
Last year, Nuggs did $8 million in sales with the help of its ghost kitchens. But the companies' ghost kitchens also proved to be a valuable tool in directing customers to its website, as Nuggs was able to include a discount code for customers to then subsequently order off of its own site. 
Kristen Barnett, chief operating officer at Zuul Kitchens, said that her company has also started to receive more outreach from CPG brands who want Zuul to carry their products, with the uptick in interest starting around last summer. 
Zuul Kitchen primarily works with office managers and landlords, offering a delivery platform through which their tenants can order from multiple restaurants. But Zuul also launched its own brand called Snack Committee, a virtual market through which people can add snacks and drinks to their restaurant order. Some of the brands whose products are available through Snack Committee include San Pellegrino, Hu, Rise Coffee and RIND. 
Barnett said that by carrying more products from CPG brands, the hope is that it will get customers to add more products overall to their orders. Zuul also looks at what brands to partner with based on which ones it thinks might help serve customers with dietary restrictions, such as those who are vegan or gluten free.
"We saw opportunities to leverage brand halos from some of these various CPG brands," Barnett said. 
What I'm reading
An investigation into Travis Kalanick's CloudKitchens from Business Insider reveals that Kalanick seems to be using a

similar playbook at his ghost kitchen startup

as he did at Uber — right down to using the same company values. Not all employees are thrilled. 

DTC underwear brand Parade has raised an additional $10 million at

a valuation of $70 million

. Parade revealed to Business of Fashion that it has a customer base of more than 200,000 after roughly a year and a half in business, making it a fast-growing DTC brand to watch.

Women's apparel retailers from Anthropologie to H&M are reporting that

dresses are their top-selling item right now

, and you can be sure that DTC apparel retailers are also going to try to respond accordingly to customers who are excited to dress up again. 
What we've covered
Brands like Little Caesars' Pizza and Tushy are starting to

explore advertising on Reddi

t.  But unlike Facebook or Instagram, advertising on Reddit requires a bit more research. Success on Reddit requires a strong understanding of the rules and culture of various subreddits. 

The buy now pay later space is heating up, as these fintech companies are increasingly looking to expand the array of services they offer. That's the thinking behind

Affirm's acquisition of returns management provider Returnly

, announced last week. 

Furniture brand Floyd is

launching its own resale marketplace

, where it will sell used and returned items for anywhere from 15% to 50% off the original price.