Everything you need to know about the state of the American mall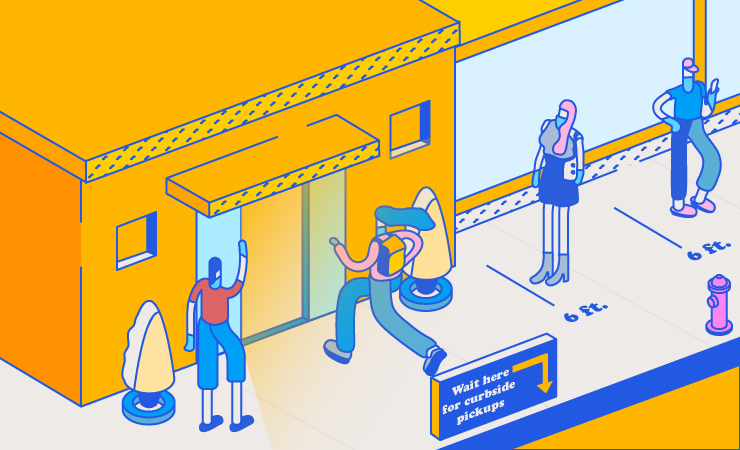 The pandemic has made clear that U.S. malls can't return to business as usual.
Even before the coronavirus pandemic, malls were struggling to remain go-to destinations as shopping habits have changed. More shopping is done online, which made has made it harder for many retailers justify to spending a lot of money on 100,000-plus square foot stores. Fewer shoppers are visiting department stores, which used to be the anchor tenants and main traffic drivers at mall. As a result, many malls were looking at dedicating more space to office, residential and hospitality tenants, rather than retailers.
Now, the health of many shopping malls has gone from bad to worse. After local mandates forced non-essential retail stores to close, many tenants stopped paying rent in April, May and June. Meanwhile, previous anchor tenants like JCPenney and Neiman Marcus have declared bankruptcy, which could open up clauses in other tenants' leases that may allow for renegotiations or to get out of their leases altogether. And as malls look at filling spaces previously occupied by department stores with new sets of tenants,
But, there is some light at the end of the tunnel, as most non-essential retailers have since reopened their stores. Two of the biggest mall owners in the country, Simon Property Group and Macerich are looking at the pandemic as an opportunity to scoop up assets at below market rate, and do a much-needed overhaul of their tenant mix. Here's what you need to now about the state of the U.S. mall, based on what Simon and Macerich reported in their earnings this week.
Mall owners and tenants are still haggling over spring rent
Simon Property Group reported on Monday during its second quarter earnings that roughly 91% of its tenants are open for business but that it only collected rent for roughly 73% of its tenants in July. Meanwhile, Simon has collected about 51% of its contractual rent billed for April and May combined, and roughly 69% of June rent.
"We did provide abatement for primarily the local businesses, and entrepreneurs, restauranteurs during the…closure period," CEO David Simon said during the real estate company's earnings call. "We're still in active negotiations with tenants regarding April-May," he added.
Macerich's senior vice president of leasing Doug Healey gave similar remarks during the company's second quarter earnings call on Tuesday, saying that it has primarily giving rent abatements to smaller tenants. That, however, only represents about 8-10% of Macerich's tenants. In total, Macerich said that it has collected 65% of July rents, lower than the rent collection rate of Simon.
In the most extreme cases, Simon has taken to suing its larger tenants who have yet to pay rent. In June, it sued one of its biggest tenants Gap for unpaid rent, claiming that Gap owed Simon more than $65.9 million. Then in July, Gap filed a separate lawsuit against Simon, seeking rent relief.
How these negotiations over rent play out will determine just how many tenants end up staying in Simon and/or Macerich owned properties once their leases are up.
Co-tenancy clauses could lead to further rounds of negotiations
As rent negotiations are ongoing, some recent developments could tip the scales in favor of tenants seeking to renegotiate or get out of their leases. Most notably, many retail tenants have co-tenancy clauses in their leases, that give them the opportunity to either renegotiate or exit a lease should the anchor tenant in a shopping center exit. While mall owners have stayed quiet about how many of their tenants have co-tenancy clauses in their leases, the recent bankruptcies of JCPenney and Neiman Marcus — whose stores served as the anchor tenants in many malls — could trigger more of those co-tenancy clauses.
Still, retailers — especially apparel companies — will have to tread carefully, said Bryan Gildenberg senior vice president of commerce at Omnicom Retail Group, as mall owners like Simon and Macerich still own much of the attractive real estate for retail tenants.
"Abercrombie & Fitch is not going to go storming out of a mall because a JCPenney left" said Gildenberg. "Partnering with Simon makes a lot more sense for these businesses than starting a fight with them."
Mall tenants are leaning more heavily on their stores to fulfill e-commerce orders
Macerich's Healey said that since its retail tenants have reopened following April and May store closures, they are using their stores more often to fulfill e-commerce orders. The widespread adoption of curbside pickup following the coronavirus pandemic has led some mall owners like Kimco Realty to dedicate more parking spaces for shoppers looking to grab curbside pickup orders.
It's not, however, a panacea for all of Macerich's tenants. Healey said that curbside pickup has proven to be much more effective for its anchor and large format tenants, retailers like Best Buy and Target. For smaller retailers in its enclosed malls, "it is a real staffing issue for them, and especially when they have a store open and they have curbside pickup," he added.
This shift towards e-commerce shopping could further affect which tenants malls seek to court. Over the weekend, the Wall Street Journal reported that Simon Property Groups was in talks with Amazon to turn some of the spaces previously occupied by JC Penney and Sears stores into Amazon fulfillment centers.
But, the risk with turning former department stores into Amazon fulfillment centers is that it is unclear how it would drive traffic to other tenants' stores. And, logistically, it would be challenging as Simon would also have to dedicate more space to ensure that Amazon had enough space to say, load and unload inventory, among other issues.
"The best idea for both companies here is something that isn't a straight up fulfillment center, but a combination of fulfillment center, click and collect and return centers," said Gildenberg.
Mall owners are looking to rely less on traditional apparel tenants, but no one knows what the right tenant mix is
Macerich said during its earnings call that it is moving forward with its pre-pandemic strategy of "transforming properties into town centers," by developing more properties that contain a mix of residential retail, office and hospitality tenants. Healey said that Macerich also sees an opportunity to court more digitally-native brands, as "we all know the success that digital brands experience when they add or expand bricks and mortar as another source of distribution.
The biggest challenge malls still face though, said Gildenberg, is figuring out what to do with the anchor spaces previously occupied by department stores, which can run from 150,000 to 200,000 square feet, and are often multiple levels. Gildenberg said that malls may consider adding tenants like health care clinics or grocery stores, which can handle these larger store footprints and are destinations that shoppers visit more frequently than say, apparel retailers. David Simon told CNBC that "I am hopeful that we can certainly do more business [with grocers]."
But in the short-term, many of these new types of tenants each come with their own set of drawbacks. Signing more office tenants gives retail tenants greater access to potential new customers who will be in the mall on a frequent basis, but only when people are back working in offices five days a week.
"There's a limited number of business models that fit into these spaces," said Gildenberg.