Facebook's Shop Pay partnership takes direct aim at DTC startups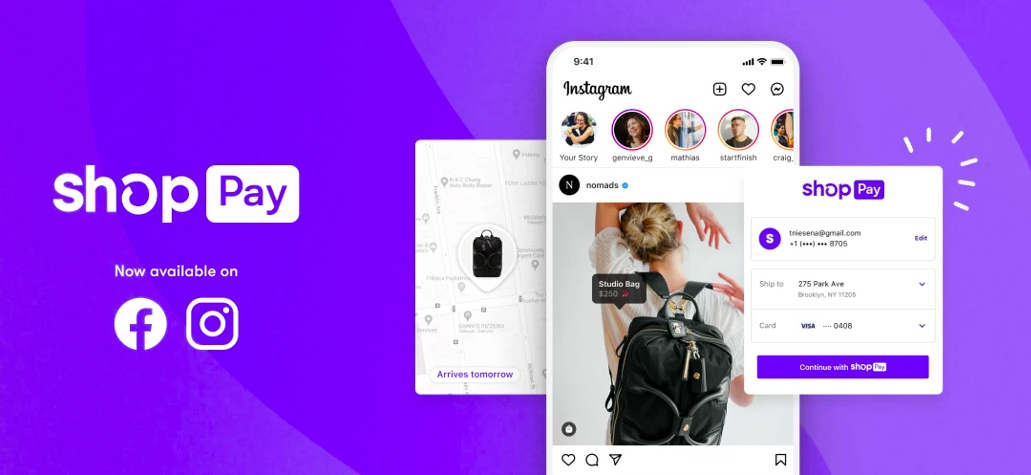 Photo courtesy Shopify
Since first launching checkout on Instagram two years ago, Facebook has made news when it's gotten large retailers like Target and Sephora to use the service. But now, the social media giant is adding a new feature to the service aimed squarely at attracting more direct-to-consumer startups.
On Tuesday, Facebook announced that it would add support for Shop Pay as a payment method through its checkout service. Checkout, which is available on both Instagram and Facebook, allows customers to buy products from a retailer directly without leaving the Facebook or Instagram app. Shop Pay, meanwhile is a digital wallet from e-commerce giant Shopify, which for now is only available to merchants who use Shopify to host their e-commerce sites. In addition to Shop Pay, Facebook's checkout also accepts payments via credit or debit card, and PayPal.
Facebook adding support for Shop Pay won't change the checkout experience for customers all that much, but it's a move that has many implications for merchants. Since opening up checkout to all sellers in August, Facebook has convinced more direct-to-consumer brands to use the service. However, some e-commerce executives have expressed wariness about directing their customers to buy through Facebook's app, rather than to their own website. By partnering with Shopify, the main engine powering many direct-to-consumer startups' businesses, it gives Facebook another way to coax these companies into trying the service. More than one million businesses run their e-commerce sites on Shopify.
"We're excited to see Facebook and Instagram continue to enhance and streamline their shopping offerings," Caleb Ebel, co-founder of direct-to-consumer paint company Backdrop told Modern Retail in an email, in reaction to the news that Facebook is adding support for Shop Pay. Backdrop has been using checkout on Facebook and Instagram since the fall, and it accounts for a "low double-digit percentage" of the company's sales.
Facebook first launched checkout nearly two years ago with nearly two dozen brands, including DTC stalwarts at the time like Outdoor Voices and Warby Parker. Since Facebook only made checkout available to all businesses in August, most DTC startups only recently had a chance to opt in to the service. A Facebook spokesperson told Modern Retail last May that "hundreds" of brands were using checkout at the time. This week, a Facebook spokesperson declined to provide updated figures.
Still, since Facebook first launched checkout, it raised perennial questions for startups about how much they wanted to rely on Facebook. While checkout was still in beta, one DTC marketer told Glossy that their company decided not to add support for checkout in part because of the fact that Instagram, not the company itself, would be responsible for sending email communications to customers who ordered products through checkout.
"If they're not allowing us to market to a customer, that's not necessarily our customer anymore. It's Instagram's customer," the marketer told Glossy. Facebook has since added a way for checkout customers to sign up to receive email communications from a particular brand that uses checkout, but they are not automatically opted in to email communications.
Partnering more closely with Shopify doesn't change that dynamic, but it gives more control over the checkout experience to a platform that is first and foremost, designed for e-commerce companies, unlike Facebook. Additionally, people who buy products through Facebook checkout using Shop Pay will be able to track the status of their orders through Shopify's Shop app. That could give Facebook checkout customers another opportunity to learn more about and follow the company they just ordered from.
For other companies, Instagram and Facebook are slowly transforming from discovery platforms to commerce destinations. As a result, they think it makes sense to offer customers an easier way to buy through those apps. "We were excited by the introduction of Instagram Checkout as it transformed Instagram from being purely a discovery and prospecting platform," Deepa Gandhi, COO and co-founder of bag brand Dagne Dover told Modern Retail in an email. Dagne Dover added support for Instagram Checkout in the fall. "By simplifying their path to purchase, our hope is that customers are able to combine their shopping and social experience with our brand into one complete experience."
Gandhi added that she thought Facebook adding support for Shop Pay was good news for her brand, as Dagne Dover already supports Shop Pay through its website and "we will be considering (adding it to Instagram checkout) as this would ideally shorten the path to conversion."
For brands that have been on the fence about enabling checkout on Facebook and Instagram, they want to see whether or not this move spurs Shopify and Facebook to work more closely together on developing other features specifically for e-commerce companies. "The closer our key technology partners work together, the better," Brooklinen VP of Product Kate MacCabe said in an email. McCabe said that Brooklinen currently does not use Facebook checkout, but is considering experimenting with it in the future.
Jason Goldberg, chief commerce officer at Publicis, told Modern Retail that he didn't expect that adding support for Shop Pay "is going to dramatically change demand for Instagram Checkout products in any way."
Shop Pay has been growing quickly since Shopify first released it in 2017 — a Shopify spokesperson said that 60 million people globally have signed up for Shop Pay. However, it's unclear how many of those people make all or even most of their payments through Shop Pay.
But, if someone already uses Shop Pay and discovers a product they like through Instagram or Facebook Checkout, "that reduces friction [to check out] and probably increases the conversion rate," Goldberg said.
This story has been updated to correct a quote from Goldberg.