Fake meat brands turn to partnerships with CPG conglomerates for growth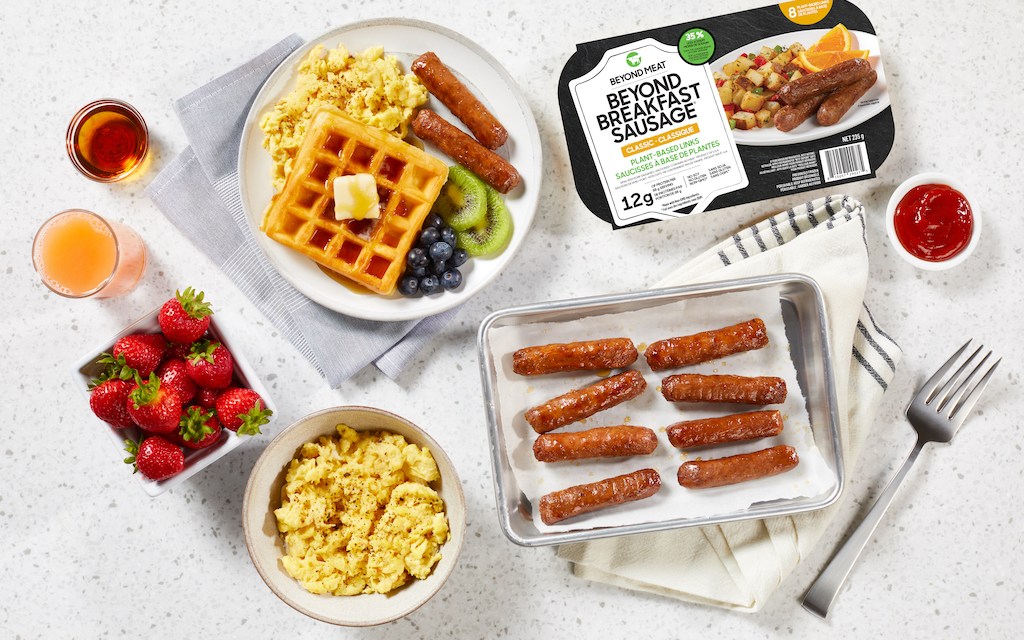 Beyond Meat
More and more CPG companies are striking up partnerships with fake meat brands.
The trend is heating up among plant-based product makers, especially as companies like Beyond Meat try to diversify their revenue stream. 
For years, Beyond Meat and Impossible Foods' used restaurant collaborations to grow brand recognition. Beyond has an ongoing wholesale partnership with fast-food chains like McDonald's and KFC, while Impossible works with Starbucks and Burger King. However, in the past two years there has been a decline in restaurant traffic with more Americans grocery shopping and cooking at home. In turn, these challenges are pushing these companies to grow their retail businesses, with the help of CPG conglomerates like Pepsi and Post.
The most recent example is PepsiCo's new joint venture with Beyond Meat, called The Planet Partnership, which was first announced in early 2021. In the coming months, the two companies are preparing to release their first product, a plant-based jerky, Bloomberg first reported. According to the report, the product's early sample label said the jerky will be soy, gluten and GMO-free.
Beyond Meat has struggled to grow its business-to-business revenue since going public in 2019. This portion of its revenue mainly comes from quick service restaurants and makes up about 12% of the company's total sales, while the overall foodservice category accounts for 30% of its sales.
As of the end of last year, retail outlets made up the majority of Beyond Food's revenue and are a growing portion of its business — especially in international markets. But despite global expansion, the company's overall sales still declined. During its most recent earnings in November, Beyond Meat reported a 13.9% drop in U.S. revenue year-over-year and $54.8 million in net losses.
But Beyond isn't the only fake meat brand forging new CPG partnerships.
Last November, Italian food company Buitoni became the first grocery brand to partner with Impossible Foods. The 194-year-old company released two new pastas made with Impossible Meat, which is being sold at retailers like Sam's Club and Walmart.
Erin Dress, director of product and retail marketing at Impossible Foods, told Modern Retail at the time that the startup wanted to partner with an established name like Buitoni to enter the ready-to-eat category. "We knew a collaboration with them [Buitoni] would give more consumers a new way to try Impossible products," Dress said.
Last year meat alternative producer Hungry Planet, founded in 2016, received a distribution deal and funding from cereal maker Post Holdings. Post participated in Hungry Planet's $25 million Series A funding round last August. The announcement also hinted at upcoming product collaborations between the two companies. Post itself has been pushing into animal product alternatives for some time. In 2020, its brand Michael Foods collaborated with faux egg maker Just Egg on a mung bean-based egg substitute. 
These CPG initiatives are part of startups' ongoing effort to raise brand awareness among consumers, according to Karen Howland, managing director at CircleUp Funds. "We've seen tons of consumer products and restaurants do these interesting collaborations that garner publicity," Howland said. 
And while emerging brands collaborating with big CPG is innovative for both parties, Howland said, "I question if there are enough consumers to warrant so many new vegan snacks and beverages." 
Howland likened the plant-based trend to the saturation happening within the alcohol space. "We've seen a similar trajectory for beer distributors getting into hard seltzers," she explained. 
Still, the plant-based push is showing no signs of slowing down. 
Carly Sutherland, a CPG consultant for General Mills and PepsiCo, said traditional food conglomerates also feel the need to appeal to consumers' changing diets. 
Furthermore, Sutherland said grocery brands are currently planning for unpredictable post-pandemic consumption habits. With more Americans working from home, or going into the office less frequently, weekday breakfast and lunch runs have declined in the past two years. That has led some food brands to launch new at-home products to cater to the changing habits, Sutherland said. "A good example of this is Jimmy Dean's plant-based breakfast sandwich launch last year," she noted, which competes with the likes of Dunkin' and Starbucks' meat-free menus.
As more of these collaborations pop up, "we'll see how effective they are in moving the revenue needle for the likes of Beyond and Impossible," Howland said.