As the FTC seeks to block the Edgewell-Harry's acquisition, founders question the limits of DTC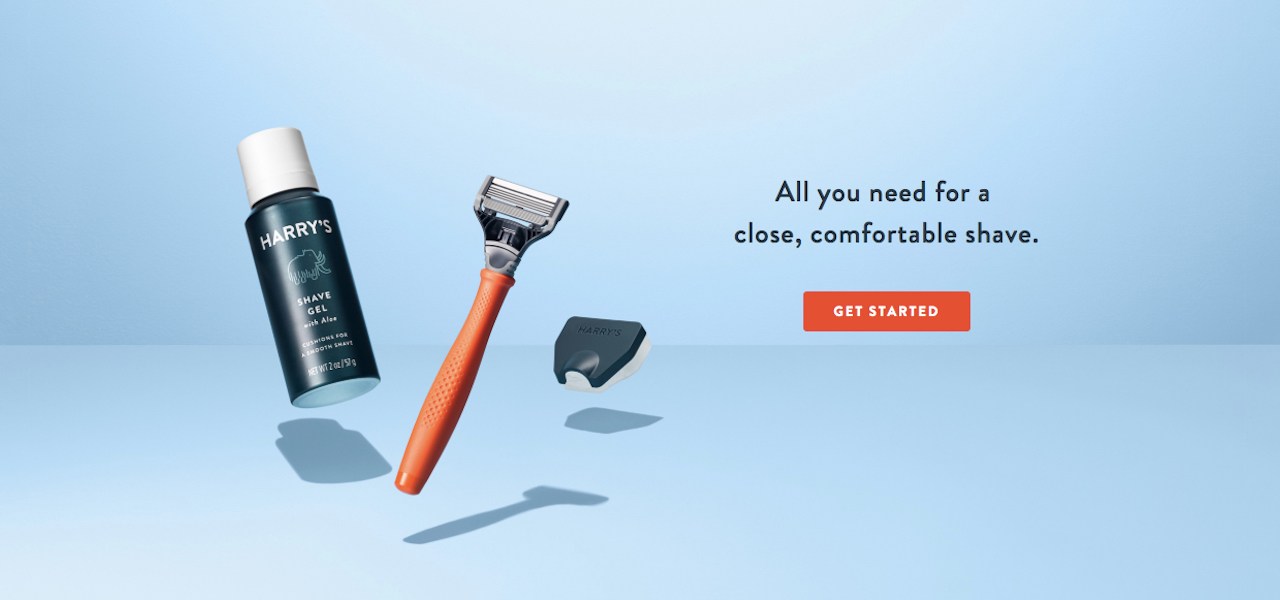 When CPG conglomerate Edgewell announced in May that it was acquiring razor brand Harry's for $1.37 billion, the news was viewed as a win for direct-to-consumer startups. The acquisition was proof that giant brands were still willing to pay nine figure sums in order to acquire the expertise of brands that started online.
Now, what was once viewed as a surefire deal might no longer happen. On Monday, the Federal Trade Commission announced that it was suing to block Edgewell's proposed acquisition of Harry's. The FTC stated in a press release that "the proposed acquisition would eliminate important and growing competition among suppliers of wet shave razors, and would inflict significant harm on consumers of razors across the United States."
Edgewell and Harry's said in a joint press release that they are reviewing the FTC's decision and evaluating their options. "We believe strongly that the combined company will deliver exceptional brands and products at a great value and are determined to bring those benefits to consumers." Harry's co-CEOs Jeff Raider and Andy Katz-Mayfield said in a statement. 
The FTC's attempt to block the acquisition caught many in the consumer startup world off guard, considering that Unilever acquired Dollar Shave Club for $1 billion more than three years ago, while Procter & Gamble announced in January that it intended to acquire women's subscription shaving startup Billie. But if the Harry's acquisition fails to go through, it will have implications for more than just razor startups.
DTC exits are already getting smaller. They may get even smaller if the FTC is successful.
Nearly all of the founders and analysts that Modern Retail spoke with agreed: whether or not the Harry's deal goes through, there's less interest from large brands and retailers in spending $1 billion-plus, or even hundreds of millions of dollars, to acquire digitally-native startups. Walmart, for example, once viewed acquiring digitally-native startups like Jet.com, Bonobos and Modcloth as the key to building its online business. Now, retailers and brands are increasingly opting to build their own brands direct-to-consumer, and no longer need to buy startups to help them figure out e-commerce.
"It's not enough to be just 'the DTC brand' anymore," said Chris Cantino, a former marketing executive at personal care brand Schmidt's Naturals. Schmidt's Naturals was acquired by Unilever in 2017, and today Cantino is the co-founder of early seed stage investment firm Color.
With Harry's, Edgewell didn't just get a DTC brand. Harry's had experience selling in brick-and-mortar retailers like Target and Walmart, and had successfully worked with these companies to re-think how shaving products were displayed in stores. Raider and Katz-Mayfield were supposed to take over Edgewell's North American business, and rethink the way their products were displayed in store and online.
In order to avoid anti-trust concerns, some brands may opt to acquire DTC startups before they gain notable market share, which would subsequently mean they would likely spend less money acquiring them. As of 2018, Harry's had 2.6% of the men's razor market, while Edgewell had 13.6%, according to Euromonitor.
"Most entrepreneurs are not thinking about anti-trust as a significant impediment to their exit strategy," said Jason Goldberg, chief commerce officer at Publicis. "It's going to be higher on their mind, and the bigger concern is it's going to be higher on the mind of the investors that are investing in these small startup companies, in the hopes of having a big exit."
There's an entrenched duopoly in other categories besides shaving
The FTC's argument largely hinges on the fact that Harry's successfully broke up a pre-existing duopoly in shaving, thus lowering prices for consumers. They argue that the duopoly consisted of Edgewell, and Procter & Gamble, whose Gillette brand had 47% of the men's razor market in 2018.
"Whether it's breakfast cereal, carbonated soft drinks or oral care — there are a number of categories where you've got two large players that have significant market share," said Bryan Gildenberg, chief knowledge officer for Kantar Consulting.
The FTC is arguing that Harry's entrance into Target and Walmart in particular is what caused Procter & Gamble and Edgewell to lower prices on their wet shave razors, and that by acquiring Harry's, Edgewell will stop lowering prices.
The FTC also points to the fact that because Harry's owns its own factories, the deal would make it harder for startups to compete with the combined Harry's-Edgewell company on price. "Building a razor factory is expensive and can take years even with significant resources. Acquiring and running a factory may be even more costly, and few manufacturing facilities exist today," the FTC complaint states.
"I think that Harry's is a unique case— they are totally vertical, they manufacturer their own goods in their own factories. Very few direct-to-consumer brands do that," said Web Smith, founder of retail newsletter and subscription platform 2pm Inc.
Harry's exit options will narrow if the Edgewell acquisition is blocked
Edgewell was an obvious acquirer for Harry's, given its large razor business. If the FTC is successful in blocking Edgewell from buying Harry's, that also means Procter & Gamble can't acquire Harry's. Unilever is likely out, given that it already spent $1 billion acquiring Dollar Shave Club.
So, that leaves Harry's with a few options. It can  sell to another CPG giant that doesn't have a large presence in the razor business, like Kimberly Clark or Church and Dwight. Harry's could also go public or opt for a direct listing. Casper's upcoming IPO will serve as a litmus test for how consumer brands that started online-only are received on the public market.
The FTC's argument makes some puzzling assumptions about retail
The FTC points to Harry's entrance into Walmart and Target as the impetus for Edgewell and Procter & Gamble lowering prices, ignoring the impact of other online-only startups like Dollar Shave Club, whose main value proposition was that their blades were cheaper than the bigger companies.
A source told Recode that the FTC did not include Dollar Shave Club in the market it evaluated to reach its decision. In reaching its decision, the FTC only evaluated "wet shave razors," ignoring the market share of electric razor brands.
One razor founder who was approached by the FTC when the agency was evaluating the merger said they were asked basic questions about the shaving industry, who were the biggest players, and for the founder's opinions on the merger and whether it would harm their company.
The FTC also argues that "Harry's made the first-and-to date, only — successful jump from an online DTC platform into brick-and-mortar retail," and that "any new entrant would lack Harry's early-mover advantage in the now-mature DTC space and on the now-crowded shelves of brick-and-mortar retailers." Analysts noted that retailers are constantly re-evaluating which products to carry on their shelves.
"There has always been limited retail shelf space," Goldberg said. "It doesn't feel credible to me that as a result of [Harry's] winning, that the burden is even higher for other brands…retailers carry what customers want."
This story has been updated with Chris Cantino's correct title at Schmidt's Naturals.