Q&A
// April 21, 2020 ■ 4 min read
Grocery micro-fulfillment is getting a boost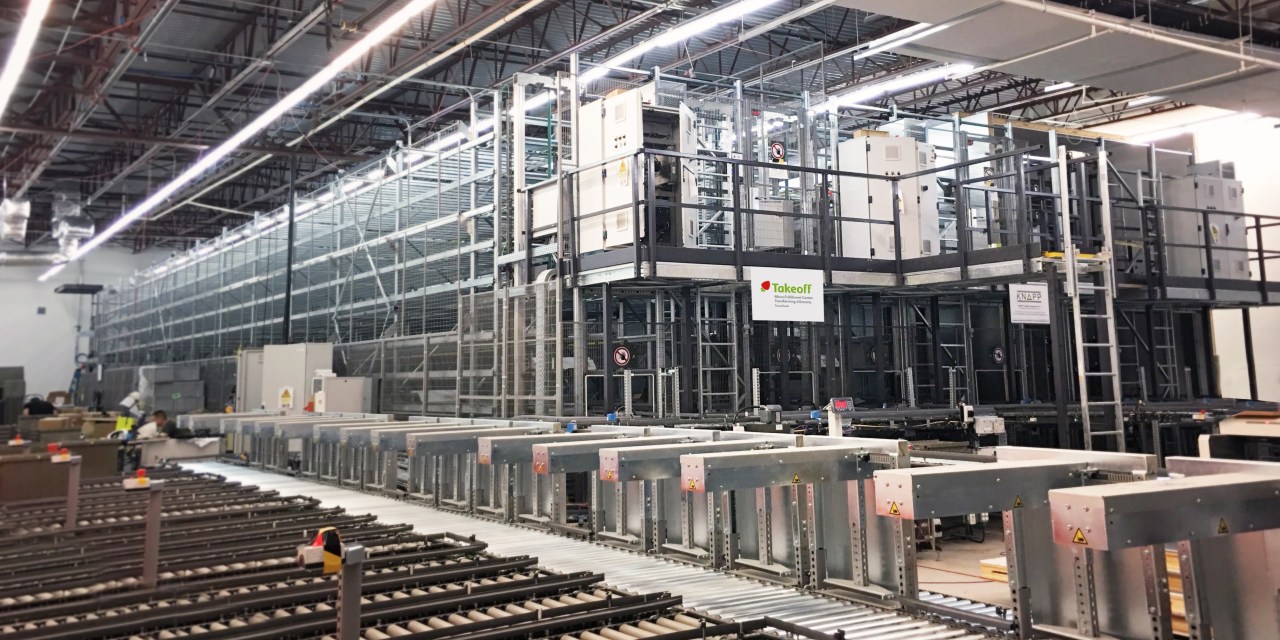 Nano warehousing is proving to be the last mile solution that mitigates the delays plaguing shipping during the pandemic.
What nano-fulfillment centers do is help retailers route orders quicker via small, local facilities. This is because unlike large warehouses, these centers are usually located in smaller urban spaces, on average about 10,000 square feet, which allows for cheaper and faster fulfillment. 
Take for example Takeoff Technologies, which specializes in grocery micro-fulfillment for clients like Wakefern, Woolworth's and Albertsons. Grocery chains use these small, automated micro-fulfillment facilities as an extension of their stores to help complete online orders.
Using this method is something supermarket chains had been dabbling in, but are currently embracing more than ever. Modern Retail spoke to Takeoff Technologies' chief business officer Curt Avallone about solving the last mile problem and why all major grocery chains are getting on board with fast micro-fulfilment. The conversation has been lightly condensed and edited for clarity. 
How has your business changed over the last month-plus?
We're currently seeing high double and triple digit increases in orders fulfilled by our centers, and we expect to see more people offer grocery delivery, calling for more micro-fulfillment needs. We work with nine of the largest grocers in the world, who are currently doing everything they can to service customers by restocking in-demand categories like frozen and paper. And while store sales are up, online orders have tripled in the past few weeks for them. 
What we do is help reduce an order's total time versus having it done on the store's sales floor. For example, the controlled environment and automation in the warehouse can help complete a 50 item order in about six minutes, as opposed to an hour in the store. 
End-to-end logistics is a huge part of completing online shopping orders. How are you handling them?
Our biggest obstacle hasn't been the actual item picking of the order, but making sure the delivery routes are quick and efficient. The last mile relies on our drivers, who are also currently being impacted by the virus and stressed about their families' safety. Certain parts of the day are easier, for example afternoon shifts are more stressful than early morning. 
After the initial spike, it's gotten easier to get drivers enrolled, especially with the rate of the unemployment rates. We're now back to being closer to our day-of windows, with the platform's tech capabilities and interface helping with all this. 
Will this quick adoption period expedite the micro-fulfillment trend?
Customers will find the choices they were forced into now actually have benefits, as their lives get busier. There is no reason to wait in line. Down the line, you'll see there is no reason you can't get your pizza and groceries delivered together. 
In the grocery industry, the largest opportunities are the joining of cross-channels. Thirty years ago when I got into the business, most American meals came from supermarkets. Now it's less than half, so we have to find a way to bridge the fulfillment of these experiences together.
This wave of grocery delivery is due to emergency shopping. What advantages do micro-fulfillment give that can extend the trend beyond the pandemic?
The overall experience of going to the store, which will feel ancient after months of delivery, is what will convert adopters in the long run. On the whole, they'd much rather spend an hour picking out groceries while scrolling through social media than stand in line at the store.
There are also more nuanced uses for them, such as the way partners are looking into bundling groceries deliveries and restaurant order. For example, placing pick up lockers at restaurant chains for customers to receive their orders. I think in time, quick service restaurants will wish they were ahead of the curve and utilized micro fulfillment in this way.
How has this changed grocers' perception of the digital channel?
Moving forward, our partners are fully committed to moving resources to online grocery, because they're seeing it's not just two or three percent of the population wanting it. It's double digits. Our clients, including Canada's Loblaws that's due to debut shortly, along with Safeway and Wakefern, have fast-tracked their plans with us. Almost everybody is finally taking a deep breath and starting to think about how to extend their operations when all this ends.
For the first time, people are ordering everything online, including items they would be popping into the store for on the way home. A lot of companies will now have data points from millions of customers across the country, which should be used properly to build out their delivery infrastructure. After this is over, they'll have a goldmine if they pay attention to it. Now that industries are energized to figure it out, customers will see better service. This may have taken a decade to develop, but now will be closer to two to three years.