Gyms are making a comeback with the return of in-person fitness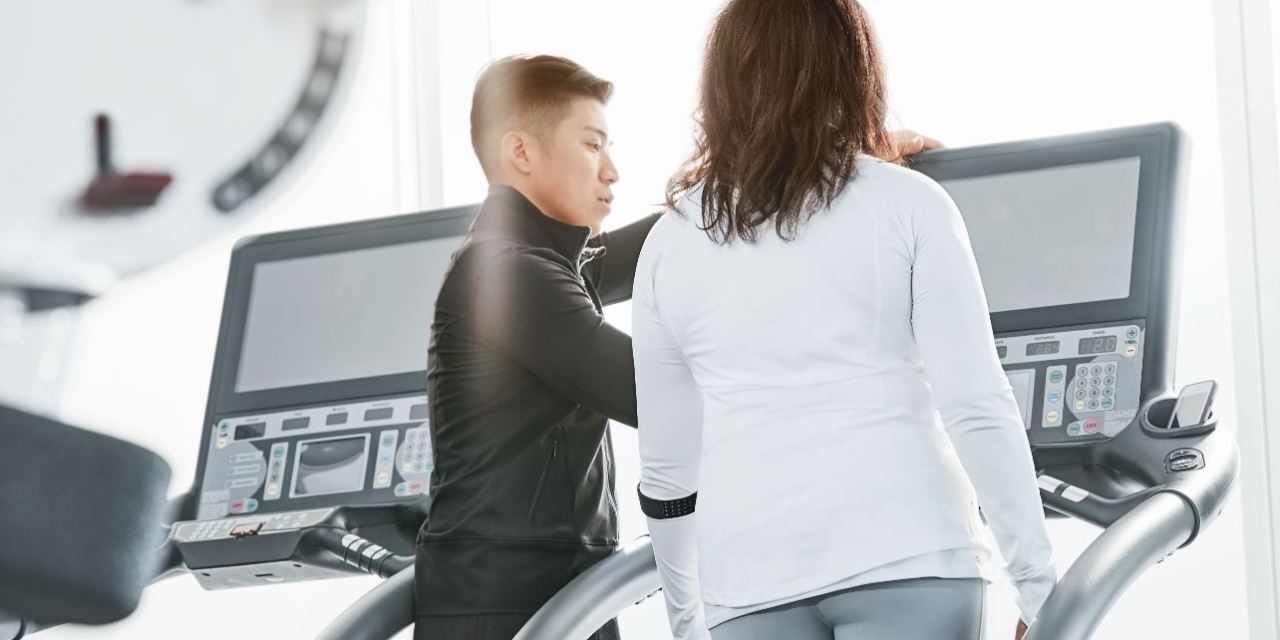 Image via Life Time
Virtual fitness has enjoyed immense popularity over the past year, prompting countless gyms and instructors to offer live and on-demand workouts during lockdowns. But despite the digital investments in at-home fitness, millions of Americans are heading back to the gym.
According to a new report by Jeffries, Americans are easing back to in-person workouts — with foot traffic rising quickly. As of May, foot traffic at gyms across the country was back to 83% of January 2020 levels, with visits being down 6% compared to the same period in 2019, Jefferies' report showed. National gyms Crunch Fitness and Blink Fitness were among the strongest to rebound in recent months. Still, going forward, fitness studios and gyms are relying on a mix of virtual workout classes, as well as both indoor and outdoor classes, to cater to people whose habits permanently changed during the pandemic
The trend has been in the making even before the vaccine rollouts. According to Bloomberg Second Measure's recent research on the fitness industry, home fitness growth has generally decelerated since September 2020. Meanwhile, sales growth at physical gyms has been gradually recovering since June 2020. The report also noted that among customers who started a Planet Fitness membership in March 2020, 50 percent maintained it 12 months later, signaling continued interest in in-person workouts at one of the nation's largest gym chains.
To keep customers from canceling memberships last year, gyms and fitness studios started adding more virtual offerings — some of which was in the works before the pandemic. In March 2020 Equinox fast-tracked the release of SoulCycle's at-home stationary bike and accompanying app Variis (now called Equinox+) — in time to compete with other virtual fitness startups. At the time, Equinox Media CEO Jason LaRose told Modern Retail that the goal is to create a long-term business model that caters to both in-person and digital customers. "We want people to pop in for workouts along with having the option to do them at home," he said.
This returning appetite for in-person fitness is encouraging, as many gym and studio owners look to recover their physical businesses.
Back in January, health club Life Time launched an Apple Fitness+ integration as part of its membership. Today, Life Time's slate of on-demand programming includes Apple Fitness+ exclusive classes and up to 1,000 livestream classes weekly. Non-workout offerings include on-demand weight loss and detox programs, along with rotating hybrid and virtual personal training sessions.
Now the company, which has over 150 locations across North America, is still planning to open seven new locations this year, according to Life Time's senior director of public relations and internal communications Natalie Bushaw. 
Five of these locations have already opened, in Phoenix, Chicago at Oakbrook Center and two in New York City. Next week, Life Time's new Boston opens at Northshore Mall in Peabody, followed by Coral Gables and The Shops at Riverside in New Jersey. To cater to the new hybrid work lifestyles, the company will also open three Life Time Work coworking spaces and two Life Time Living luxury residential buildings.
Fitness boutiques are also betting on the return of physical fitness.
During 2020, Fhitting Room — which specializes in HIIT and strength workouts — added live sessions, digital sessions and expanded its corporate offerings to ride out the pandemic. Now the New York-based fitness studio is looking to continue operating a hybrid model to attract the widest range of customers.
Fhitting Room president Tristan Saw said that throughout the pandemic, the company tried to mimic its studio workouts virtually, by adding live and on-demand classes. The fitness studio also launched outdoor classes earlier this year, which take place in public spaces and rooftops throughout New York City. It plans to resume future expansions to other cities in the coming year.
"These were and remain very successful," said Saw. However, as the pandemic restrictions continue to be lifted, "we've seen extremely strong demand at all of our studio locations," said Saw. The New York City studios are now at over 90% capacity levels, and above both January 2019 and 2020 numbers — historically Fhitting Room's busiest month. The studios currently have waitlists for the majority of in-person classes, as the staff is rushing to increase capacity and add more classes to the schedule.
And while virtual class attendance has dropped compared to the height of the pandemic, "it has remained stable throughout all of the studio openings," said Saw. As it stands, the post-pandemic fitness consumer has more options than ever, said Saw. "They have the at-home equipment, online content and a plethora of in-person options." 
Now, gym and health club owners have to adhere to a true hybrid model to success. This strategy, Saw said, "is necessary to meet the consumers' changing preferences," which will continue to shift from at-home and in-person.