How Apple's post-pandemic retail strategy is shaping up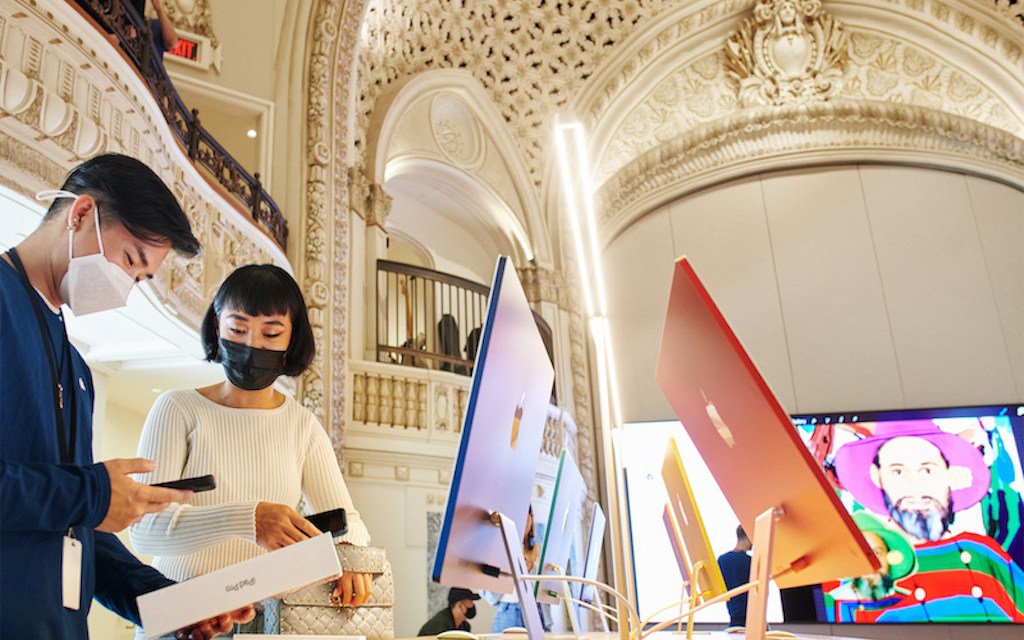 Image via Apple
As people resume more normal shopping habits, Apple is moving ahead with new store openings.
Last week, Apple opened its newest U.S. storefront as it moves forward with expanding its physical presence. "We're looking at this moment right now as a way to really begin again," Deirdre O'Brien, Apple's senior vp of retail and people, told Reuters at the latest store opening, at the renovated Tower Theatre in Los Angeles.
Before the coronavirus, Apple's retail stores served predominately as a point of sales, product repair and services. But during the pandemic, Apple had to rethink the format of its stores, and moved some of those experiences online. Now, as people resume regular shopping habits, Apple, like other retail companies, is trying to strike a balance between its in-store and online services.
Apple opened its first store near its California headquarters 20 years ago, and now has more than 500 stores worldwide. The company's retail strategy has served as a template for other companies to follow. While its sleek aesthetic has inspired many brands, like Everlane and Warby Parker, it also spurred more tech companies to get into physical retail. Over the years, Microsoft attempted to mimic Apple's standalone store strategy — only to close all locations at the onset of Covid. And this month, Google opened its own flagship store in New York City.
Pre-pandemic, Apple was known for its Genius bars, where customers could more casually talk with retail employees about which new products to buy, or to troubleshoot problems. But during the pandemic, that layout presented a challenge, as there were no barriers between employees and customers. Following store reopenings last summer, Apple responded by promoting store appointments, as well as expanding in-store and curbside pickup options.
All of Apple's stores have reopened to the public as of June 14, according to the company. In-store events such as product tutorials and training courses — which went virtual during the pandemic — are also gradually resuming in more markets as local laws permit. The company also introduced its new Creative Studios program to coincide with the new store opening, which is launching in Los Angeles and Beijing and eventually expanding to other cities. Creative Studios will teach participants how to create video, music and photography using Apple products. They'll also receive mentorship from artists, nonprofit community partners and Apple, according to the company's press release.
But Apple is sticking with some Covid-era features. For example, the express shopping counters, which features displays of the company's most popular accessories and allow customers to quickly pick and pay for an item, will stick around permanently. "We want to make sure that in that experience that they can come in, quickly get the product they want," O'Brien told Reuters. "But we do want to make sure that we can also have a quick conversation with them to make sure that they have everything they need."
During the pandemic, many of the company's tech products saw an uptick in sales as more people worked and attended school from home. In its most recent quarterly earnings, the company said its Mac revenue hit $9.10 billion, up 70.1% year-over-year. Meanwhile the iPad revenue hit $7.80 billion, up 78.9% year-over-year. 
The company hasn't confirmed how many new locations will open this year. In late May, Apple's newest location opened in central Rome, branded Apple Via del Corso.
Retail consultant Steven Dennis told Modern Retail that post-Covid, the companies still investing in physical retail are ones whose storefronts add value beyond sales — which can be facilitated online. "We're seeing Target, TJMaxx and Apple take advantage of the vacated real estate," Dennis said. "For companies like Apple, new stores present an opportunity for incremental growth in the years to come." 
Dave Bruno, director of retail industry insights at Aptos, said Apple moving along with a bigger brick-and-mortar presence makes sense. "They know that the physical stores — despite the disruption caused by the pandemic — still represent the biggest opportunity to forge relationships that last," said Bruno. 
Bruno added that Apple's stores serve functions beyond just sales — the company also uses its stores for servicing products and offering educational workshops, among other services. These include the Genius bar, tutorials and pop-up events. "Over the years, Apple's stores did much more than draw traffic," Bruno said.
By gaining a bigger footprint while competitors are scaling back, "the company has the chance to gain a deeper understanding of what post-pandemic shoppers want from their stores," Bruno concluded.