How Blue Apron went from meal kit darling to scrounging for cash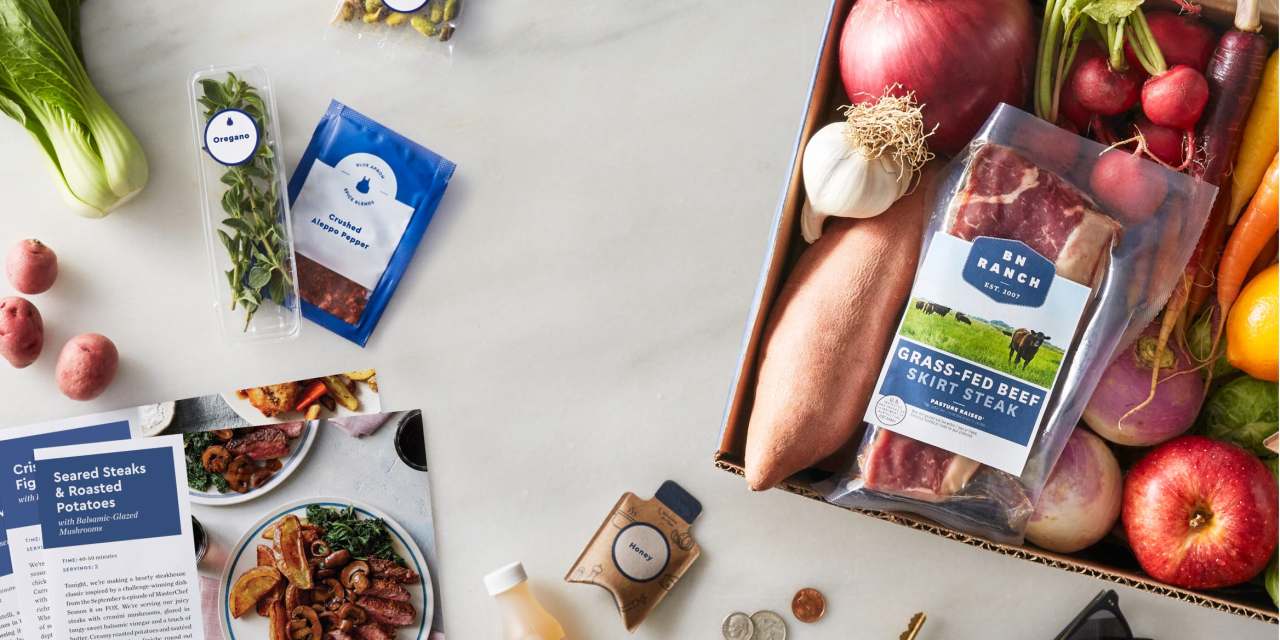 Image via Blue Apron
Blue Apron's options are dwindling.
The once-pioneer of the meal kit industry is seeking out strategic options to raise money, as it continues to post mounting losses. The company wouldn't comment about where exactly it was looking, but it most likely will pursue either a private round of funding or an acquisition. In the meantime, it also announced it was closing its facility in Arlington, Texas. "This continued optimization enables the company to redirect financial resources into other parts of the business, including growth initiatives," Blue Apron wrote in its earnings press release.
Blue Apron is losing money and very badly needs a strategic turnaround. Despite the initial fervor surrounding meal kits, Blue Apron was not able to keep the momentum. As a result, it now faces a tough road ahead. Here's what happened.
How did Blue Apron get here?
First launched in 2012, Blue Apron brought about two different online business booms. First, it was a pioneer in the meal kit space — a new way for busy young professionals to have fresh ingredients shipped to them, ready to be cooked by following only a few instructions. Second, it relied on a subscription revenue model, having people opt in to a certain number of meals shipped per week. Both of these were new concepts back then — so too was the direct-to-consumer model it used.
Before it went public in 2017, Blue Apron was a private market darling. In 2015, it raised a $135 million round of funding, giving it a whopping $2 billion valuation. But while revenue was growing a fast clip during that period, it was predicated on colossally expensive marketing. In 2016, the company brought in $795.4 million in revenue, but posted a loss of nearly $55 million. The company was reportedly spending $400-per-customer on marketing in 2017 while only earning around $235-per-quarter on them. This past quarter, Blue Apron spent $12.1 million on marketing alone, which represented 12.8% of its revenue.
The company has always needed one thing: more cash to acquire new customers. That's why it went public in 2017, which raised Blue Apron $300 million. Now, three years later, the company once again needs an infusion to keep the business afloat.
There are multiple reasons why Blue Apron has yet to be sustainable. The biggest ones are ever-mounting competition, and the realities of a low-margin business. While Blue Apron was one of the first to meal kits, it certainly wasn't the only one. Competition got fierce, with players like HelloFresh, Purple Carrot and Plated entering the space too. But many of those companies didn't last for long as they too had trouble keeping up with marketing costs in the name of customer acquisition.
Meanwhile, grocers began to also dabble in the space. Kroger bought the meal kit company Home Chef in 2018 for $200 million, and Amazon began offering its own meal kits both online and at Whole Foods locations.
Put together, the space got crowded — and very few (if any) of the players had a solid pathway to profitability. Blue Apron especially — in its most recent earnings report, the company posted a net loss of $21.9 million on $94.3 million in revenue. "We continue to believe that we have the right strategy to drive customer and revenue growth in the business and we continue to work to launch additional capabilities and test new product offerings," said president and CEO Linda Kozlowski.
Customer retention has been one of Blue Apron's biggest pain points. This past quarter, it reported 351,000 subscribers, down from 557,000 the year prior. In March 2017, the company boasted more than 1 million customers. Customers aren't the only retention problem either. Kozlowski is Blue Apron's third CEO — joining less than a year ago after Brad Dickerson, who took the job in 2017, stepped down. Dickerson took the reins from co-founder Matt Salzberg. Currently, no Blue Apron founder holds an executive position.
Where meal kits currently stand
The overall realization for companies offering meal kits is that they can't do it alone. Many companies either got bought up by grocers or formed partnerships. Blue Apron sought out such partnerships, inking deals with both Jet.com and Weight Watchers. But, as Freedonia Group analyst Cara Brosius told Digiday in 2019, these moves likely weren't enough.
"The meal kit subscription delivery model simply doesn't work for a lot of potential customers," she said. "Sometimes people want to cook a meal on a whim and don't want to wait for a meal kit to arrive one or two days later from Jet.com." Indeed, Blue Apron ended its pilot with Jet.com last August, saying it wanted to focus more on its direct-to-consumer business.
The company toyed around with other ideas too — opening up a series of pop-up shops in New York featuring well known chefs and food personalities. It tested out a retail partnership with Costco in 2018 that lasted less than a year. In early 2019 Blue Apron began trying out same-day delivery in certain locations. Just a week ago the company unveiled a new product called Meal Prep aimed at letting customers make many meals at once they can then eat later.
According to NPD food and beverage industry analyst Darren Seifer, meal kit companies are still trying to figure out how best to offer convenience. "Consumers are looking for ways to cut out time from the whole process," he said. This means businesses like Blue Apron both need to be available in as many places as possible, as well as offer products that are quicker and easier than just a box of ingredients.
The tradeoff, however, is cost. "A clear factor is margins," Seifer said. "That is a major challenge: how do you add steps, add labor, but keep it at an affordable price?" For many meal kit businesses, the strategy has been to partner with retailers who could help offset the costs. For Blue Apron, it either didn't act quickly enough to find the most sustainable pathway to profitability or couldn't hit on the right partnership.
The company's future will likely have an impact on the industry as a whole. It began as a subscription-based product that would make it easier for people to cook at home. But the model has yet to fully be proven out.
"I think meal kits need to prove their value," said Seifer. "I don't think they've gotten quite there yet."