How David's Bridal plans to integrate startup Anomalie into its business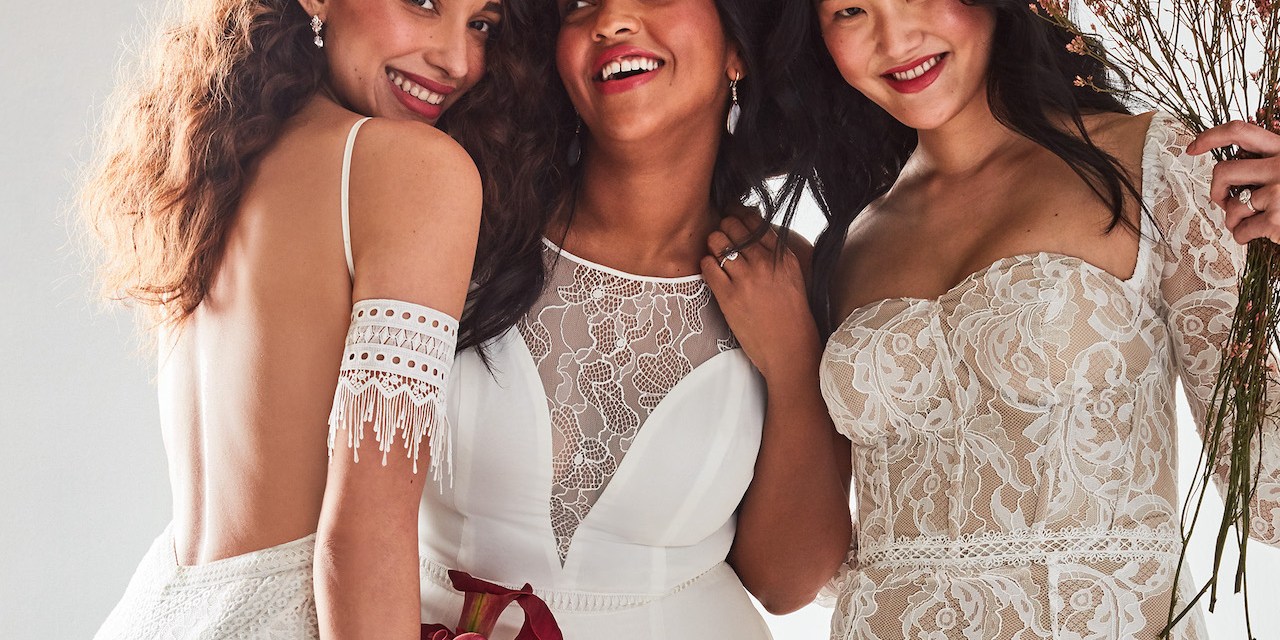 David's Bridal
After adding more tools geared toward online shoppers over the past few years, David's Bridal is acquiring startups to further shore up its e-commerce operations.
The retailer announced last month that it has purchased Anomalie, the online brand that allows brides to design and order custom-made dresses, for an undisclosed figure. The announcement came weeks after David's Bridal acquired online wedding vendor directory Forever Bride, also for an undisclosed amount.
David's Bridal, which emerged from bankruptcy in 2018, has been on a multi-year mission to revamp its digital offerings via acquisitions and new programs. In 2020, the company launched a Pinterest-like chatbot tool that offers 24/7 customer service; its Diamond Loyalty program, which launched in December 2020, surpassed 1 million members this year. David's Bridal has also been rapidly expanding its product lines beyond bridal, most recently launching private labels geared at prom and quinceañera shoppers. Now through the Anomalie acquisition, David's Bridal plans to fold the startup's data, style quizzes and other digital browsing tools into its online experience.
Anomalie's proprietary tool, the DressBuilder, will be integrated into David's Bridal's digital shopping experience. However, the two companies did not disclose in what capacity that will be yet. David's Bridal CEO Jim Marcum told Modern Retail that Anomalie's technology, as well as talent, will be the biggest asset gained from the acquisition.
Prior to the acquisition, Anomalie's online presence had grown during the pandemic's e-commerce boom. At the height of the coronavirus, when the wedding industry was grounded to a halt, the brand's DressBuilder tool went viral on TikTok with over 5 million views. The incident drove 130,000 new signups to Anomalie's website over one weekend. 
The DressBuilder tool won't be used by David's Bridal to design and sell its own customizable dresses the way Anomalie used it. However, it will be integrated into the bridal retailer's vast inventory to help customers narrow down style options and gain recommendations for existing SKUs.
Anomalie CEO and co-founder Leslie Voorhees Means added that scaling the DTC brand since launching in 2016 has been challenging without the physical try-on aspect. "I'm excited to take the lessons we've learned from creating highly-customizable dresses, and use our data to drive merchandising decisions at David's Bridal," she said.
For David's Bridal, having Anomalie as part of its operation is part of its digital customer service strategy. This is especially important as it taps into the current wedding boom; In the past year, David's Bridal experienced between 20% to 50% more wedding-related sales, according to the company.
"For years, we were the brick-and-mortar retailer of the '90s," Marcum said. "But David's lost its way a little bit from the consumer point of view," he added, noting today's bride is collecting style inspiration online and then buying their dress in-store. "And so we want to bridge that gap."
"In the past couple of years, we've grown the digital tools to build a wedding planning destination – and launched a virtual styling service from scratch," Marcum said. The company, which owns its own warehouses, typically has about 300,000 units in stock or at its facilities ready to sell. 
"We have a vertical supply chain – so we design, develop and produce all our dresses exclusively," Marcum said. He also pointed to the retailer's existing customization offerings, which are available to customers post-purchase. "When brides choose a style, we're able to offer in-production changes, like adding or removing sleeves," he said.
Erin Schmidt, senior analyst at Coresight Research, said the acquisition makes sense given David's Bridals' recent string of digitization efforts. "David's Bridal has been modernizing its e-commerce and tech capabilities in order to transform itself into a wedding planning destination – and not just a bridal dress destination," she said.
Last fall, the company launched a wedding planning mobile app called Planning by David's Bridal. Users can create their custom wedding websites, manage wedding registries, create wedding checklists with vision boards and style quizzes. Schmidt pointed to that rollout arriving on the heels of the launch of its YouTube Live wedding channel in May 2021, which features around-the-clock wedding planning content and ideas. 
The entry into the wedding planning space is a smart strategic move, Schmidt continued, "as consumers spend months gathering inspiration and planning for their weddings."  
"Having Leslie part of our team will help us continue to evolve," Marcum said. "She built a lot of phenomenal tech and we're aiming to distill it down to allow brides to create their vision." 
Voorhees Means added that Anomalie will be leveraging its existing data to  better figure out what the bride is looking for at the beginning of their shopping journey."
Marcum hinted the retailer will be sharing the Anomalie integration rollouts by the end of the year. 
For Anomalie, the next phase is to scale its digital tools across David's Bridal's omnichannel distribution. "Brides want a one of a kind experience and Anomalie was great at providing that by offering thousands of design iterations," Voorhees Means said. "Now we get to use that to continue our mission of bridal inclusivity through David's Bridal."