David's Bridal targets the prom market with new juniors private label line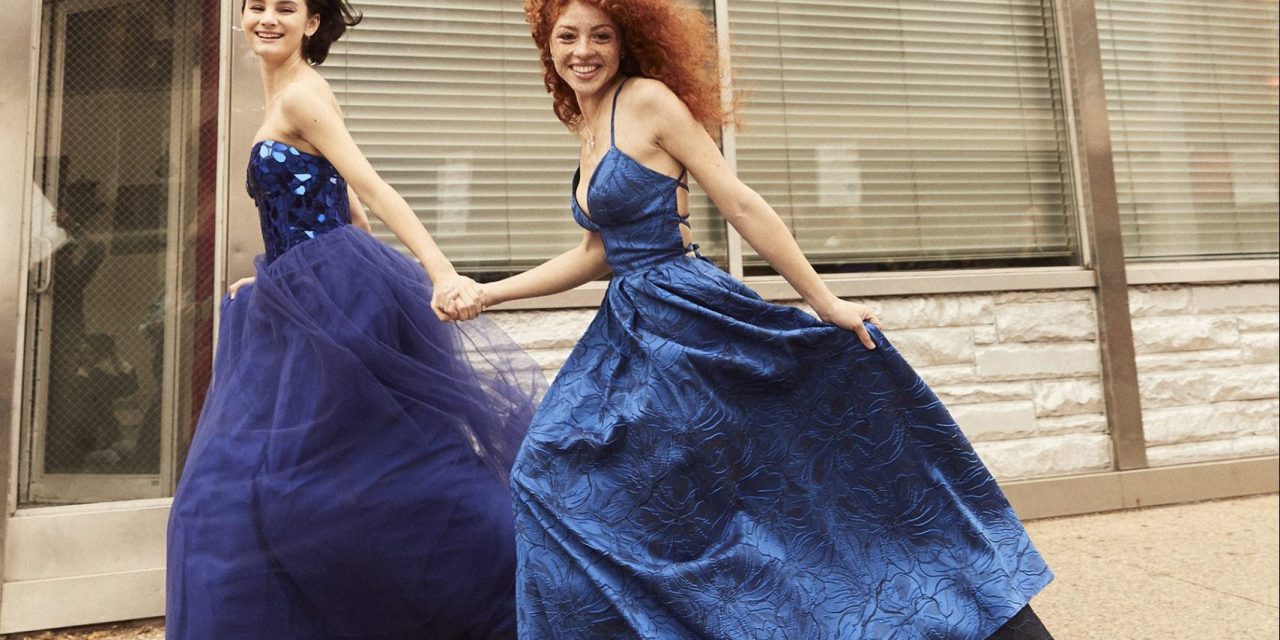 David's Bridal
Last week, wedding retailer David's Bridal announced the launch of Jules and Cleo, a juniors eventwear private label.
The company has sold prom dresses for over 20 years, said Heather McReynolds, a vp and general merchandising manager at David's Bridal, however, this is the company's first exclusive line for juniors. As brides postpone their weddings amid the continued pandemic and inflation increases product prices across categories, a juniors private label brand allows David's Bridal to diversify its assortment via a lower-priced line. However, producing low-priced, trendy styles for teens requires new marketing and production processes for the bridal-heavy retailer.
Jules and Cleo is currently tilted towards prom — most of the styles currently offered are long gowns — but David's plans to expand to short styles and less formal events like graduation, party and more casual school dances later this year. McReynolds said David's Bridal is hoping the retailer's investments in juniors will lead to "lifelong" customers who will shop at David's, first for their prom then eventually their wedding.
"While we had been doing prom and homecoming in our assortment for many years, there was an opportunity to really create our own exclusive internal brand where we could… expand beyond those two categories," said McReynolds. What's more, Jules and Cleo will give the retailer more control in terms of "price point."
Jules and Cleo has many dresses for under $100, explained McReynolds, and the pandemic's economic pressures and rising inflation were considerations in the line's launch. "The last two years have been challenging for families as they've migrated through the pandemic, and all of the challenges that has presented including inflation, which has really come on strong in the last six months," said McReynolds. "We always had a budget-conscious customer, but now more than ever, I think that's really important to people."
David's Bridal — which first got its start in Florida in 1950 — filed for bankruptcy in 2018. But, just two months later, it emerged from bankruptcy protection without closing any of its 300 plus stores. Since then, the retailer has increasingly focused on offering lower-priced gowns and adding new digital tools like AI-powered customer service to compete with the new crop of cheaper, digitally savvy bridal retailers like Anthropologie's BHLDN.
A private label bonanza
Although they may have better margins, private labels aren't always magic bullets, explained Jessica Ramirez, a retail analyst at investment research firm Jane Hali & Associates.
"For the past few years, everyone's been trying to get into private label, which makes sense — from a margin standpoint — as a business," Ramirez said. "But it does come down to how it's executed by the retailer… really understanding what the need is in the market and what the consumer is looking for."
Gabriella Santaniello, founder of retail consulting firm A Line Partners, added that she was surprised that David's Bridal didn't launch a sub-brand with its own website for the line, given the differences in the bridal and juniors consumer.
"It'll be interesting to see also how they get the message out, because I think your initial go-to [for juniors] is not to go to David's Bridal," Santaniello said.
Indeed, McReynolds said that juniors eventwear has significant differences from bridal dresses. Juniors, said McReynolds is "very fast fashion" whereas bridal has "a longer lifespan." Fit is also different: the company's bridalwear is made for women in their 20s to 40s rather than in their teens.
Another potential wrinkle is that many of David's loyalty programs are centered around bridal gowns and weddings. The company's Diamond Loyalty program does give members a discount on juniors clothing, but all rewards are wedding-focused. For 3,000 loyalty points, for example, a member can book a wedding consultation and, for 4,000, receive a free wedding tux.
"We're actually in the process right now of working on different rewards and point levels that we can incorporate into the Diamond Club program that will be more targeted towards our junior customer," said McReynolds.
The retailer says it is also exploring new social media to court teens.
"We just launched a TikTok channel for Jules and Cleo," said McReynolds. "It's been really fun [making Jules and Cleo] and I hope that the customers feel that comes through from how our marketing is positioned."