Why Frances Valentine is using its existing suppliers to expand into homewares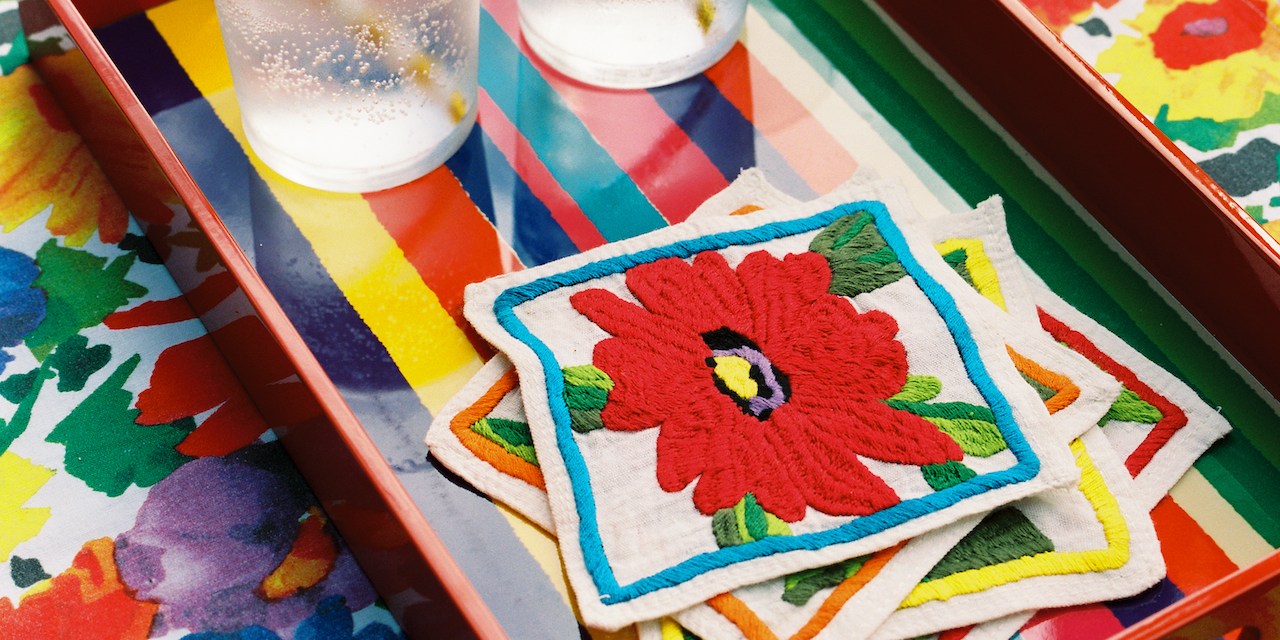 Image via Frances Valentine
Brands are trying to figure out how to most easily approach product expansion amid ongoing supply chain disruptions. For example, Frances Valentine, which started out as a women's shoe and handbag brand in 2016, has been using the materials and suppliers it has had on hand to dip its toes into new homewares product lines.
The brand first focused on selling at department stores. However, sales on the company's direct-to-consumer website quickly grew over the past two years — and the company responded by investing in growing the channel. 
With this recent direct-to-consumer focus, Frances Valentine doubled its business in 2020 and 2021 — and, as of this March, sales were up 85% in year-over-year sales. In turn, the company is increasingly exploring category expansion – starting with home and entertaining products, which rolled out last year. To test the new assortment, Frances Valentine is calling on its existing manufacturers to create limited-edition and seasonal home goods products.
Creating a new category with an easier lift 
Frances Valentine co-founder and CEO Elyce Arons told Modern Retail that category expansion, in particular, has become a big part of the brand's strategy to continue drawing customers to its site. The brand's limited-edition homeware items are available exclusively through the company's own website and stores.
"It's a natural extension of our brand's colorful, pattern-heavy assortments," said Arons. Among the home accessories segment, some of Frances Valentine's best-selling items in the past few months have been embroidered cocktail napkins and floral tablecloths. The company first took a gamble on homeware last summer, after getting customer feedback about its hand-embroidered clothing. "We had store customers ask 'why don't you make a tablecloth out of that pattern?'," Arons explained. 
But placing large orders from new suppliers amid production delays was a potentially big undertaking for the fashion-focused brand, Arons said. Instead, the company began commissioning its existing manufacturers to create home and entertaining accessories inspired by some of Frances Valentine's popular embroideries and colorful fabrics. 
"We're testing the home category by doing it through our existing suppliers," Arons said. This trial phase is intended to help the company "find a balance between being a fashion and a lifestyle brand." That is, until demand outweighs seasonal orders, the company will use its existing artisans and manufacturers to produce small batches of home accessories before committing to large orders. 
"Our embroidered tablecloths, runners and napkins were our strongest sub-category last year" Arons said. The brand, in fact, sold out of its hand-embroidered Oaxaca cocktail napkins within 10 days, and sold out of the reorder within the following month. Furthermore, Frances Valentine-themed puzzles were the highest-performing units within the home assortment, contributing 27% to the category's sales in 2021. 
Frances Valentine calls upon various suppliers and partners to create its home goods products. The brand's newly-launched cocktail napkins, for example, are handmade by artisans that Frances Valentine works with in Oaxaca, Mexico. On the other hand, the brand's seasonal beach towels are made in the U.S. by the same manufacturers that create its apparel collections. Other homeware accessories, like its lacquer trays, reusable wine bags, throw pillows and outdoor lanterns, are made by the brand's China and Vietnam-based factories. 
Adding products "that make sense" for the brand
While Arons said the seasonal home items are increasing basket sizes among existing customers, she also pointed out that the lower-priced home goods items –=– in comparison to the brand's steeper fashion items — have brought in new budget-conscious customers. For example, in 2021, 40% of the brand's home purchases were made by first-time customers, Arons said. "It's also been a good brand-builder, and we've gotten new customers who had seen these items at a friend's home," she said. 
The company is currently preparing to roll out a more robust summer entertaining collection in the coming months. "We're also adding more entertainment pieces and fun beach items to the mix this year," she said. These will include seasonal items like umbrellas, beach chairs and pool floats, among others. "We're also growing our assortment of beach towels," she said.
These new types of products are also helping the brand's physical retail strategy. Frances Valentine, which opened its fourth store last September, is planning three more openings this year. As the company opens more of its own stores, Arons said home accessories will help create more merchandising and styling opportunities. 
Kayla Marci, market analyst at retail intelligence firm Edited, said that product expansion is one of the biggest revenue drivers for direct-to-consumer brands. 
"With retailers striving to bounce back from the pandemic, there is an added pressure to increase and drive sales," Marci explained. Product expansion, while risky, is also a bet on more profitable items, Marci explained. DTC brands, she said, "are in an optimal position to experiment with new product categories, as they have no intermediaries to get goods to the end consumer." 
Michelle Kluz, partner in the consumer and retail practice at Kearney, said that for brands like Frances Valentine, it makes sense to translate their colorful aesthetics into homeware items that cater to more customers. The homeware category is also a hot segment to get into right now. Sales of home goods and furniture have spiked over the past two years, as more people spent time decorating and entertaining at home.
"Using existing suppliers is also a smart way to enter the category softly," she said.