How furniture brand Industry West pivoted from B-to-B to DTC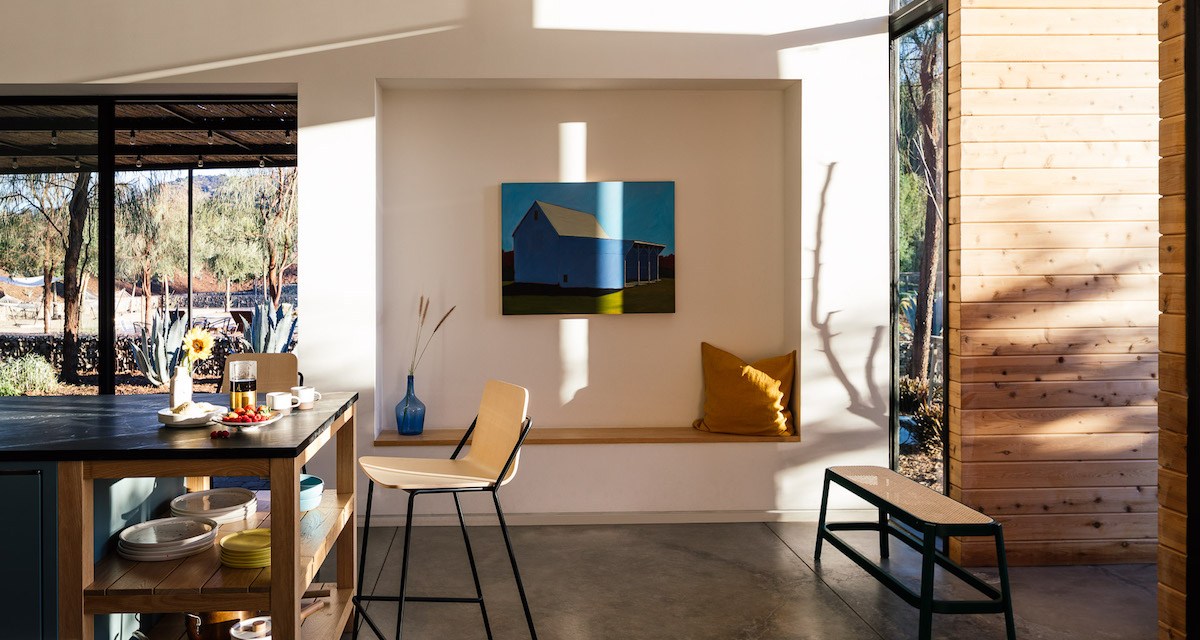 California Luxury Hotel Photographer - Aerial / Drone - Hotel San Luis Obispo - Tanveer Badal Photography
Jordan England, CEO of furniture startup Industry West didn't intentionally set out to build a business-to-business company.
England and his co-founder — his wife Anne — first got interested in furniture manufacturing after they were looking for furniture for their own house ten years ago, and England decided to look up manufacturers on Alibaba. The couple started doing more research into furniture manufacturing in Asia in Europe, and secured a few unique pieces that they then put up for sale on eBay.
"Somebody bought them for a lot more money than we paid, and we thought 'that's interesting,'" England said. They subsequently launched the website for Industry West, and within a week of the website launch, they got a call from someone who wanted to order 90 chairs for a new restaurant. Enthralled by the potential of a huge average order value, England said the company didn't yet have 90 chairs in stock, but they would figure it out. 
That moment essentially dictated Industry West's growth strategy for the first nine years in business. Industry sells what it calls industrial and mid-century modern furniture. It doesn't come cheap — sofas range from roughly $1,300 to $4,000-plus.
Before 2020, 70% of its sales came from business-to-business transactions, many of them from restaurant or hotel owners opening new spaces. But in 2020, Industry West's revenue makeup flipped. Last year, 70% of its sales came from individual consumers, as more people were driven to refurnish their new or existing houses during stay-at-home orders.
Despite the hit restaurants and hotels took in 2020, Industry West had its best year revenue-wise, doing nearly $30 million in sales. England said the company is profitable, and is bootstrapped. Now, spurred by the increase in DTC sales, Industry West is aiming for more aggressive growth. England said Industry West is projected to do just under $40 million in sales in this year. In order to meet that sales goal, Industry West is experimenting with a variety of new marketing tasks, and staffing up in some areas in order to better meet the needs of individual customers, not just contractors.
Rebekah Kondrat, founder of consultancy Kondrat Retail and former director of retail stores at Joybird, said that there are a few key differences between business-to-business and DTC sales in furniture. For professional contractors, particularly for businesses like restaurants and hotels, "quality and durability matters," as does volume, Kondrat said.
"[The furniture company] has to have quantity, you have to be able to churn these things out," she added.
Meanwhile, she said that she's increasingly seeing individual shoppers value personalization — they want a custom piece that people can't find anywhere else.
England said that he's never really thought of B-to-B and DTC has separate channels at Industry West. Unlike other B-to-B furniture companies, he said that Industry West has never historically relied on trade shows to find new customers, instead relying mostly on Facebook and Google for marketing, just like other DTC companies. Industry West does have a trade program, however, where contractors can get certain discounts, depending on how much money they order.
"A lot of times you will get a restaurant or a large trade customer that will be working on a project and they'll be specifying the product, and then we'll get an email the next day, and it's like, 'hey, can I get one for my house as well," he said. 
As a result, England said that Industry West hasn't had to significantly reallocate its marketing budget because of the increase in DTC orders. But, the company is testing out more new marketing tactics to see what works better with individual customers. For example, Industry West hosted its first-ever "warehouse sale," the goal of which was to also clear out old inventory. The company used a combination of email marketing and paid social to promote the sale, and did $900,000 in sales over the one-week period.
Ian Leslie, chief marketing officer at Industry West, also said that the company has also been working with traditional media brands more. Industry West has been partnering with Conde Nast for about six months, running white label ads across some of their properties. As part of this partnership, an Instagram user might see a post from Architectural Digest in their feed featuring Industry West products, but with the post being sponsored by Industry West.
"We've coupled this with print flights in Architectural Digest, and have found we're seeing both awareness and checkout-conversion wins through these tactics," Leslie said, though he declined to share specifics.
The other big changes that Industry West has had to make this year, England said, is increasing staffing in certain areas — namely, in customer service and on its warehouse team. That's because Industry West now has more customer service inquiries to deal with, because it's dealing with more customers, and because it's now shipping out more orders to a greater variety of places. It also recently hired an e-commerce director.
Despite the uptick in interest, the past year hasn't been entirely smooth sailing for Industry West. The company has not been immune to the shipping and logistics challenges other furniture brands have faced. In particular, the cost of shipping containers has jumped from roughly $3,000 to around $10,000 over the course of a year, eating into Industry West's margins.
Still, England said he doesn't anticipate supply chain challenges will slow down Industry West's momentum this year. "I'm really pleased we are able to maintain a level of profitability that's reasonable given the changing circumstances — we are making adjustments, for the challenges in supply chain, but excited about our ability to navigate those challenges," he said.