Q&A
// December 21, 2020 ■ 3 min read
How Nespresso's store strategy changed during the pandemic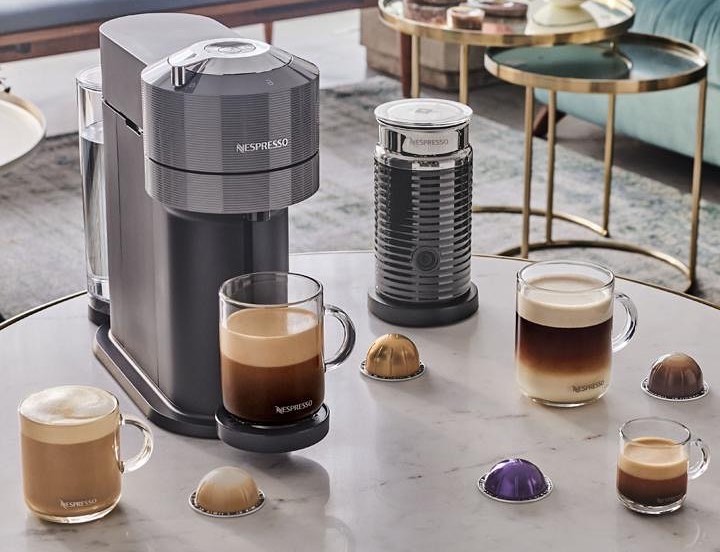 Even with offices closed, Nespresso has been able to thrive.
As a single-serve espresso brand, Nespresso has been focusing intently on selling its high-end machines and coffee capsules to the work-from-home crowd and beyond. Things seem to be working out; According to parent company Nestlé's end of year update, the Nespresso division grew by "mid single-digit growth." 
Even beyond Nespresso, at-home coffee consumption has been booming. While coffeeshops have been grappling with dwindling foot traffic, many coffee brands began focusing more on at-home customers. Both startup roasters finding new customers and legacy wholesalers have been leaning more heavily into consumer-facing brands. 
According to Nespresso USA's Justin DeGeorge, vp of marketing, the biggest shift was bringing the in-store experience online and making replenishments as easy as possible. He spoke to Modern Retail about what 2020 meant for the coffee seller, the role of stores and overall consumer tastes shifting. This interview has been edited for length and clarity.
How did the lockdown affect your business model?
In the spring, we saw a large chunk of consumption that historically was done at coffee shops or the office also shift to home. What this did was prompt coffee drinkers to invest in their brewing setups. Prior to Covid, much of our growth came from people looking for alternatives to daily coffee shop purchases, with a big cohort leaning younger and urban. 
While our existing customers' replenishment has naturally increased, new customer acquisition has also been on the rise. Part of that came from positive word of mouth from users, which drove new customers to us. Many home coffee solutions don't necessarily deliver the same level of quality as the coffeeshop. The challenge is highlighting the convenience and taste, which are our big value drivers. 
How has your store — and overall customer acquisition — strategy changed given that you've had to halt in-store tasting?
With coffee, oftentimes tasting is believing. So right now we're trying to showcase the simplicity and ease of use via our marketing channels, including social media or Zoom demos featuring baristas. The idea is to replicate that in-person experience that customers get at our boutique or a department store when buying a new machine.
We're leveraging our boutique locations to support distribution and features, like pickup or same-day local delivery. Some customers want simplicity and the ability to do curbside pickup. Others would rather subscribe and not worry about running out of their favorite flavor, and we want to cater to their needs. Another aspect of the boutique is leveraging the expertise of our associates. So while stores were closed, we focused on highlighting them in campaigns on Instagram, where they share coffee recipes and tips. 
How are you investing in your DTC channel to maintain this momentum?
From the beginning of the pandemic, part of the backend strategy was to strengthen our supply chain to keep meeting demand. Our direct to consumer channel includes brick and mortar, the e-commerce site and the Nespresso app, all aimed at making it as easy as possible to replenish.
This year, we've also ramped up our Easy Order program, which offers incentives such as accessories and gifts for loyal customers and has been popular among subscribers. We've also made it easier to recycle capsules through our nationwide program via UPS. We recently worked with the city of New York to roll out a curbside pickup program for recycling collection. 
What other opportunities do you see for the space beyond the pandemic?
This year marked a big turning point for at-home consumption. But even outside of DTC, there is also an opportunity in catering to corporate clients right now. For example, our B-to-B operation typically works with offices, cafes, hotels and restaurants. But with the convergence of work and home culture, we want to find ways to streamline purchases. And so currently, we're working with companies to creating programs for delivering coffee to remote employees.