How owning its manufacturing helped Duer stay agile during the pandemic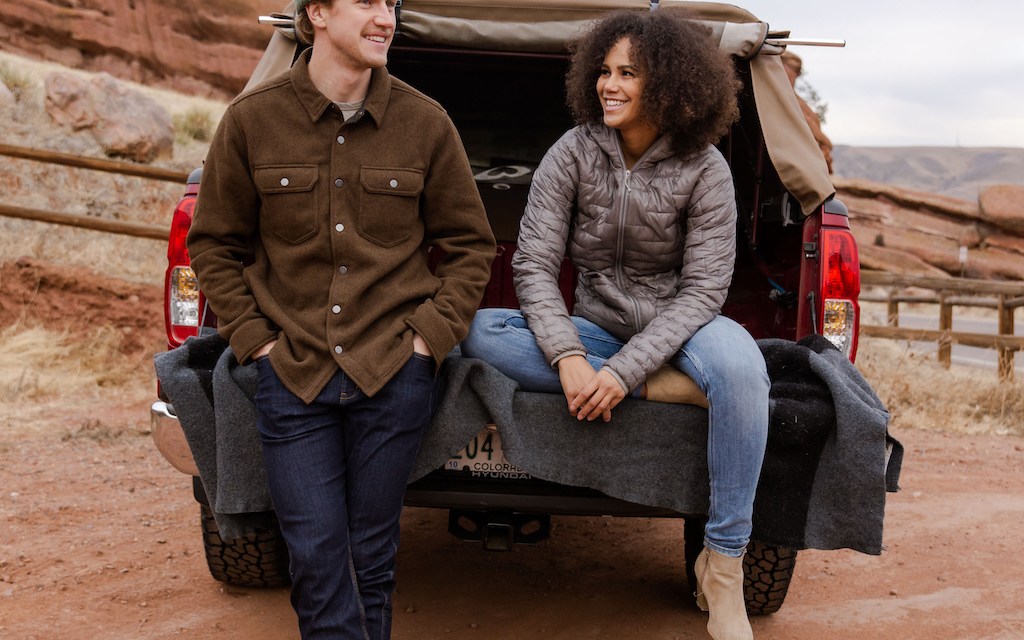 The pandemic threw all parts of the supply chain into disarray. The challenges even affected apparel brand Duer, which owns its own factory.
During the coronavirus outbreak, the founders of Duer discovered advantages and limitations of owning and operating a factory in Lahore, Pakistan. Duer, which launched in 2013, built out its own manufacturing facility while co-founder Abid Hafeez lived there. For a brand like Duer, the advantages of owning this part of the supply chain revolve around the ability to control production times during a crisis or high demand. But ownership comes at a cost — as capital is being constantly pumped into these facilities. Not to mention, logistics like shipping and fulfillment is still an unrealistic endeavor for smaller companies to control. 
According to the company, Duer saw a 20% overall year-over-year growth between March 2020 and March 2021, including a 60% growth in e-commerce sales. The company attributes this to its decision to operate its own manufacturing facility, which helped it remain agile.
During last year's shutdowns, Duer was able to modify its production overnight, chief operating officer Michael Macintyre told Modern Retail. At that time, orders from retail partners — including Nordstrom and REI — were impacted due to store closures. Duer's factory workers were then directed to produce inventory based on customers' new habits, in turn mitigating further losses on pieces like office wear. The brand lost 75% of revenue in less than a week at the beginning of the pandemic, and saw a drop in search for office pant styles. However, demand for its joggers increased by 400% — and the company was able to pivot its production to meet this demand.  
The limitations
Owning a factory of course does not mean complete control over supply chain. Indeed, many limitations have remained for the apparel brand. For instance, Duer's orders are subjected to customs and port delays just like other retailers, Macintyre said. And because, in many cases, cargo shipments fly commercial flights, there has been a setback during the restricted travel policies in the past year. Even a year into the pandemic, port congestion continues to plague retailers. As the Nation Retail Federation recently forecasted, the number of imported containers is set to jump 44.1% this month, compared to this time last year.
Running a factory comes with management responsibility, especially during a crisis like the pandemic, said Macintyre. Duer's factory, which currently has 300 salaried employees, had to navigate managing a staff on opposite timezones. "It requires a lot of long nights due to time difference," Macintyre said of running the factory. For example, due to the time difference, a Vancouver team works overnight to coordinate with the overseas team. 
Still, Duer isn't the only brand investing in its own production. In recent years, digitally native brands have moved to own more pieces of their own production. Harry's, Caara, Rothys and Reformation, for example, also own their own factories. In fact, shoe brand Rothys followed a playbook to similar to Duer's and was able to quickly pivot production at its China factory from footwear to masks last year.
More recently, Peloton began to invest in its own equipment production and logistics. And as Amazon continues to gobble up pieces of its supply chain, other big retailers are trying to keep up. For example, Walmart recently announced it will invest billions of dollars in automation to increase distribution capacity.
According to Andrew Hogenson, global head of consumer goods, retail and logistics at Infosys Consulting, there are many associated costs with owning production. For example, when manufacturing is outsourced to a vendor, the brand can scale back production based on demand. But if a single brand owns its entire factory, it has to eat the costs regardless.
Hogenson said there are also marketing benefits to be considered, such as designs' IP protection and production transparency. For example, a brand can authoritatively tell customers it's providing living wages and safe working conditions.
Macintyre said that in the coming year, the company plans to continue using its retail spaces — including new store openings — as hubs to get a greater value out of having prime real estate locations. "This will help reduce warehousing costs and allow us to experiment with same-day local delivery," he concluded. As for continuing to control more of its production's supply chain, he said Duer will "continue to build long-term relationships with suppliers."