How Recess is trying to rethink virtual pop-ups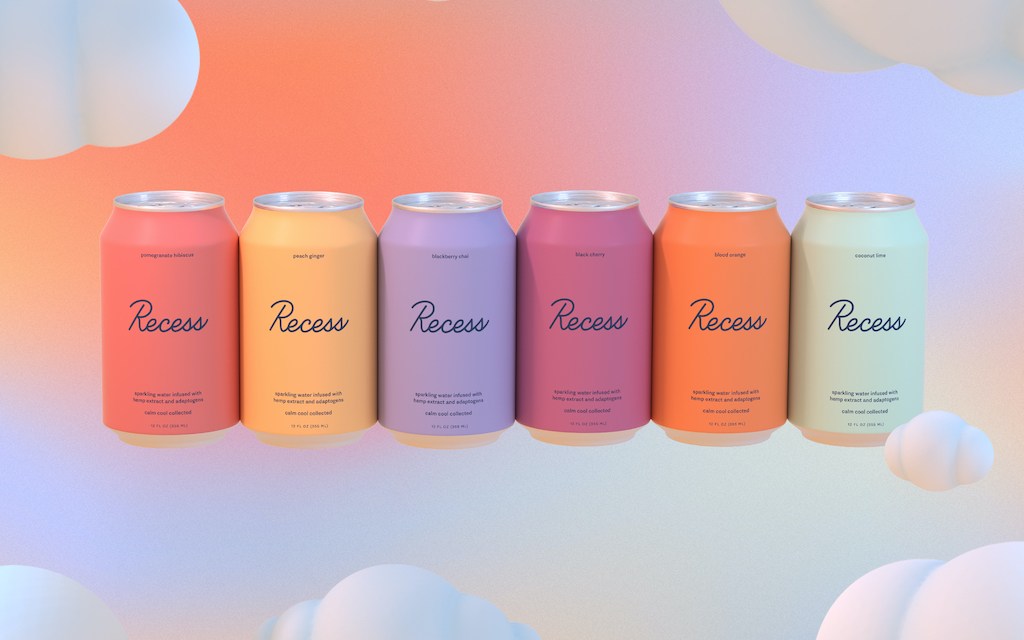 Almost six months into the pandemic, brands are looking for new ways to execute virtual events. After all, there are only so many Instagram Live or Zoom meetups a brand can do before engagement fatigue sets in. This phenomenon has also upended an important aspect of brand building for digitally-native brands: the popup event.
Building a beverage brand, in particular, without physical tastings can be challenging without a way to introduce new customers to the taste profile. This week, CBD-infused sparkling water Recess is experimenting with new virtual formats as it continues expanding across the country.  
When the coronavirus arrived, the company had to pull back planned physical experiences, including collaborations with other brands, said founder Ben Witte. Enter: the limited time virtual popup, called Press Play to Pause Your Thoughts, which consisted of a cloud-popping mobile game via a partnerships with the digital radio station Poolside.fm.
While it's aimed at existing fans of the brand, the promotions is also meant to generate awareness via social media and word of mouth while physical events are on hold. It uses the QR codes on Recess cans that drinkers scan, which then take them to the site to play the game and win exclusive merchandise, or "Realitywear," such as shirts or hats. The promotion also links to Recess's merchandise marketplace, which it launched last June
Witte described it as "marketing that makes money;" it's meant to engage existing customers while using merchandise sales to subsidize additional collaborations down the line.
These digital programs are a new way for Recess to introduce itself to new markets. Having launched in a number of new markets recently, including Austin and Dallas, Texas, these pop ups are to expand Recess' social following and create buzz ahead of each regional debut. The company is also currently preparing to roll out in the Pacific Northwest and Los Angeles, and recently launched a B-to-B portal for markets that don't have a Recess distributor yet. Meanwhile Recess' subscription service, which launched in May, accounts for over 40% of sales right now.
"We'll be in most markets in the country by the end of 2021," said Witte, so the digital events are an attempt at replicating activations in Recess' home New York market that's been going on the past two years. 
Witte sees merchandise sales as a way to keep the project afloat. "The revenue from the Poolside.fm collaboration is meant to then subsidize future popups, and so forth," he said. The incentive is for top users to win gear. Meanwhile, it also acts as a traffic driver to the recently-launched online shop of clothing and accessories.
"Any startup beverage company, including a CBD beverage brand like Recess, needs to understand who their market is and figure out how they will differentiate themselves," said Michelle Sundquist, director of innovation product design at SoRSE Technology. This is especially true during the national expansion phase in which saturation is already building, explained Sundquist, who also headed the launch of Starbucks' Nitro Cold Brew.
Without the ability to reach consumers via in-store tastings, discoverability in person becomes harder. However, Sundquist said that one advantage a startup has is the ability to be flexible to blend virtual pop ups with the returning in real life events, she said. "That's something that large companies have a harder time doing, as they're usually focused on providing a consistent experience so as not to lose their current customers." 
When beverage brands like Red Bull did physical popups, it consisted of ambassadors driving around cities in branded cars and giving out free Red Bull cans to passersby. However, while this type of gorilla marketing was effective before social media, the associated expenses to draw buzz are no longer necessary, said Witte.
Now, brands can start creating awareness on people's phones before they walk into the store. And it doesn't take an expensive physical pop up in a major city, Witte explained. The current game, for example, is yet another way to entice them to buy the can for the QR code. "Building a beverage brand at a large scale that competes with big CPG requires this kind of revenue diversification."