How Revival Rugs uses visual AI to curate thousands of styles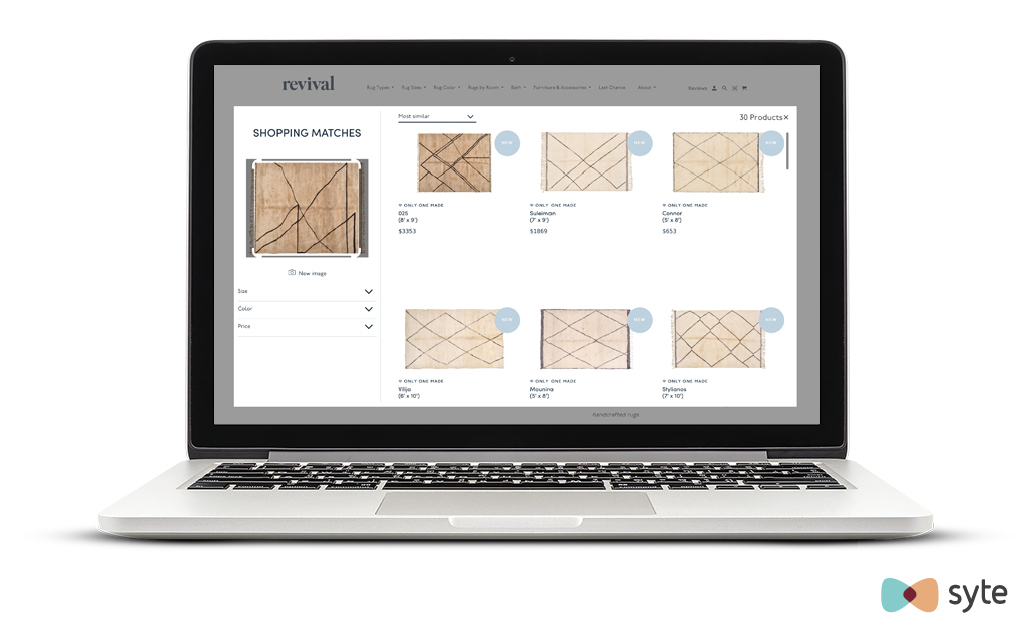 Image via Revival Rugs
Retailers with a vast array of merchandise are increasingly turning to tech to help customers compare items and make better product suggestions. Online retailer Revival Rugs is one such company.
Revival Rugs began by importing and restoring rugs from Turkey, India and Morocco, and has since grown to include vintage furniture and decor. Revival Rugs's catalog began with around 300 rugs, but now the website offers between 5,000 to 10,000 rugs at any given time.
Over the past few years — which coincided with the pandemic's home decor boom — the company's assortment became difficult to navigate via keyword search alone. In turn, last year Revival Rugs turned to visual machine learning tools to create related style suggestions for customers — which the company said helped increase conversion and average order value.
"We're currently adding about 1,500 new products a month," co-founder and CEO Ben Hyman told Modern Retail "Our catalog was expanding really rapidly, so it can be overwhelming for customers to select the right style," he said. Currently, half of the brand's merchandise is vintage-sourced, with the other half under its Studio Revival Rugs private label. The number of rug styles is bound to grow even more as the company scales, Hyman said.
All of Revival Rugs' rugs have product tags, such as color and motif type that help narrow down search. "But sometimes, keyword search alone doesn't pick up on common features between different SKUs," Hyman explained. Visual tools can pick up on specific colors and designs more closely. For example, AI helps the customer get to the closest shade of red they're looking for faster than browsing the site, Hyman noted. 
So in mid-2021, the company was looking for ways to narrow down style search for each shopper. "We realized that a visual tool may be the best way to streamline the browsing process," said Hyman. 
Thus, Revival Rugs began testing out visual artificial intelligence tools, including one by the company Syte called Visual Discovery Suite, which uses machine learning to suggest related products based on customers' browsing patterns. For instance, when a customer searches for a 4' x 7' turquoise rug for under $600, the products most similar to that selected size, color and price point are added to the top of their suggested feed. The Visual Discovery Suite folds in every uploaded new SKU, reflecting it live on the site. Part of the suite also includes a carousel of related styles and other pieces that complements the customer's potential room decor. 
Nearly half of Revival's inventory are one-of-a-kind pre-owned pieces, so that creates an added challenge when suggesting related designs or colors, said Hyman. And with rug shopping, Revival Rugs found that if the customer likes or saves one item, they want about five or six more suggestions across different price points before making a final decision, said Hyman. The software also finds merchandise based on the customer's uploaded image, helping customers find Revival Rugs products inspired by styles from around the web.
To date, Revival Rugs increased its conversion rate by 3.3X among customers using the visual AI tool, compared to those who don't. "People are also spending more time on our website, helping our average order value go up," Hyman said. The average order value increased by 12.5%, with the average revenue per user jumped by 269%, compared with customers who don't interact with the Syte tool, Hyman said. "And about 8% of our customers purchase a product that the tool offers," he said.
The challenge in growing AI's role, Hyman said, is to get Revival Rugs visitors to engage with the visual discovery button. 
Currently, about 28% of Revival Rugs' customers engage with the visual AI product finder before making a purchase. The goal is to increase that figure, and therefore conversion rates, Hyman said. "Because the more we encourage people to interact with the tool, the higher the conversion rate gets," Hyman said.
"It's expensive to get online shoppers to the website to begin with," Hyman said. He pointed to recent marketing changes such as updates to iOS 14, which have negatively impacted the web and mobile traffic for many retailers. "So we want every visit to be impactful — and that means getting customers to the right page and style quickly," Hyman said.
The company is growing the visual AI suite by rolling out a website welcome quiz and improving word search capabilities. "We also recently rolled out 'view in your room' feature to complement visual search," Hyman said. This year, Revival Rugs will also begin integrating the AI-based suggestions into personalized email marketing campaigns to bring customers back to the site. 
Machine learning has become an integral part of e-commerce business' strategy to increase conversion and increase at-cart sales, particularly in categories like furniture. Other retailers, like Ikea and Wayfair, have also implemented visual search tech over the past couple of years; Wayfair, for instance, has built out its 3D room planning tools in-house. Meanwhile, Ikea overhauled its e-commerce app to help customers better navigate its large stores.
John Harmon, senior analyst at Coresight Research, said that AI tools are becoming essential for removing friction and improving the experience of online shopping.
As more online retailers try to offer as many products as possible — often referred to as  "endless aisles" — it can be "difficult and eye-glazing for the consumer to navigate," Harmon said. In these instances, consumers have to know exactly what they're looking for to avoid frustrating search results. "AI or machine learning tools can help cut through the noise in the shopping process," he added.
For Revival Rugs, which plans to expand its merchandise lines further in 2022, visual machine learning search is the roadmap to effective browsing. 
"It's become central to our growth strategy," Hyman concluded. "Because the more we grow, the harder it gets for customers to find styles they're looking for."