How TalkShopLive is courting DTC brands to use its livestream platform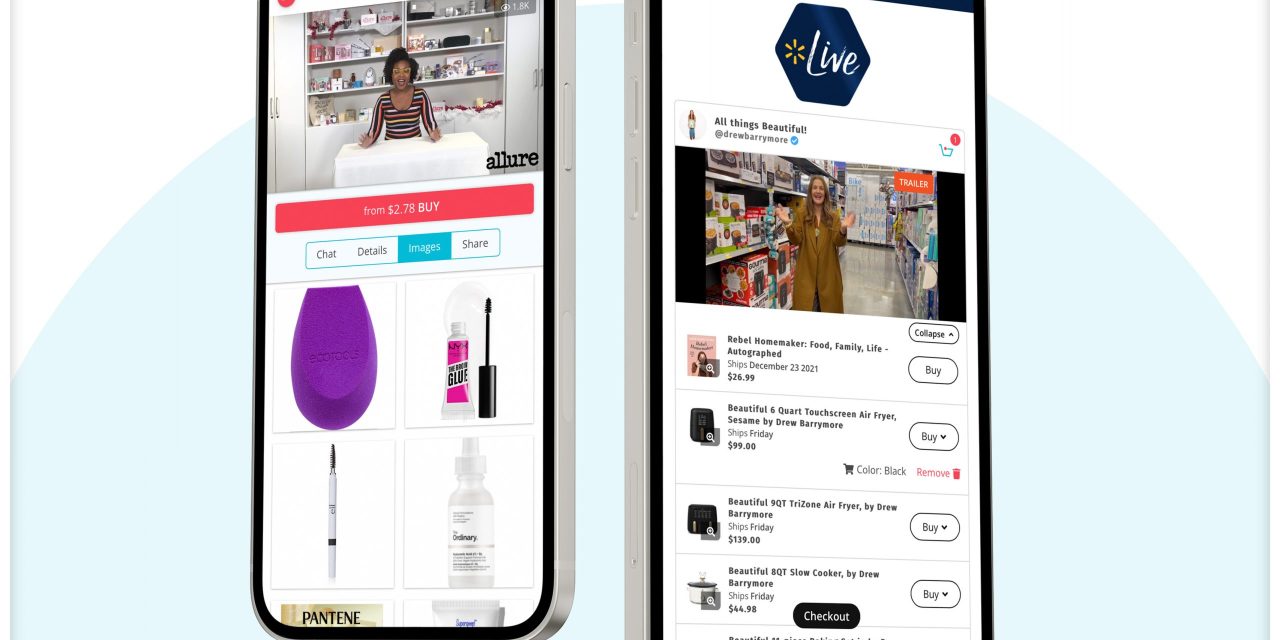 Image via TalkShopLive
Since launching in 2018, live streaming platform TalkShopLive has become known for its live celebrity-led shopping sessions, with hosts like actress Drew Barrymore and reality star Lisa Rinna. Now, the company wants to build out its repertoire of food and drink sessions with the help of DTC founders that appear on the platform to talk about their brand.
Over the past couple of years, the company has expanded its reach by striking video commerce partnerships with companies like Walmart, Condé Nast and Hearst. These programs allowed hosts from these publishers and retailers to run shoppable live feeds, and have orders fulfilled on their own websites or through select retailers. The partnerships also helped TalkShopLive expand both the reach of its platform, as well as the types of brands it features.
Bryan Moore, co-founder and CEO of TalkShopLive, told Modern Retail the company is now ramping up its focus on DTC brands, especially within the food and beverage space. The decision, he said, was data-driven. "Our January revenue alone surpassed all of the first quarter of last year," Moore said, with the company looking to continue that momentum by attracting more brands and audiences. "The opportunity to bring in fresh, young brands is ripe." 
"Food, along with beauty, is our fastest growing segment on Talkshoplive," Moore said. He pointed to a session led by Food Network's Giada De Laurentiis last year as one particularly successful one, in which she showcased her kitchen pantry while promoting her new cookbook. "That prompted followers to ask us to feature other founders within that category," said Moore.
Interacting with a new set of customers
Last month, olive oil brand Brightland participated in TalkShopLive's Virtual Bite show, which highlights food companies and recipes. Brightland founder Aishwarya Iyer hosted the session, and Moore said she'll be returning to TalkShopLive in April to promote new products and participate in the platform's Food Week events. "We also have more food and food media brands on the horizon," Moore said. 
"Brands like Brightland have the opportunity to tell the story behind the brand," Moore explained. Brightland did not respond to requests for comment on Iyer's TalkShopLive appearance. 
"Our inbound requests from DTC brands are growing, largely due to our recent integrations," said Moore, pointing to the platform's partnerships with Walmart and Shopify that launched in the past year. He added that TalkShopLive's extended Walmart partnership will see the two companies more regularly collaborate on live sessions to promote brands carried at Walmart. 
Another recent example was a live show with DTC dog food brand Jinx, which rolled out in 2,100 Walmart stores and on its website on March 1.
Jinx founder and CEO Terri Rockovich appeared on TalkShopLive on March 9. According to Rockovich, "Walmart put it [TalkShopLive] on our radar when we were preparing to launch there, positioning it as a good way for a new brand to reach a wider audience," she said.
Rockovich appeared as part of a TalkShopLive series about female-founded brands during Women's History Month. "My team and I started planning five weeks ahead of time what products and points we'll hit," Rockovich said. "Our experience with TalkShopLive went great, I think partially because it's a really interactive forum and the event was augmented by Walmart's participation," she said. 
Jinx sales on the day of the livestream were up 64.6% compared to the same day the week prior. They were also up 42% from the previous day, Rockovich said. "Our conversion rate was about 9% higher than our DTC website," she said.
Rockovich credited the coordinated promotion among Jinx, Walmart and TalkShopLive across owned and paid channels leading up to the event. Jinx and the two partners co-created a media campaign to promote the show on Jinx and TalkShopLive's Facebook and Instagram feeds, along with posts on Walmart's own TalkShopLive blog. "This led Jinx to have the highest viewership of the weekly series," Rockovich said. The brand's shoppable products are also embedded on both Walmart.com and TalkShopLive, which allows customers to shop for Jinx products after the live session ends.
"It's actually not that different from fundraising, because I got to tell the brand's story and answer questions in real-time," she said. Rockovich said the experience also made her "eager to fold video commerce into our marketing channels," and said the company may potentially test other formats, such as YouTube and Instagram Live.
Live video shopping is picking up steam in general, with several platforms vying to become the go-to livestream platform. Alongside TalkShopLive, startups like ShopShops, Whatnot and NTWRK have garnered increased attention from investors and brands. The video commerce trend also coincides with brands' increased interest in testing out more video-friendly platforms, like TikTok and Instagram Reels.
One of the draws of live commerce, Moore said, is that hosts — whether they are celebrity entrepreneurs or startup founders — are streaming sessions from their own home. "The audience loves seeing founders like Terri [Rockovich] with her dogs, which tends to resonate more among viewers than a polished studio," said Moore.
"Made me me feel like a QVC host" 
For up-and-coming founders, live video commerce also acts as a marketing testing ground.
Kristin Olszewski, founder of canned wine brand Nomadica, said that as a bootstrapped brand "setting up and using TalkShopLive was really easy, which I appreciated." Olszewski appeared on TalkShopLive last February, as part of the platform's National Wine Day live show.
At one point, the session had 500 people watching while Olszewski spoke about launching and growing Nomadica over the past two years, "which made me feel like a QVC host," she said.
"As a sommelier, I'm great at talking and storytelling, so it was nice to engage with digital customers in that format," said Olszewski. While Nomadica only made a handful of online sales the day of, Olszewski said there has been "a steady trickle of shoppers" from TalkShopLive since then. Nomadica's TalkShopLive channel is integrated with the brand's DTC website's backend, which tracks which orders Nomadica receives from its TalkShopLive page. 
Olszewski also noted that during Nomadica's session, she was able to explain certain decisions behind the product, like why she decided on a canned format. However, many viewers also asked non-product related questions, like how to taste wine varieties and whether they should be concerned about sulfates, Olszewski said. She also noted that the audience skewed older than Nomadica's core millennial and Gen Z customers. "It made me think more about positioning our single-serve cans to an older consumer," she said. "The live aspect also made me really think about my call to action, not just among retail buyers but customers."  
As live shopping continues to pick up steam, executives at DTC brands are eager to continue testing it out. "There is absolutely an appetite for real-time interaction with founders or product experts from shoppers," Jinx's Rockovich said.