Earnings
// November 16, 2021 ■ 4 min read
Inflation helped boost Walmart's grocery sales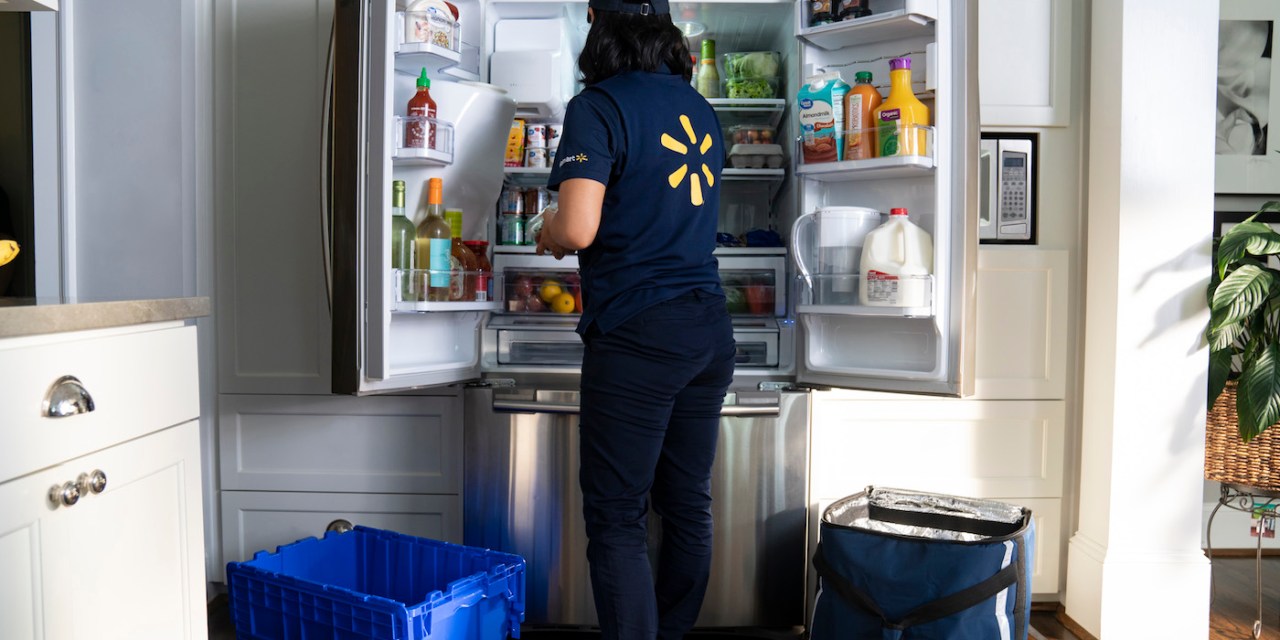 Image via Walmart
After slowing growth for the past couple of quarters, Walmart's grocery business got a boost thanks to inflation. 
During its 2021 third fiscal quarter, Walmart's grocery sales increased nearly 10% year-over-year. This was largely due to its grocery and household goods experiencing "low to mid-single-digit inflation," according to the retailer's latest earnings report. By contrast, Walmart's total revenue grew by 4.3% year-over-year, showing grocery sales to be a bright spot for the retailer. 
Walmart's results highlight the ripple effect resulting from price increases across food and everyday essentials. In the short term, inflation is leading to higher sales figures for grocers, as items become more expensive, driving up average order values. But, in the long term, there's a risk of consumers cutting back on necessary spending as essentials get more expensive.
Food prices in particular have been climbing at a rapid pace. In the month September, prices of grocery items increased on a percentage basis by nearly as much as they increased during all of 2019, according to an October report by the U.S. Department of Agriculture. By the end of 2021, grocery prices are expected to grow between 2.5% and 3.5% year-over-year, according to the government agency.  
Walmart said it plans to keep its grocery and home essential pricing as low as possible to compete with other retailers. Chief financial officer Brett Biggs said the company is currently fighting rising costs across its fuel business and retail inventory. However, he said, Walmart has been able to offset the losses by reducing its sales and promotions during the third quarter. "We've got lots of flexibility as we monitor price gaps to decide what we do at general merchandise," he said on the earnings call, pointing to examples like beef and apparel costs.
"We're proud to try and hold prices down," Walmart CEO Doug McMillon told CNBC on Tuesday. "Our conversations with suppliers today, tomorrow will be: 'How can you help us roll back prices and swim upstream and be different than everybody else?'"
Walmart's total quarterly revenue hit $140.53 billion, beating analysts' expected $135.60 billion figure. Its U.S. e-commerce business also continues to grow, hitting an 8% increase over 2020 and 87% jump over 2019. On the other hand, the company's international sales took a hit, dropping by 20.1% year-over-year due to $9.4 billion of divestitures, according to Walmart. The company's net income dropped due to increased inventory investments, totaling $3.11 billion compared to $5.14 billion the same period last year.
The company also raised its forecast for the upcoming fiscal year.
Walmart's focus on low prices has been a big part of its Covid-era wins, even in the digital grocery sales space. According to Jungle Scout's 2021 consumer trends report, Walmart's discount-geared grocery pricing is what gives it an edge over e-commerce competitor Amazon. According to Jungle Scout's consumer survey of 1,000 U.S. shoppers, 50% of respondents said they prefer Walmart's website for groceries over Amazon.
DailyFX analyst Richard Snow said that despite inflation concerns, Walmart is "possibly best placed out of its competitors to keep prices low over the holidays." This is largely due to the production resources the country's largest retailer has, he explained. 
Walmart executives said during the earnings call that the amount of on-hand inventory was up 11.5% compared to the same period last year.
Walmart also has an advantage in its growing in-house fulfillment operations. Unlike small- and medium-sized businesses, whose margins are being squeezed by rising costs, Walmart has the capacity to continue offering customers competitive prices, Snow said. As early as this past spring, the rising costs of raw material began forcing startup food brands to pass on the costs to consumers. 
Philip Melson, client partner at CPG consulting firm Fractal Analytics, said that Walmart's reputation for affordability is well-cemented among consumers, which has resulted in more Americans turning to the retailer during the ongoing inflation uptick.
Walmart's growing offerings for customers, including Walmart+ perks such as free delivery and discounted fuel, is another long-term investment that's paying off for the retailer. "The company is likely to weather the storm and find success," Melson said. "Of course, the true test is set to come as holiday shopping ramps up to full speed."