Walmart reports strong e-commerce growth, but Amazon is inching closer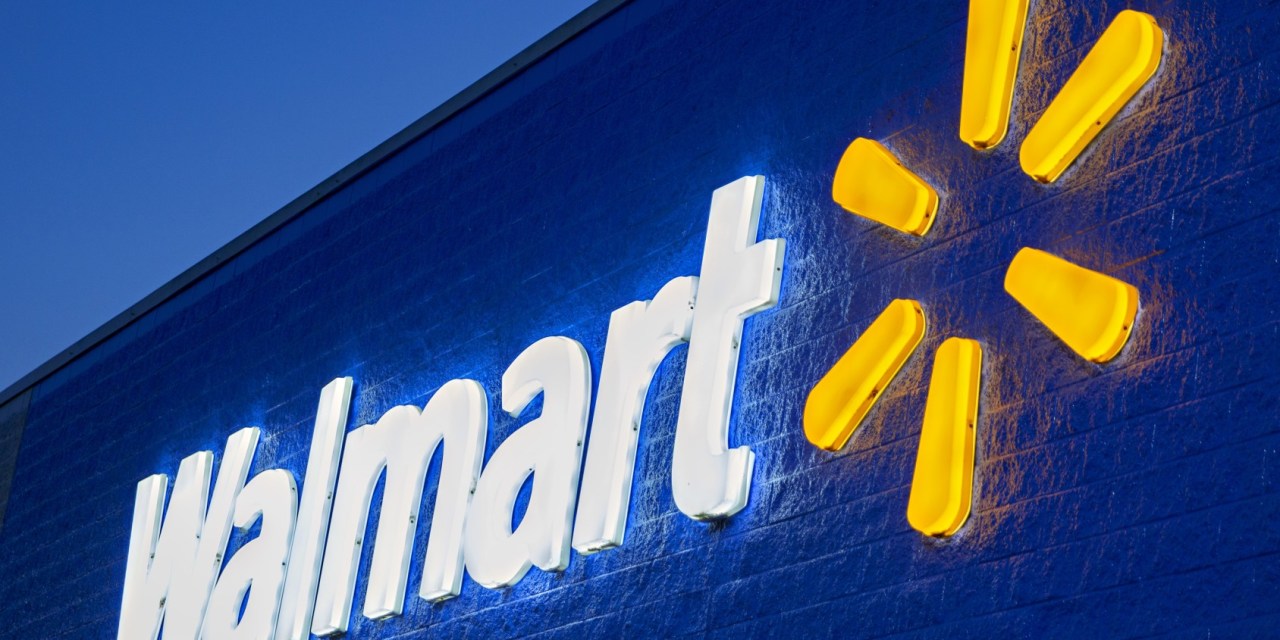 Walmart PR
Walmart's latest earnings report shows that the retailer's digital expansion isn't slowing down yet.
Walmart's overall sales were up 6% compared to 2020 — and although some analysts had previously speculated that Walmart's e-commerce business might be reaching a peak, online sales drove much of that expansion. The company reported that overall online sales jumped 37% compared to the first quarter of last year (the tail-end of which included the initial lockdown period in the U.S. and the subsequent e-commerce spike that it generated).
But Walmart's strong earnings growth might belie concerns even from within the retailer itself about its overall trajectory. In a report that was leaked to Recode in early May, executives at the company reportedly expressed concern that they were on track to lose ground to several competitors — most prominently Amazon and Instacart — especially across e-commerce and in the grocery sector. An internal slideshow in the report cautioned that "grocery, the growth engine of the business, is losing share rapidly" for Walmart. Elsewhere in the slideshow, the company noted that it was struggling to retain people who signed up for Walmart+, the company's subscription service modeled on Amazon Prime.
Bolstering those concerns, the research firm Edge by Ascential earlier this month released a report predicting that Amazon would overtake Walmart — which remains the leader in retail sales in the U.S. — in the retail sector by 2025.
Doug Koontz, the director of product and content strategy and analytics at Edge by Ascential, told Modern Retail that his firm's report wasn't necessarily bad news for Walmart. "Five years ago, I don't think the outlook for Walmart was nearly this positive," he said, noting that Walmart's technology and logistics investments are keeping it competitive. That Amazon will likely overtake Walmart by 2025 is a slightly faster timeline than previously expected, but he said that was mostly due to the rapid rise of e-commerce across retail.
"Amazon's e-commerce business is so much bigger than Walmart's at the moment," he said. "Even if Walmart is growing at a faster rate, those growth rates differences to make up that gap in the current state is sort of insurmountable."
While Walmart's e-commerce growth beat expectations, he said it doesn't fundamentally alter that math. Below are some other takeaways from the big-box retailer's most recent earnings.
Grocery is becoming a battleground
Walmart did not break out numbers for its grocery sector specifically, saying only that while grocery sales fell year over year — not a shocking revelation, given that the first quarter of 2020 included a month of grocery-specific panic-buying — it gained market share overall in the grocery industry.
The company did not explain by how much, except to say that "food categories saw mid-teens growth on a two-year stack," which takes into account growth over the last two years.
Grocery has long been Walmart's differentiating point: one recent estimate from Statista put Walmart's share of the overall grocery market at 26%. Amazon is attempting to make inroads there. After years of slowly rolling out its grocery side, Amazon has expanded its grocery presence rapidly in the past 12 months, including through its plan to launch 28 physical Amazon Fresh stores in the near term.
That seems to have shaken the confidence of at least some leaders inside Walmart, according to Recode. Koontz noted that, for now, "Amazon's grocery business is growing, but it is not remotely near as large as where Walmart's is."
Marketplace is leading its e-commerce growth
While Amazon has begun to invest more heavily in its physical stores, Walmart has focused significant amounts of attention on its e-commerce growth, both in grocery and beyond. In recent months, the retailer dropped its minimum order requirements for its two-hour grocery delivery service, and also opened up free shipping to all Walmart+ members, regardless of the size of their orders.
More quietly, Walmart has also worked to attract third-party sellers to its online marketplace. Walmart recently added integrations with the Shopify competitor BigCommerce, opened up the Walmart Marketplace to international sellers and has begun recruiting major Amazon sellers whose products fill holes that Walmart sees in its product assortment. Walmart also approved hundreds of sellers for Walmart Fulfillment Services — its new in-house fulfillment and attempted rival to Fulfillment by Amazon — in a single day.
For now, the Walmart Marketplace — like Walmart's e-commerce footprint overall — remains a small fraction of Amazon's: Walmart has about 89,000 third-party sellers, compared to Amazon's 1.9 million active sellers. But Walmart seems to be headed on an e-commerce path similar to Amazon: use a vast trove of third-party sellers to increase its product assortment, then make extra money on commissions, fulfillment fees and paid search ads. For Amazon, "seller services" — the category that includes commissions and other fees that third-party sellers pay to Amazon — represented a $23.7 billion business last quarter.
In its earnings, Walmart noted that its marketplace, along with its store pickup and delivery division, "led" its e-commerce growth, but did not give specific numbers illustrating how.
If Walmart is able to grow its marketplace into something to rival Amazon, it would help the company compete. Koontz said that, from his research, "The biggest driver of Amazon's growth online is their third-party marketplace." He added, "As a matter of capacity and growth, that's still what's enabling Amazon to overtake them."