Inside Ikea's new app strategy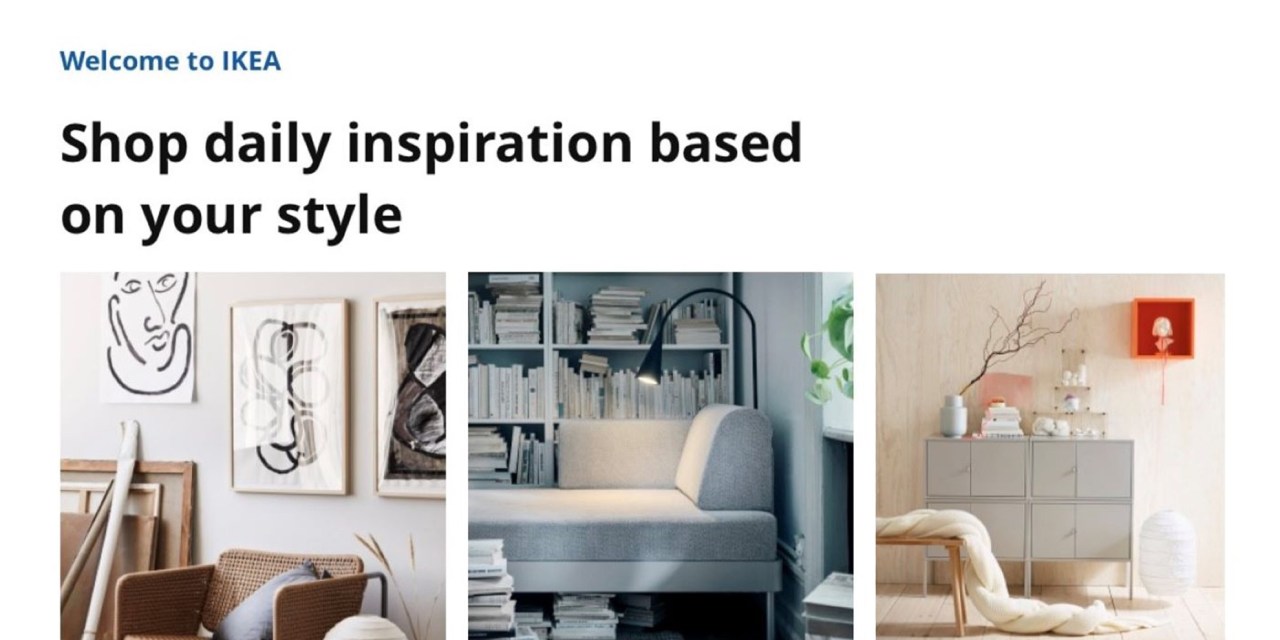 After testing it in several international markets in the past year, Ikea's U.S. app is finally here.
The furniture retailer, which first announced plans to update its app strategy at the start of 2020, is hoping to build on its e-commerce momentum with this mobile release. It marks yet another step away from Ikea's more analog tendencies — including its well-known catalog that it discontinued at the end of last year.
The new app, designed by web design studio Work + Co and launched internally to employees in December, aims to bridge the gap between in-store and online shopping for customers, according to the company. It features thousands of shoppable, Pinterest-like images for different room inspirations. The app also lets users' create and manage a profile, as well as link their Ikea Family rewards card.
It's part of Ikea's new, more unified digital strategy. Umesh Sripad, chief digital officer at Ikea U.S., told Modern Retail that the company's latest move builds on the digital transition that global chief digital officer Barbara Martin Coppola began back in 2018. "The U.S. is one of Ikea's biggest markets and our second HQ, so the long term digital strategy is important for us." Since joining the company, Coppola's experimental approach to digital has included programs like a furniture rental subscription service and a partnership with Alibaba's Tmall.
The move to launch the app is also coupled with Ikea's booming online sales, which made up 16% of overall sales in 2020, up from 10% in 2019. This increased interest in online shopping by its customers prompted the retailer to speed up the release of the app.
The all-in-one app also differs from Ikea's past mobile solutions, explained Sripad. "In the past, we had several fragmented apps," he said, including separate ones for the catalog, AR/VR room designs solutions, as well one for local stores. "The new app is a true virtual companion to the Ikea store experience," Sripad said.
The app launched last summer in Ikea's home market of Sweden, as well as France and the Netherlands, and has since been downloaded by 4.9 million users, according to the company. That rollout is also what helped inform the U.S.-specific features, such as curbside pickup, Sripad said.
The new mobile program also places an emphasis on user privacy — in accordance with Ikea's Customer Data Promise — allowing customers to shop either through a personalized browser or reset their whole search history. Upcoming plans for incorporating product ratings and reviews are also on the way, along with improved search capabilities and returns and refund processing, Sripad said.
A new e-commerce focus
The coronavirus has caused Ikea to revamp its e-commerce strategy. Over the last year, the company turned its 50 U.S. locations in micro-fulfillment centers for click-and-collect, as well as opened smaller showrooms in urban centers like Midtown Manhattan. 
The launch also follows Ikea's recent departure from traditional marketing channels, including its print catalog. Last month the company announced the discontinuation of the mail-in brochure, which ran for 70 years, citing a decline in consumer interest. The quarterly publication was an important campaign to drive in-store sales. But over the years, Ikea's digital marketing began outperforming the print catalog — and the company began putting more of an emphasis on its growing e-commerce channel.
Andrew Conrad, senior content writer for Gartner's Software Advice, said that "for decades, Ikea had been able to rely heavily on its in-store experience." These include the carefully manicured product displays, self-guided showroom layout and its Swedish food court. However, in the post-coronavirus world, focusing more on e-commerce "was not a matter of if but when," Conrad explained.
While Ikea's print catalog was iconic during its run, the revamped app can eventually not only replace, but improve upon it, Conrad said. Ikea has been a little late to the game in fully embracing e-commerce, he went on. "However, it appears that a lot of thought has been put into this app relaunch."