How Ikea's decision to shut down its catalog bucks current retailer trends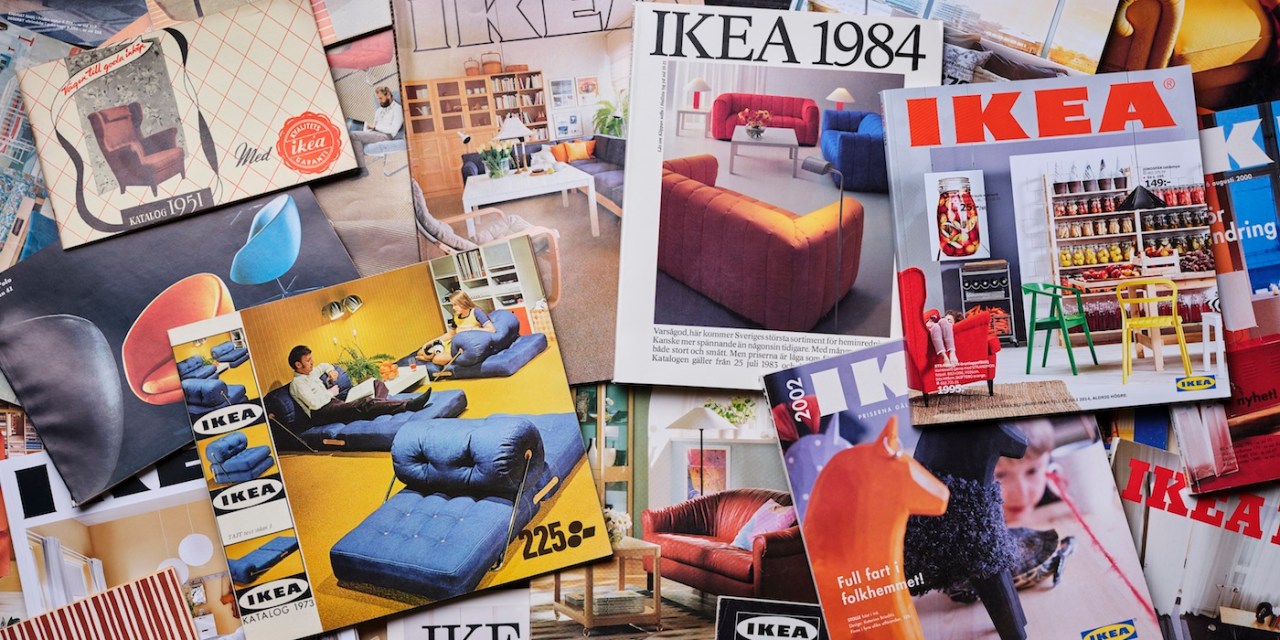 One of the longest-running retail catalogs is shutting down.
On Monday, Ikea announced that it would be shutting down its print catalog, after a 70 year run. In a press release announcing the news, Konrad Grüss, the managing director for Ikea's franchising business, said that interest in the print catalog had declined while Ikea's online sales have increased. The release also stated that Ikea would be investing more in digital marketing channels going forward.
While there are a few other companies have shut down or temporarily cut back on print catalogs this year, like Uncommon Goods, Ikea is actually an outlier. There are a number of other retailers, like Restoration Hardware and Williams-Sonoma that have remain committed to their print catalogs, even as they are committed to growing their digital sales. And, other e-commerce companies like Amazon have launched their own catalogs in recent years. But Ikea, as Modern Retail has previously reported, has been a laggard in building out its e-commerce business. Ikea's decision to shutter its pint catalog comes at a time when the company finally has some of the puzzle pieces in place to collect more data on its customers. Namely, by finally launching an app where customers can directly shop for products from. The more data Ikea collects through its apps and website, the more opportunities it has to do more personalized digital marketing.
It's worth noting that Ikea's print catalog was no small undertaking. The company reported that in 2016, at the height of the catalog's popularity, Ikea printed 200 million copies, in more than 32 languages. That would likely make the print catalog a multi-million dollar marketing expense.
A modern catalog pioneer
Jason Goldberg, chief commerce officer at Publicis, said that Ikea was an early mover in trying to find ways to bring its print magazine online, first launching a digital version of its magazine in 2000. In 2010, Ikea launched an augmented reality app where users could pick out a piece of furniture from the print catalog, and use it to visualize how the item would look in the room around them. And a couple of years ago, Ikea also started experimenting with creating a shoppable version of its print catalog on Pinterest, in which users could fill out a questionnaire, and Ikea would create an automated Pinterest board for them based on their answers.
The benefit of print catalogs, said Goldberg is that they are more likely to get the attention of customers at a time when customers are likely receiving more emails than they are physical pieces of mail. According to marketing platform Omnisend, its clients sent 2.4 billion emails during the second quarter of this year. "That catalog has the potential to live on your kitchen counter or coffee table for weeks," he said.
However, the drawback is that there are fewer opportunities to customize the contents of that magazine specifically to one customer, particularly if your print catalogs total 100-plus pages Ikea's frequently did. Additionally, when Ikea first launched its print catalog, it only sought to drive its customer to one place: its stores. Now, Ikea might seek to drive customers to its stores, its website, its app, to some country-specific marketplaces like Tmall, and also highlight new lines of business to them, like rental and resale.
"If  you are turning off a one size fits all catalog, and replacing it with a lot of personalized, customized digital outreach…that can potentially be a successful play," Goldberg said.
Focusing more on digital
Ikea is still a ways from doing that, but it's starting to put the necessary puzzle pieces in order to invest in more personalized, digital marketing. Up until a couple of years ago, Ikea didn't have a mobile app that allowed customers to buy products directly from its app. Its main focus had previously been to use digital to augment its stores. The retailer's app, for example, allowed people to navigate stores.
That focus has changed as Ikea has started to do more of its business online — e-commerce accounted for 16% of Ikea's total sales this year, up from 10% in fiscal year 2019. As Ikea does more sales through its website, it can collect more data on the types of products a single customer is buying over time, and use that to tailor its digital marketing efforts to them accordingly.
Ikea does not break out how much of its marketing budget goes to which channels, but recent campaigns have focused on paid social, as well as streaming. As part of Ikea's latest holiday campaign, called Four Weeks of Wonder, the company partnered with four different influencers on product giveaways and gift-giving tips, running ads across Facebook, Instagram, Hulu and YouTube.
It remains to be seen whether or not Ikea's decision to shun print marketing to focus almost entirely on digital pays off. Not all traditional retail companies that seek to focus more on e-commerce are making the same decision.  During the pandemic, for example, Williams-Sonoma has become a majority-online business, reporting that e-commerce makes up 71% of its sales, even while keeping its print catalog.
Chris Toy, CEO and co-founder of freelance marketing platform MarketerHire, said that what he's seeing as more common, particularly among e-commerce startups, is to think of print catalogs or direct mail as complimentary to investing more in TV, out of home, and other more brand-building marketing channels.
"You just get better overall results with a diversified mix," said Toy. "Having different ways of reminding people you exist is meaningful."