'It lost its consumer': 4 takeaways from Forever 21's bankruptcy filing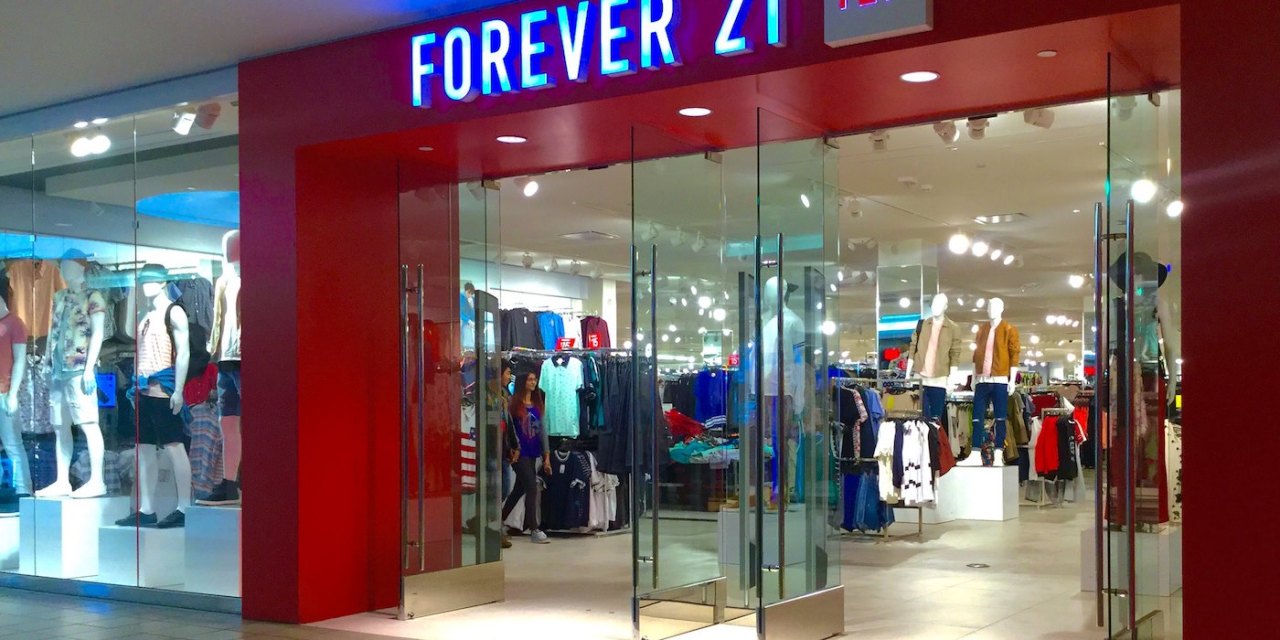 Many malls in the U.S. are about to lose yet another brick-and-mortar tenant, as Forever 21 filed for bankruptcy earlier this week.
Once one of the most popular fast-fashion retailers in the U.S., Forever 21's revenue declined from $4.4 billion in 2016 to $3.3 billion last year. As part of its bankruptcy restructuring, Forever 21 will close up to 350 of its 815 stores, with up to 178 of those stores coming from the U.S.
Forever 21's bankruptcy filing has prompted discussion about whether or not fast-fashion is dying, or just evolving. But there are some lessons that every retailer would be wise to take away from Forever 21's bankruptcy filing.
Retailers with huge stores need to close them, or find another use for them
Forever 21's biggest achilles heel was its huge stores. After the recession, instead of paring back on physical retail, Forever 21 doubled down on it, opening large flagship stores in expensive locations like Times Square. And it launched a chain of discount stores called F21 Red, which purported to offer lower prices than Forever 21, which is known for $5 t-shirts.
According to CNBC, the average size of a Forever 21 store is 40,000 square feet, with the largest locations running up to 100,000 square feet. Compare that to the size of the typical Nordstrom store, which is 140,000 square feet.
Other retailers with huge stores have found other uses for them — Kohl's is leasing footage from some of its biggest stores to other non-competing retailers, like Aldi and Planet Fitness, Walmart is making more room in its stores for grocery delivery and order fulfillment.
But Forever 21 didn't try to allocate more of its floor space for events or in-store services, instead just using it to display more merchandise, which came across as cluttered to some shoppers.
"It's just not appealing, it's very overwhelming," said Jessica Ramirez, retail research analyst at Jane Hali & Associates said.
Fast fashion shoppers aren't swayed by price alone anymore
Forever 21's biggest appeal to shoppers has always been price. "There was something in the thrill of buying something so cheap, and you could get it almost every day and not really break the bank," Ramirez said. But over the years, companies like Forever 21, as well as H&M and Zara, started to face backlash from fast-fashion critics, who believed that by selling ultra-cheap clothing and turning around inventory very quickly, they were creating a lot of waste.
While both H&M and Zara have responded to the fast-fashion backlash by pledging to make more clothes from sustainable materials, Forever 21 has not made a corresponding push into sustainability.
Even for consumers who aren't swayed by an eco-friendly mission, Forever 21's failure to push sustainability still creates a perception in the customer's mind that its fabrics are lower-quality compared to competitors.
Compounding to this problem is the fact that Forever 21 tries to sell customers only on price — its home page features "cardigans from $14.90," "tops starting at $2.90." Meanwhile, H&M's website features copy that's more tailored to sell customers on deals based on what's in styles right now, as well as collaborations with influencers. The current homepage, for example, highlights a "fall fashion collection" selected by NFL player Jarvis Landry.
Steve Dennis, CEO of retail consultancy SageBerry, said that he still believes customers have an appetite for fast fashion — but that Forever 21's products just failed to keep up with trends in recent years.
"The way I think about fast fashion is basically companies that are able to respond super quickly to trends," Dennis said. "What hasn't changed fundamentally in my mind is that consumers generally speaking are still interested in being able to get product closer to the trend."
Price-conscious customers have more places than ever to find deals
Forever 21's sales decline has corresponded with a rise in both rental and resale startups, department stores like Macy's and Nordstrom opening more off-price stores, and sales increases at existing off-price chains like TJ Maxx, as well as online-only fast fashion startups like Boohoo and Fashion Nova. While it's difficult to prove that some of Forever 21's customers have migrated there, the reality is that customers who want a deal can get deals in another ways than by buying a $5 t-shirt from Forever 21.
Additionally, because all of Forever 21's merchandise is so cheap, its stores lack the "treasure hunt" experience that has helped drive up store traffic at chains like TJ Maxx in recent years.
Brands need to grow up with their customers
Dennis believes that one of the biggest challenges Forever 21 will face as it seeks to come back from bankruptcy is the fact that its pigeonholed itself with its name, and created the impression that it's for customers 21 and under.
Forever 21 could take a page from competitor H&M, which has sought to shake off its image as a place for cheap clothes for teens by collaborating with high fashion designers like Alexander Wang and Balmain. Forever 21 could also reestablish affinity among Gen Z shoppers by working with more influencers.
"It lost its consumer," Ramirez said.
Photo by Mike Mozart on Flickr