'It's a different economic model': Traditional retailers face hurdles in push into resale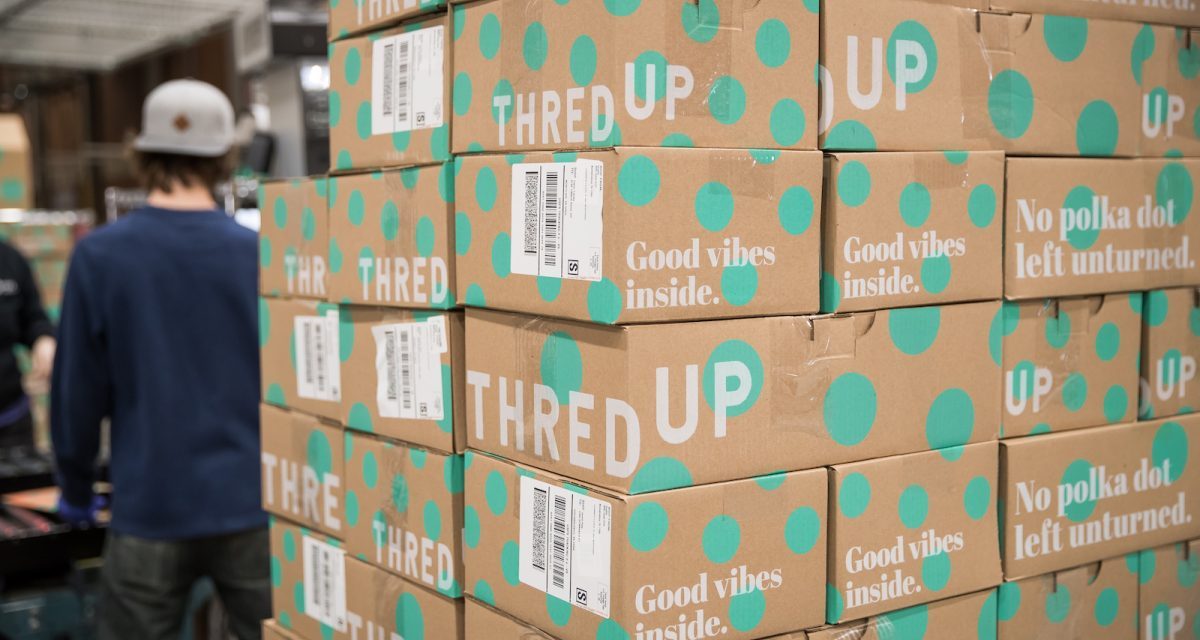 ThredUp
Over the past several weeks, a steady drip of traditional brick-and-mortar retailers have announced plans to launch their own rental and resale service. These retailers see these services as a way to reach a younger consumer, and they're inspired by the success of fast-growing startups like Rent the Runway and the RealReal.
But many of the startups these traditional retailers are seeking to emulate remain unprofitable, and are struggling to maintain high levels of customer service as they continue to scale. Most of the new rental services offered by brick-and-mortar retailers are less than a year old, while others are just starting to pilot adding in-store resale sections. As such, it's too soon to tell whether a resale or rental service will make sense for all of them long-term.
"It's a different economic model that traditional retailers probably don't have much experience with," Tiffany Kantar, analyst at Kantar Consulting said.
The players jumping into the rental and resale space include Urban Outfitters Inc., which officially rolled out its in-house rental operation, Nuuly at the end of July. Meanwhile, Banana Republic announced this month that it's launching a rental program in partnership with white label service provider Caastle, which also works with American Eagle, Ann Taylor and Express. JCPenney and Macy's both announced last week that they will begin adding in-store resale sections in partnership with ThredUp, which announced this week that it was pivoting to a resale-as-a-service model.
Rental and resale services are both designed to appeal to younger consumers who either don't have the money to spend on expensive items from big name brands in categories like handbags and dresses, or who want to buy secondhand out of environmental concerns. ThredUp releases its own report on the state of the resale market each year in partnership with GlobalData Retail, and said in this year's report that it projects one in three Gen Z shoppers will buy used clothing this year, compared to less than one in five Gen X shoppers. However, the logistical work required to pull off both varies slightly.
For rental services, particularly monthly ones, shipping and dry cleaning costs are the biggest barriers to running a profitable service. But, retailers are betting that rental services will ultimately bring them a customer with a higher lifetime value. David Hayne, chief digital officer at Urban Outfitters, Inc. and president of Nuuly, told the Wall Street Journal that the company expects that the service will bring in about 50,000 customers within a year of operation, and with it nearly $50 million in annual revenue.
"For a lot of these mall merchants, they only see their customers two to three times a year, and now they're assuming they get to collect revenue from them 12 times a year," Sucharita Kodali, principal analyst at Forrester Research said. But, she cautioned that many monthly subscription providers often underestimate how many customers will ultimately end up ditching the service.
Caastle, the startup that manages the rental programs for American Eagle, Express, Ann Taylor and others, says that across all the startups it works with, about 50% of the customers who use rental services are new customers for that particular brand, and that current brand customers who end up signing up for the rental service are spending 150% more on average.  In an email, Caastle founder and CEO Christine Hunsicker declined to share retention statistics, but said that on average, the brands it works with typically recover their customer acquisition costs within four to six weeks.
Hogan and Kodali both said that rental services make the most sense when the retailer offers bigger-ticket items that the customer may not be interested in buying full price. Nuuly, which offers customers access to six items for $88 a month, has dresses available to rent ranging from $2,5000 to $20. Rental services like Nuuly and those managed by Caastle are also trying to encourage customers to spend more by promising them a discount if they end up deciding to buy one of the pieces they initially rented.
"In the case of a lot of these mall merchants [getting into rental], what I don't understand is its not super expensive to buy their stuff anyways," Kodali said.
Retailers are also turning to resale to get customers to buy from them more regularly, albeit not by signing them up for a subscription service. Macy's and JCPenney executives both said when they announced their respective partnerships with ThredUp believe that introducing dedicated resale sections in-stores — where the product selection is refreshed more frequently– will get customers to visit them in-store more often.
Resale has its own set of logistical challenges — while resellers may not have to pay to ship the same item over and over again to different customers, they have to hire authenticators who can ensure an item is in good condition before sending it to a customer. Secondhand luxury marketplace TheRealReal, which filed for an IPO in June, brought in $207 million in revenue last year, but lost $76 million.
ThredUp will manage the selection of inventory that will appear in JCPenney and Macy's stores, which lessens the amount of logistical challenges they'll have to take on. The biggest risks for JCPenney and Macy's are that the resale section will cannibalize some of the sales that their full-price sections would have gotten. Though Macy's has said that it's tried to limit this risk by giving ThredUp a list of brand names that appear in its full-price sections and thus doesn't want to appear in the resale sections. But Hogan said that alone won't be enough to avoid cannibalizing sales.
The risk here is that you're confusing the shopper, Hogan said. "For example, with Macy's, you have a regular sale [section], you have last-act clearance, you have Backstage off-price, and then you have resale. There's many different ways you cannot pay full-price."