'Left out in the cold': Why Under Armour's app strategy failed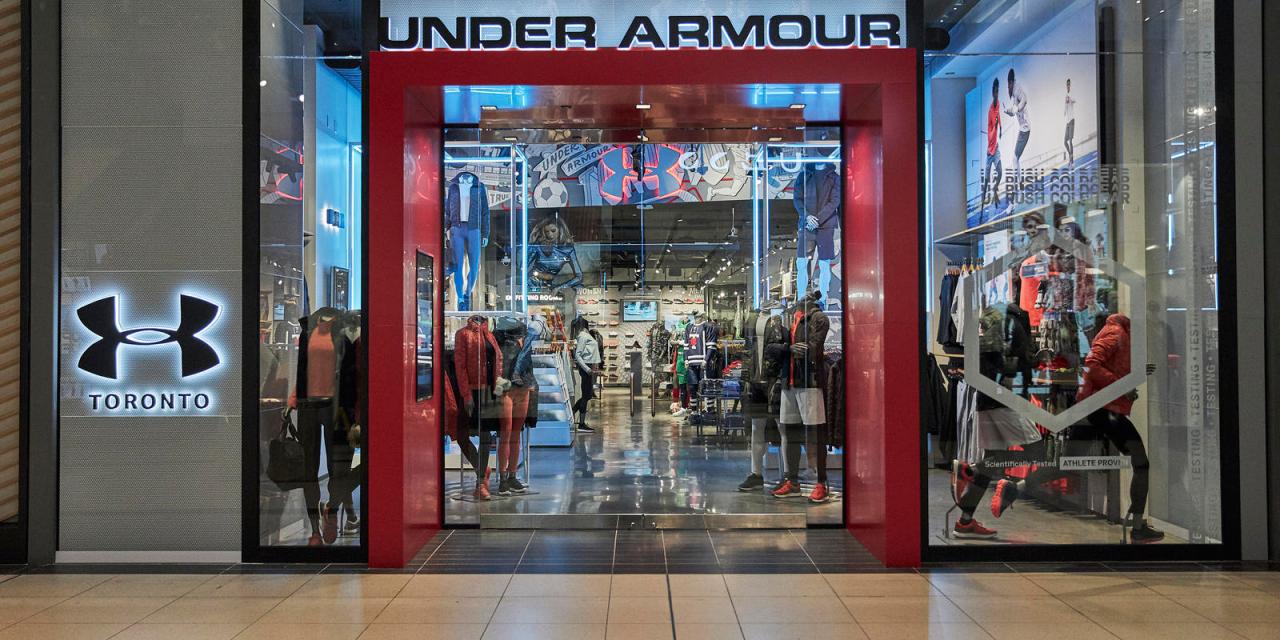 Under Armour is paring down its ambitions in the digital fitness space.
Last week, the athletic apparel retailer announced it was doing away with two apps that it had previously acquired in 2015. The company is selling MyFitnessPal and shutting down Endomondo by the end of the year. Private equity firm Francisco Partners is acquiring MyFitnessPal for $345 million, $130 million less than what Under Armour paid for the app upon acquiring it five years ago. Under Armour still owns MapMyFitness, which it acquired for $150 million in 2013.
When Under Armour acquired MyFitnessPal, Endomondo and MapMyFitness several years ago, the company hoped that by owning a variety of digital fitness apps, it could get the tens of millions of people who used these apps to subsequently buy their workout gear from Under Armour. However, this thesis didn't pan out as each app targeted slightly different sets of users, some of whom weren't similar enough to the Under Armour core customers. And, these apps started to grow more slowly as more companies like Nike and Peloton started to market their own apps.
"I feel like Under Armor is going to be left out in the cold in this future, where Nike and Peloton and Lululemon and Apple become the key players," said Andrew Lipsman, e-commerce analyst at eMarketer.
By selling MyFitnessPal and winding down Endomondo, Under Armour can divert some of its resources that focused on growing those apps to instead focus on driving customers to its branded website and app. "We believe this divestiture sharpens our long term digital strategy by simplifying our consumer's brand journey," CEO Patrik Frisk said last week during a call with investors, about the decision to sell off MyFitnessPal.
The initial strategy
In January 2015, when Under Armour kicked off its family of apps strategy, users recorded 100 million workouts across all four apps — Endomondo, MyFitnessPal, MapMyFitness and Under Armour's other fitness tracking app, UA Record. That signaled to the company's executives that the users of these apps were all fitness fanatics who were ready to buy more Under Armour gear.
"The more active someone is, the more likely they are to buy athletic apparel and footwear," then-CEO Kevin Plank said at the time.
But the three apps that Under Armour acquired each targeted slightly different users. MyFitnessPal, an app that tracks diet and exercise, was geared towards people who were trying to lose weight, and had varying athletic abilities. Conversely, MapMyFitness was designed with hardcore runners and cyclists in mind, who wanted to log ever single run or ride they completed, and share their workouts with other like-minded athletes.
Meanwhile, with apparel and footwear, Under Armour was trying to target dedicated fitness enthusiasts who were obsessed with shaving time off of their runs or lifting heavier weights — what the company referred to as, "the performance athlete." Last year, the company released a line of apparel embedded with infrared technology, which allegedly improves oxygen flow. Its Hovr footwear line contains shoes designed for weight lifters, basketball players and marathoners. These recent apparel and footwear launches didn't align with the more casual users of MyFitnessPal in particular.
Bryan Gildenberg, svp of commerce at Omnicom Retail Group, said for his part that he thought the apps Under Armour acquired fit well with its target customer — but one of the problems was that the competition grew more sophisticated. "The problem wasn't that the Under Armour consumer doesn't care about tracking their performance, the problem was they just had other ways to do way that," said Gildenberg.
Over the years, growth seems to have stagnated. Under Armour hasn't broken out the number of people who use its apps for several earnings reports. But, the company does report connected fitness revenue each quarter. The bulk of it came from MyFitnessPal, which has a premium membership model. During the company's second quarter earnings in July, connected fitness revenue was only up 3% year-over-year, while e-commerce sales were up double digits.
Growing external factors
In announcing the MyFitnessPal sale and the wind down of Endomondo, Under Armour said in a press release that MapMyFitness "remains a crucial element of Under Armour's digital strategy." Under Armour's Hovr running shoes "connect" to MapMyRun, which users can then use to log workouts and get tips on how to improve their times. That ways, Under Armour is ensuring that its shoppers also become its app users. Frisk said last week that 1 million Under Armour shoes have now been connected to MapMyRun.
Outside of streamlining its app strategy, Under Armour has numerous challenges to contend with. Before the pandemic, Under Armour's direct-to-consumer business was declining, though that trend has reversed as the company has benefitted from buying more products online during the pandemic. And in September, shareholders filed a lawsuit accusing current and former company executives of misleading them about federal investigations into accounting irregularities.
Doing away with two of its apps also means that Under Armour's digital fitness business will be shrinking at a time when competitors like Nike and Lululemon are investing heavily in the sapce. Lululemon announced in July it was acquiring Mirror, a device that allows users to stream workouts and personal training classes for a fee, for $500 million. Nike, meanwhile has reported triple-digit growth during the pandemic for both its main Nike shopping app as well as its Nike Train Club app, which it made free in the spring in order to encourage more people to download it.
Under Armour also has to contend with the fact more formidable competitors are continuing to get into the fitness app space. Most recently, Apple announced that it would launch a subscription workout video service for Apple Watch members. That makes it difficult for the company to to sit out the space entirely.
"I still think it's important to have a digital asset like this…and to figure out how to make it work," said Lipsman. "The opportunity in connected fitness is so big."