Lululemon and Allbirds are betting on running shoes to drive growth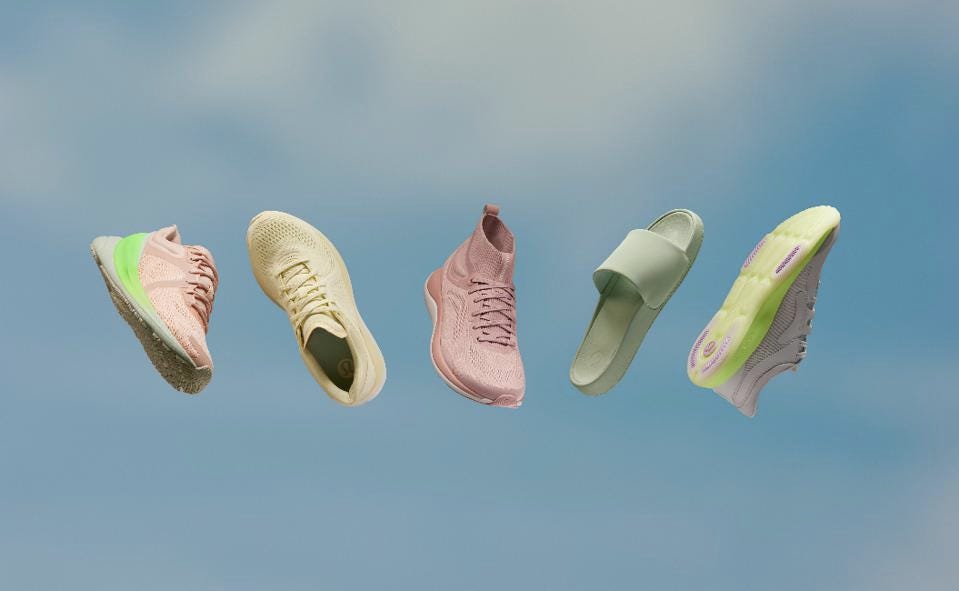 Image via Lululemon
Running shoes are the latest battleground among retail brands. The newest player is Lululemon, which announced this week the release of a women's sneaker line, set to debut later this month. 
Lululemon's move comes as more companies push into the performance shoe segment. DTC brand Allbirds, known for its line of sustainable casual footwear, launched a running shoe in 2020. More recently, in February, fitness gear brand Nobull — known for its CrossFit-geared sneakers and apparel — released its first performance running shoe. The company also launched a virtual runner club to accompany the product range. 
As running is expected to continue growing in popularity, these brands are looking to take market share away from more established footwear makers like Nike and Adidas. In turn, companies like Lululemon and Allbirds are also attempting to establish themselves as go-to destinations for runners by launching related initiatives and products — such as virtual run clubs, fitness apparel and by partnering with other running-focused retailers.
Grabbing market share from the big running players
Matt Powell, vp and senior industry advisor for The NPD Group, said that the running category's growth has exploded during the pandemic, largely due to the increased interest in running.  
According to a 2021 Nielson and World Athletics report, over one-fifth of all surveyed runners said they're running more often since the pandemic first began. The survey also showed that the majority of respondents plan to run more often even when the pandemic eventually ends. 
"Running is cheap and easy to do while social distancing," Powell said, which he noted has contributed to more consumers investing in their athletic footwear. Running sneakers can also be worn for walking exercise or as a fashion item, Powell said of the product's popularity. "So, it's no surprise that brands like Lululemon want to grab some of that market share," he added. 
Brian Ehrig, Partner at consulting firm Kearney, said that athletic footwear in particular is fairly consolidated among big companies, such as Nike and Adidas. As of 2021, Nike's athletic footwear sales make up nearly 40% of the total global market.
Ehrig added that running shoes are yet another way for retailers to enter new categories. So for a brand like Lululemon, which already has a big customer base wearing its yoga and fitness apparel, shoes are the next logical expansion choice, according to Ehrig. Footwear is yet another step toward Lululemon's goal of becoming a full-fledged fitness and lifestyle brand, Ehrig explained. The company's acquisition of connected fitness brand Mirror in 2020 is another recent example of this roadmap. 
Powell also pointed to Lululemon's ambitions to compete within the women's sneaker category, by promoting their designs as tailor-made specifically for women's feet. In the retailer's announcement, made on International Women's Day, Lululemon touted its 20-plus years of experience designing other performance apparel in promoting the new line of shoes.
A bigger go-to-market hurdle 
Still, launching and growing a sneaker business is a major undertaking. 
"It's much easier to make shorts than to create a performance shoe," Powell said, especially for companies trying to compete with the likes of Nike and Adidas. However, for major brands like Lululemon and Allbirds, "the feat is not impossible and could be worth the investment," said Powell. Part of this difficulty is in athletic footwear's development phase, which requires skilled designers to source the right technical fabrics and test fit. This process can sometimes take years, Powell explained.
Furthermore, competition to grow in this space is also fierce, given that more established companies have found success by acquiring new customers during the pandemic. 
Running brand Brooks, owned by Berkshire Hathaway, reported big growth during the pandemic. At the beginning of 2021, the footwear brand hit half a billion dollars in annual sales. Similarly, running shoe brand Hoka One One has built a following around its line of sneakers over the past few years; the company ​​reported a revenue of $571 million, a 62% increase, for its 2020 fiscal year. Furthermore, legacy running brands like Asics have also recently reported increased sales among runner products. 
In trying to stand out, players like Allbirds are also trying to partner with established retailers to create awareness around its fitness products. Allbirds, which has partnered with Nordstrom in the past but remained largely direct-to-consumer, said it's exploring more wholesale opportunities to grow its "credibility" in the performance category, co-founder and CEO Joey Zwillinger said last month during Allbirds' fourth-quarter earnings call.
"[Credibility] can be really important when a consumer is walking into a store and thinking about running for the first time in a long time and asking what's going to be a great entry-level running shoe that's going to be safe for the body and not create any injuries," Zwillinger said. "They rely on the sales associates at select retailers to inform them of what's the best in the market, what's new, and where the best technology is."
"Casual footwear is one thing, but performance sneakers are another level," Kearney's Ehrig said. He argued that for brands just starting to build out their sneaker technology, "it's a bigger risk than apparel and takes a lot of testing to get it right."