Earnings
// February 23, 2021 ■ 4 min read
Macy's faces an uphill battle pitching itself as a digital-first department store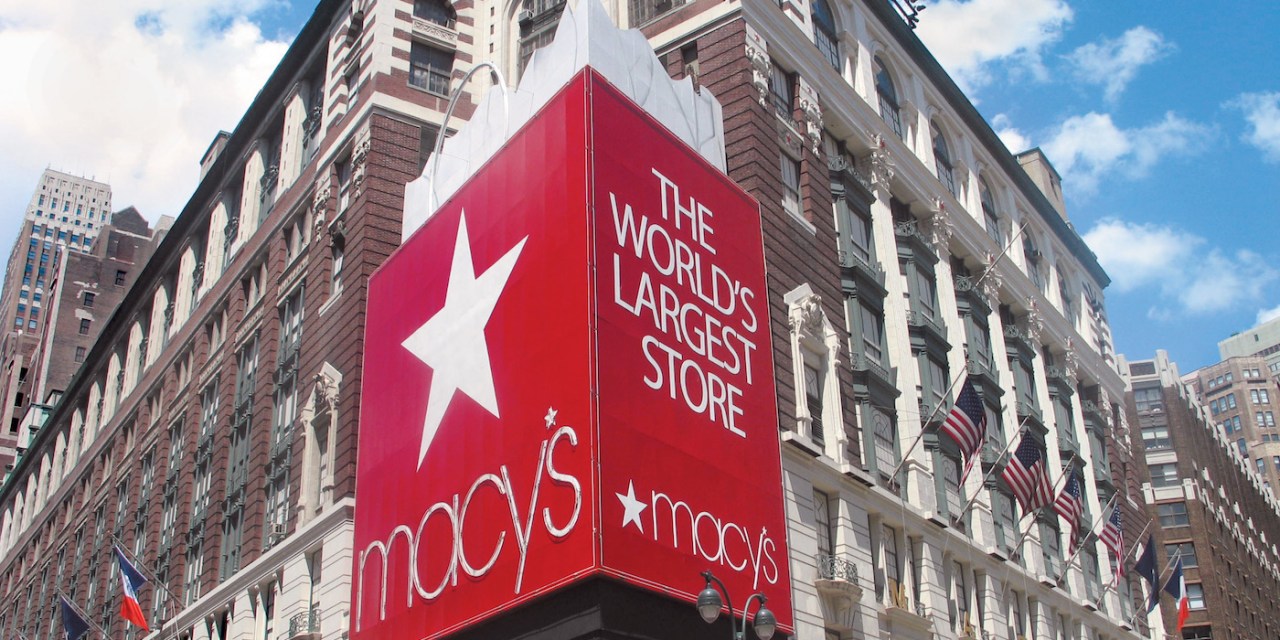 Macy's
Macy's executives are making it clear that they are betting on e-commerce to help the department store chain recover from the pandemic.
At its earnings report this morning, Macy's reported that during its fourth quarter, same-store sales were down 17.1% year-over-year, while e-commerce sales were up 21%. Macy's also managed to report a profit of $160 million, its first quarterly profit in a year. Executives said the turnaround was due in part to the fact that Macy's e-commerce division is now profitable. A quarter of Macy's online orders are now fulfilled by its stores, which helped cut down on delivery costs.
Executives also said that Macy's plans to invest more in its website this year, including experimenting with livestreaming to help customers discover new brands and products. But Macy's e-commerce strategy still faces many hurdles. The challenge ahead for Macy's, retail analysts said, is figuring out out how to recreate the original advantage of department stores — being able to help people more easily discover new products — online. And, to convince customers to continue to shop multiple categories from Macy's, whether that's clothing, beauty products, or home goods.
Macy's digital growth still lags far behind that of other big-box retailers like Target, which reported that e-commerce sales more than doubled in November and December. But it's on par with the digital growth reported at other department stores — Nordstrom reported that its e-commerce sales were up 23% year-over-year during the holidays.
Macy's CEO Jeff Gennette said that during the fourth quarter, 7 million new customers visited Macy's for the first time, with 4 million of those customers coming in through Macy's website. Gennette said that Macy's also got an influx of new customers thanks to its partnership with buy now, pay later service Klarna, which Macy's has also invested in. Two-thirds of the customers who bought something from Macy's using Klarna last quarter were new to the department store chain, Gennette said.
Macy's digital sales increase was also in part driven by the fact that sales of home goods were up overall by 11% for the retailer. Meanwhile, apparel sales were down 22% year-over-year.
What Macy's said
Now, Macy's is looking to invest more in its website over the coming year, Gennette said, in order to position itself as a "digitally-led retailer," and to retain some of the customers it acquired online for the first time this year.
Gennette said many of the digital investments Macy's is making this year are to be "much more experiential" and tell better stories about the brands that sell through Macy's.
Forbes reported last week for example that Macy's is hosting its first livestream shopping event on March 1, in partnership with Klarna and Cosmopolitan magazine. Macy's will use livestreaming platform ShopShops to host the event, and featured brands include Adidas, Rebecca Minkoff and Macy's own Blue Mercury. Gennette said that in addition to the March 1 event, Macy's will also be testing out livestream shopping more this year.
Another way that Macy's plans to make its website more experiential is by investing more in virtual consultations and augmented reality, as it has done in beauty, Gennette said. Macy's currently has an augmented reality try-on tool for some beauty products on its mobile app, which it made widely available in 2019.
What experts say
Jason Goldberg, chief commerce officer at Publicis, said that while Macy's website has done a fine job at investing in the basics, like having functional search and checkout, specialty retailers "by virtue of having more focus, are further ahead digitally" than Macy's. He cited specialty beauty retailers like Sephora and Ulta Beauty as one example, both of which were investing in augmented reality try-on tools a couple of years ahead of Macy's.
Sarah Marzano, senior principal analyst in the Gartner Marketing practice, said in an email that Macy's could also invest more in editorial content to tell better brand stories, as well as to make it easier for customers to discover new products. "Many of Macy's peers increasingly augment branded merchandising with user-generated content shown above-the-fold, or incorporate video content onto product pages," she wrote.
"Ultimately the crucial factor for Macy's success is going to be getting customers to think of them first, and bringing shoppers back into stores as soon as it is safe to do so," she added.
And that underscores one of the biggest challenges Macy's faces: that the success of its e-commerce business also depends on the success of its store business, which has struggled to return to growth during the pandemic. Macy's executives defended the role of its stores during the earnings call today, pointing to the fact that store-led fulfillment helped make its e-commerce business more profitable, and that Macy's digital sales per capita are typically two to three times higher in markets where they have stores.
Goldberg said that Macy's store sales will continue to be challenged while sales of apparel overall remain down in the U.S.
"They have to invent a new reason to shop Macy's besides apparel and cosmetics" he said.