Madison Avenue wants to use a loyalty app to drive shoppers back to stores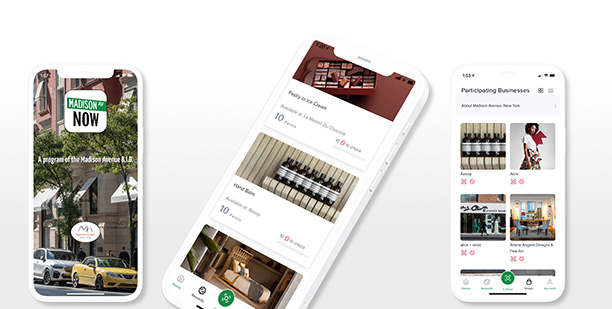 Madison Avenue BID
Shopping district Madison Avenue — home to luxury fashion boutiques like Alexander McQueen and Celine — is working on creating digital tools to bring customers back to stores.
Madison Avenue — the New York City shopping district spanning 57th through 86th Streets — has been hit hard by the pandemic. Indeed, as of August 2021, retail foot traffic at the district was only at 71% of pre-pandemic 2019 levels, according to geospatial data analytics firm Orbital Insight. In December, the BID released a new multi-brand loyalty app across its tenants and, going forward, is working to build out appointment booking and events. The goal isn't to drive e-commerce sales for tenants but rather, reward shoppers for coming to stores.
Madison Avenue — like many heritage shopping streets in big cities — has struggled to recover to pre-pandemic foot traffic levels. Moreover, Lower Fifth Avenue, Upper Fifth Avenue and Soho were all closer to pre-pandemic recovery in August 2021 than Madison Avenue, according to Orbital Insight.
"We were hit very hard at the beginning of the pandemic," said Matthew Bauer, President of the Madison Avenue BID. "Spring of 2021, it was actually going really good, but then Delta hit over the summer."
As the district has weathered foot-traffic starts and stops, the BID has found ways to digitize and unify what was once an exclusively brick-and-mortar shopping experience across discrete tenants.
In December, the BID released a loyalty app, Mad Av Now, that gives shoppers points for purchases at over 30 of its luxury brands and retailers. In return for points, shoppers can receive rewards like 10% off at mattress retailer Yves Delorme or a private styling appointment at fashion brand Isabel Marant.
"When a store buys into a Madison Avenue address, one of the things that they're buying into is a client base, the notion that they're part of this Upper East Side community," said Bauer. "We felt it was very important to introduce clients to new stores… [and] show everything in one place."
Alongside points, the app also offers access to other complementary products and experiences. Luxury skincare chain Aesop, for example, gives consumers complimentary skincare consultations if booked in-app, while local bakery William Greenberg Jr Desserts offers a free black-and-white cookie to loyalty members.
Tom Caporaso, CEO of loyalty provider Clarus Commerce, said that one thorny challenge multi-brand loyalty apps often have to deal with is data sharing. While a multi-brand program can increase consumer engagement and bring increased foot traffic to a multi-brand location, individual brands may not be getting the customer data that they could from an in-house program.
"In general, I think loyalty programs are a great way to get that first-party [customer] data," said Caporaso. "With cookies going away in the next 18 months… is that [customer] information really getting back to those individual brands versus the program?"
Indeed, Bauer said that, in order to maintain customer data and privacy, the BID handles all in-app contact itself and doesn't share contact information with any of the businesses. Instead, the BID regularly shares newsletters aggregating consumer insights. In turn, not all businesses in the district were interested in joining.
"I think that we tried to thread the needle of providing a program that Madison Avenue clients could benefit from and, at the same time, maintain their level of discretion and privacy," said Bauer.
Going forward, the BID is continuing to find ways to connect Madison Avenue's in-person shopping to digital investments. Bauer said the district has invested in digital advertising for the district, sometimes promoting in-person events exclusively on digital platforms. However, going forward, Bauer and the BID are particularly focused on features to help people book in-store appointments offline.
"One of the reasons that people are going to brick-and-mortar stores is because they want to meet with a stylist," said Bauer. "The people that work here on Madison Avenue are not just salespeople, they're all folks with fashion experience."
The loyalty app has some appointment booking rewards — loyalty members can book styling appointments at fashion retailers like Ralph Lauren or salon appointments at Toka Salon for points. In the past, the BID has also helped galleries facilitate timed visits for socially-distanced art walks. In the future, the BID wants to continue to develop new features to support clients booking appointments at multiple brands in the district.
"What we are we always are trying to do is a digital [strategy] that drives an in-store experience," said Bauer.