'My couch arrived torn and with no legs': Joybird customers say they're getting late deliveries, incomplete orders and shifting excuses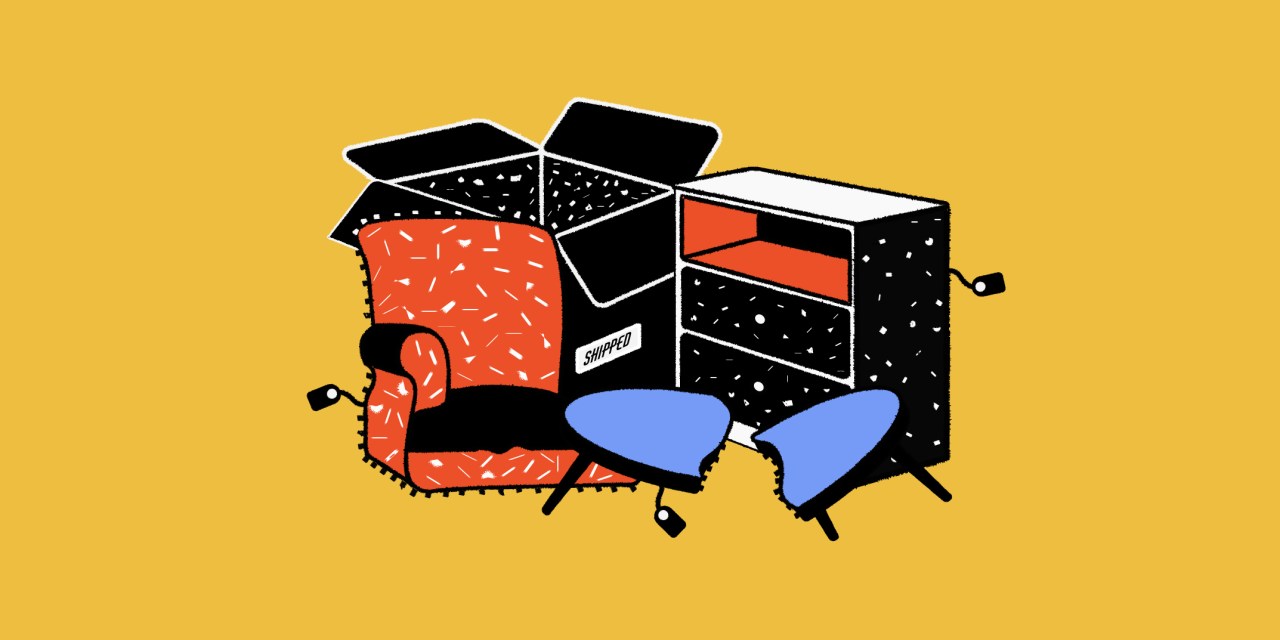 When Patty Korman placed an order for a custom couch from direct-to-consumer furniture company Joybird in September, she was told that it would arrive the first week of November, and figured that was an optimistic delivery date at best.
"I was like yeah right, I'll get it Christmas week, I'll give them some wiggle room, because I know Covid is a thing, and shipping a giant sofa is probably not easy," Korman said. The order still took longer than Korman anticipated, arriving the middle of January. What she was not expecting, however, was that only half of her sofa would arrive.
Similar complaints about delivery issues have been piling up on social media for Joybird, which currently has an F rating on the Better Business Bureau's website. "TLDR: My couch arrived torn and with no legs," one Joybird customer wrote on Yelp, who said that she placed the order in September and was still waiting for the legs as of December. "After waiting 11 weeks to get my couch, it arrived totally defective," wrote another Yelp user. "The corner piece back and armrest are extremely bent. This prevents this piece from lining up with other pieces. It does not sit flush against the wall."
When asked for comment on some of these issues, Joybird president Aaron Brown said in an email to Modern Retail that "Joybird has experienced unprecedented growth during 2020 and we have been diligently working to fulfill our customer orders."
"While the vast majority of customers have received exceptional service, we understand there have been lapses in service and communication for specific orders. Our customer service team is excellent but, at times, has been overwhelmed by the volume of orders." Brown said.
Growing pains
As a predominantely made-to-order furniture company, Joybird has a long lead time anyways. Joybird was founded in 2013 as an online-startup boasting trendy furniture at mid-tier prices — aimed squarely at up-and-coming millennials looking for something a little more upscale than Ikea (and less infamous than West Elm's Peggy). It was bought by La-Z-Boy in 2018.
Currently, Joybird's website said that some of its sofas will take as long as ten weeks to ship. But this isn't the first time customers have reported issues with Joybird. The New York Times' Wirecutter blog said it stopped recommending one of Joybird's sofas in 2017 after "a number of readers reported negative experiences with Joybird's customer service, long delivery times and even manufacturing defects."
Every furniture company has struggled with getting products to people on time during the pandemic. "Ikea's e-commerce was already pretty bad. During COVID-19, it absolutely fell apart," Fast Company reported in September. The New York Times reported earlier this month that some Peloton customers were taking upwards of four months to get their exercise equipment, with delivery dates being repeatedly pushed back.
Brown, in his statement to Modern Retail, nodded to fulfillment being an area of improvement. "Most of our furniture is made-to-order. Our goal is to provide real-time, accurate information regarding the status of production, shipping and delivery of the furniture and remedy any issues. We recently upgraded several components of the end-to-end experience based on customer feedback and will continue to strive to provide a premium experience." He added that Joybird has added a "significant" amount of staff to the customer service team this year.
But some of the Joybird customer complaints go beyond delays. Some customers, like Korman, have reported receiving incomplete deliveries. Other customers — Modern Retail spoke with four in total — said they've received shipping confirmation emails for items that haven't actually shipped, and are only told if an item's delivery date has been delayed when they reach out to Joybird's customer service team. And when they do, some customers say they've gotten different explanations from different customer service agents about why part of their order is missing or delayed, or that agents have mixed up their issue with that of another customer's.
"Sectionals are shipped in multiple boxes and if one piece is misrouted, misplaced or damaged in-transit we will not be able to fulfill the entire sectional order as planned," Brown told Modern Retail. "Our escalation team will initiate a dock search to locate the missing piece and if unsuccessful, we will build a new sectional to the customer's original specifications." (Joybird, like most other e-commerce companies, hands off many deliveries to third-party companies. Korman said her delivery was handled by JB Hunt.)
The Joybird customers Modern Retail spoke with said that the lack of communication over shipping delays have been particularly frustrating for a number of reasons. For one, furniture is an expensive purchase, and some customers feel like they should get better customer service given Joybird's price tags — its top selling Korver sofa normally sells for $1,750. Second, some customers have to sell their old sofa or bed in order to make way for a new purchase from Joybird, so it's particularly frustrating when they receive an incomplete sofa after having gotten rid of their old one.
What's more, some customers said that they like Joybird's products — but the customer service issues are deterring them from ordering from the brand again. "If after four months, I had my entire sofa, I would have been a happy camper, I would have talked about how awesome Joybird is," said Korman, who said she first discovered Joybird "scrolling through Instagram." (Joybird's Instagram comments are currently dotted with numerous comments from angry customers asking about their order statuses.) Korman said she's still waiting for an explanation from Joybird, whose customer service team is trying to figure out what happened to the other half of her sofa.
Cyndi De Rosaire first ordered a sectional from Joybird two or three years ago, and said that when it arrived, the chaise didn't line up properly with the other pieces. Still, she said that Joybird quickly sent her a replacement and overall was satisfied with the purchase.
"It was easy, it was affordable — we were like they made a mistake, no big deal," said De Rosaire.
In October, De Rosaire decided to order her second piece of furniture from Joybird, a three-piece sectional. When the order first arrived in December, it only contained the two corner pieces, not the middle sectional. When the middle piece of the sectional arrived in January, she thought that all three pieces didn't line up properly. She believes the issue is that Joybird accidentally sent her two left end pieces by mistake, rather than a left and a right end piece, because the fabric doesn't run in the same direction on all three pieces.
When De Rosaire first contacted Joybird's customer service team, in an email exchange she shared with Modern Retail, she was first told that Joybird could send a repair technician. When she said she didn't think that would solve the problem, because she thought she wasn't sent the right pieces, she was then told that there was a "railroading" issue with the Bentley fabrics that she ordered.
"The way the fabric is manufactured, it's literally impossible for us to run the fabric in the exact same way on the larger chaise cushions due to the size and cut off [sic] the roll of fabric. Basically, if our production team would turn the fabric in the same direction as the standard seat cushions, there would be a seam that would appear in the middle of the cushion," the customer service agent said. The exchange went on: "I shared your case with our production team and upper management and they advised to replace the entire Matias Modular Sofa with different fabric of your choice."
De Rosaire questioned why Joybird offered that sofa for sale with that fabric if there were issues with running that fabric across a three-piece sofa. She got a call from a Joybird customer service manager on Wednesday — after speaking with Modern Retail (who subsequently asked the company for comment about her experience) — and decided for now to keep the sofa, rather than try to re-order it again in a different fabric.
"They can't explain to me why they can't just turn the fabric 90 degrees," De Rosaire said. "I will never order again from them at this point. "