Nike's direct-to-consumer business continues to grow — but at a cost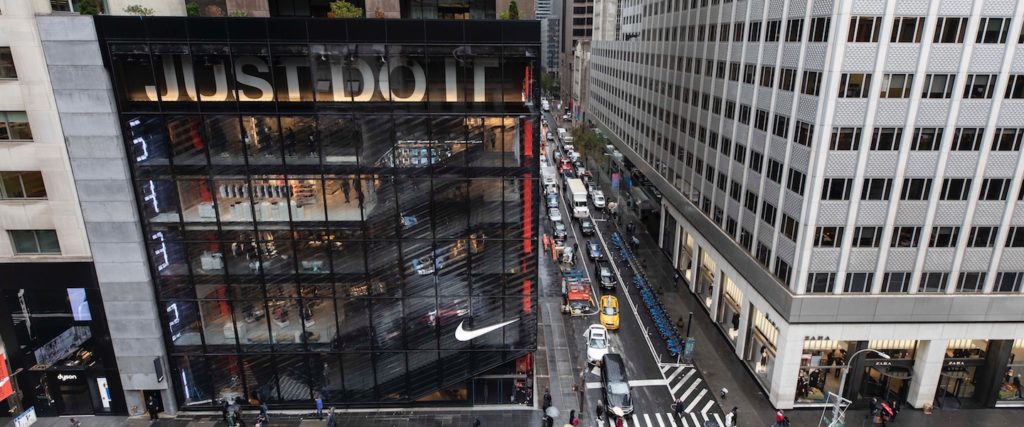 Nike's direct-to-consumer sales continue to grow consistently, but investments in digital capabilities and real estate continue to eat into the athleticwear company's profit margins.
The athletic apparel company reported during its fourth quarter earnings on Thursday that sales from Nike Direct, which includes sales made through its owned-and-operated stores as well as its website, totaled $11.8 billion during its fiscal year 2019, up 13% from last year. Last year, they were up 15%. But, net income for the quarter was $989 down 13% compared to the prior year.
The company said in a press release that revenue growth was offset by higher administrative and selling expenses to grow its direct-to-consumer business. Specifically, CFO Andy Campion said during the company's earnings call that Nike invested $1 billion during fiscal year 2019 in "new capabilities and consumer concepts," which includes investments in new store concepts, data analytics capabilities, and its NikePlus and SNKRS apps.
Net income for the year was $4.0 billion, which was up 4%.
Nike's approach to the direct-to-consumer business has been to drive more customers to its free NikePlus app, with the promise of exclusive perks available for customers who shop at one of its owned-and-operated stores. It's also focused on adding more features to the NikePlus app that make it easier for customers to shop both online and in-store, most recently with Nike Fit, a new scanning technology that allows customers to measure their shoe size through their smartphone camera, and then store it in the NikePlus app so they can remember it when buying new sneakers. During today's earnings call president and CEO Mark Parker revealed that NikePlus now has 170 million members.
"Our [digital] investments are enabling us to better identify and serve our members personally, which drives up average lifetime value," Parker said.
"When Nike explicitly said 'hey the future for us is DTC', they said a big part of it is we need to have a differentiated customer experience," Jason Goldberg, chief commerce officer for Publicis previously told Modern Retail. "Part of having a differentiated customer experience means reducing the friction it takes to buy." 
But, some of those features have come at a cost — Nike acquired two tech companies, computer vision startup Invertex and data analytics company Zodiac last year in order to grow its direct-to-consumer business. Nike's also been opening bigger flagship stores in its more marquee markets, like a four-story House of Innovation store it opened in Shanghai in January.
Nike is going to need to need to pick up the pace of sales growth in order to meet previously set goals. Nike's Consumer Direct Offense strategy, announced in 2017, calls for DTC sales to reach $16 billion by the end of fiscal year 2020.
During its most recent earnings in May, competitor Under Armour said that its direct-to-consumer sales declined 5%. Executives attributed the sales decline to its decision to cut back on the number of promotions it used in order to generate DTC sales. Meanwhile, while Adidas doesn't break out its direct-to-consumer sales, but said during its most recent earnings in May that direct-to-consumer sales posted "double-digit improvements," with e-commerce sales up 40%.