'Not the right timing': Why Gap couldn't justify its Hill City experiment anymore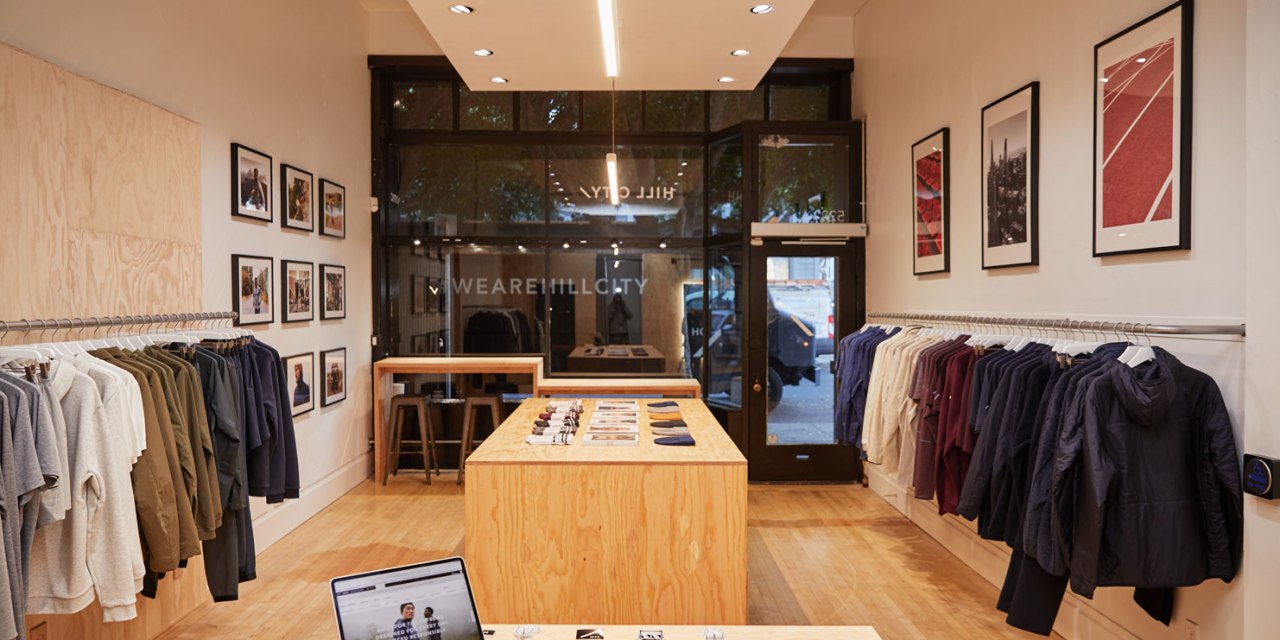 Apparel retailer Gap is having to make some budget cuts as the company is under tremendous financial stress due to the coronavirus. One of the victims is Hill City, its two-year-old men's athletic apparel brand.
The company announced last week that it would be winding down Hill City in the coming months. "The financial impacts of covid-19 have required the company to ruthlessly prioritize and reduce operating expenses," a Gap spokesperson said. "We will apply best learnings, talent, styles and innovation from the brand to our other brands as athleisure continues to grow."
The purpose of Hill City was two-fold: One, the brand was meant to help Gap gain marketshare in a fast-growing segment, men's athletic apparel. In 2018, the year that Hill City launched, activewear clothing sales in the U.S. grew to $55 billion in 2018, up 10% from the year prior according to the NPD Group. Second, by launching it as a direct-to-consumer brand that would sell primarily online, Hill City was supposed to help Gap figure out how to respond to consumer feedback quicker.
However, Hill City ran into the same challenge that other retailers have run into in building an online-only brand from scratch. It's a difficult and expensive endeavor even in the best of times, because of the amount of money that has to be spent acquiring new customers and making current customers aware of the brand.
What's more, Hill City was still young enough that Gap would have likely had to continue to spend a lot of money to acquire new customers. Hill City didn't have any permanent stores of its own. And, Gap had yet to run any major national advertising campaigns promoting it. As such, the learnings that Gap would have gained from Hill City weren't enough to offset the long-term financial investments it would have had to make in the digitally-native brand. Gap never broke out sales for Hill City, only that 95% of Hill City's sales came from online.
"It was an interesting brand but potentially not the right timing for its parent company," said Tiffany Hogan, senior apparel analyst at Kantar Consulting.
Tough financial headwinds
Gap's resources have been particularly strained as the company has been hemorrhaging money the past two months while its stores were closed due to the coronavirus. During its first quarter earnings report earlier in June, the company said that sales were down 43% year-over-year, and that it had recorded a net loss of $932 million during the period. Before the coronavirus, Gap reported a profit of $6.1 billion, but sales were falling. Sales were down 1% between 2018 and 2019, with sales at its flagship Gap brand down the most at 7% year-over-year.
Gap was inspired to launch Hill City in part because of the success of Athleta, its women's activewear brand that has become one of the most promising segments of Gap. During its most recent earnings report, Athleta's net sales were down just 8% year-over-year, while net sales at all of Gap's other brands were down by at least 40%. But Gap didn't build Athleta from scratch. It acquired the brand in 2008 for $150 million, when it already had a built-in following. That also meant that Gap had to learn a new set of skills to build Hill City.
One of the big focuses of Hill City was to help Gap figure out how to incorporate feedback earlier in the product development cycle. Hill City launched with a wear tester program that received more than 30,000 applicants and that, as of last May, had over 500 members. The wear tester program lived in Facebook Groups, where members were able to give feedback on product that they got early access to.
"What's been cool is seeing trends in the feedback we're getting, which allows us to iterate on design and product development that would end up different otherwise," Noah Palmer, general manager of Hill City said on the Glossy Podcast last year. "At the same time, we're also building a really strong community."
Customer acquisition woes 
During its first two years in business, Hill City primarily focused on acquiring customers through word-of-mouth methods, like the wear tester program. The brand had just started to explore physical retail in October, with the launch of a standalone pop-up shop with a 12-year lease. Around that time, Hill City had also started making its products available for sale in seven Athleta stores, and had a shoppable mobile truck that Hill City planned to use "to increase awareness at lifestyle and active events, such as races," Palmer told Retail Dive at the time.
To date, some of the most successful brands launched by an established retailer also had to lean on a large physical store network in order to gain enough traction. For example, Walmart launched its first online-only brand, a mattress line called Allswell, in 2018, but eventually found it was more cost-effective to carry Allswell products in its stores. There's also Madewell, which J. Crew launched in 2006 with two physical stores, as well as an e-commerce site.
Even though shoppers are more hesitant about visiting stores right now because of the coronavirus, because Hill City didn't have a vast physical store network before the pandemic, it had neither name recognition nor large enough sales to stand on its own. A Gap spokesperson did say that the company did plan to "leverage Hill City styles, fits, and innovation into future lines" at other brands, starting with Banana Republic.
"Men's activewear is a category that is important and has growth [potential]," said Jessica Ramirez, retail research analyst at Jane Hali & Associates. "But when you look at the score of everything that Gap has going on, there are other things that need to be fixed before venturing into something new."