Why homeware brand Parachute is partnering with Crate & Barrel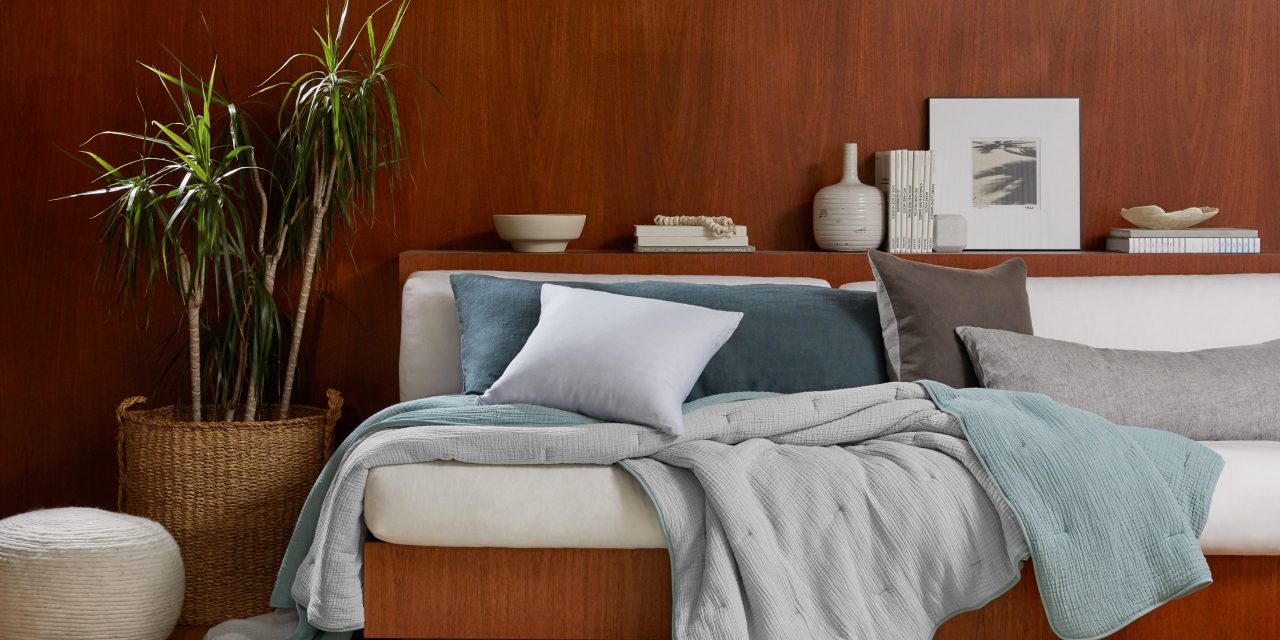 Direct to consumer brands continue to find new brick and mortar avenues. 
DTC homeware brand Parachute is forging its first major retail partnership with Crate & Barrel. The partnership — set to run for at least six months — will consist of both an exclusive new collection for the retailer, as well as wholesale distribution of Parachute's core linen and towel collections. It will be available at 65 Crate & Barrel stores and its website.
Parachute, which launched its linen bedding online in 2014, has since opened 10 physical stores across the country. At the same time, its inventory has expanded to include bathware, nursery and loungewear. Next, the company is taking a bigger leap to widen its presence nationally. 
"The timing feels like it couldn't be better," said Parachute founder and CEO Ariel Kaye, who explained that discussions began pre-coronavirus. Having an in-store presence remains important, Kaye continued, the ability to touch and feel products like sheets and towels is still important for many customers. "We wanted to introduce the brand for their [Crate & Barrel] customers while broadening our reach."   
According to Kaye, the partnership's exclusive pieces were developed with the Crate & Barrel design team. The exclusive collection will feature nine bedroom linen pieces in a new Ocean blue color, which will also be available in three new fabrics. These color and textile combinations will also be available for the bath towel and robes. Parachute has collaborated retailers in the past, including a limited edition linen collection with Madewell in early 2020. However, the Crate & Barrel partnership marks its first longterm foray into wholesale with a retail chain.
The new collection will help expand Crate and Barrel's bedding and bath assortment as customers scramble to refresh their homes, Crate and Barrel's chief marketing officer Alicia Waters said in an email. Both areas have been important to the retailer's merchandize, she said, as they've fit into growing quarantine self care and wellness trends.
"Our new partnership with Parachute is an exciting way to expand our assortment with responsibly-sourced, premium bedding options," Waters said. In the past year, the furniture retailer has similarly added other emerging DTC brands to its roster, such as cookware makers Caraway and GreenPan. In recent years, competitor West Elm has also ramped up the courting of young DTC brands in order to refresh merchandise. 
In addition to this in-store partnership, Parachute maintains that its own stores remain an important part of its growth. Despite the ongoing brick and mortar woes for DTC brands, Kaye said the brand still "believes in physical retail." The company has reopened all 10 of its locations as of last July, which Kaye said have "bounced back" in terms of foot traffic and sales. 
Sarah Hofstetter president at e-commerce analytics platform Profitero, told Modern Retail the collaboration's timing makes a lot of sense. "It's a smart match because Parachute has spent years building what we now consider a traditional DTC storefront," Hofstetter explained. Like others in the space, the startup has heavily invested in digital and out of home advertising, as well as physical showrooms. So having a national presence within a national retailer is the next logical step, she said.
"Your brand has to be where consumers are right now, and being at Crate & Barrel complements the DTC channel," said Hofstetter.
This is likely to become a bigger part of the growing DTC playbook. "I think we'll see more of these collaborations in the coming year," Hofstter said. "After all, traditional retailers need to justify their big real estate footprint."