Retailers are racing to turn stores into fulfillment hubs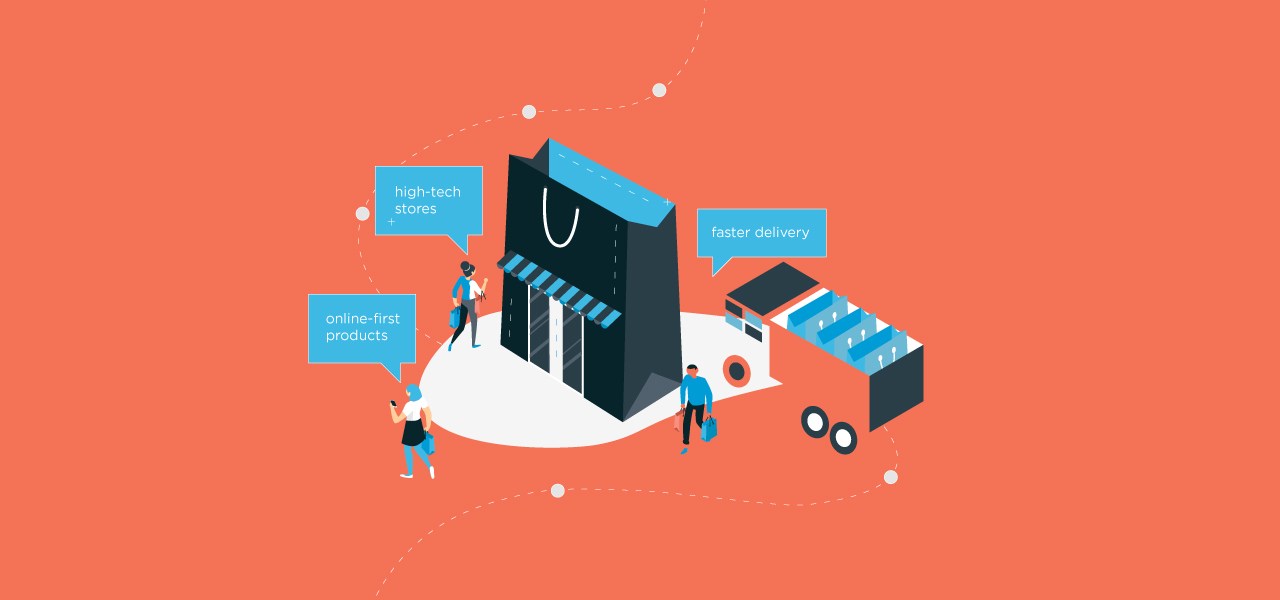 As the coronavirus continues to accelerate online retail spending, more retailers are looking to remodel stores to double as fulfillment centers for online orders.
Best Buy said on its earnings call this week that it would pilot a new ship-from-store model next month, where 250 of its stores would be remodeled as "hubs" in order to ship out more online orders. Best Buy currently ships some online orders from all of its stores, but these 250 locations would be repositioned to handle more volume. Best Buy did not say exactly what investments it would be making in order to enable these stores to fulfill more online orders.
Over the past several months, retailers have been forced to boost their own fulfillment capabilities in order to meet the demand. For many big-box retailers, that meant rolling out curbside pickup at the start of the coronavirus pandemic. Best Buy and Dick's Sporting Goods were two such examples. But now, especially as online shopping demand is expected to pick-up in-time for the holidays, curbside pickup alone may not be enough. eMarketer has projected that while total U.S. retail sales will decline 10.5% this year, to $4.894 trillion, e-commerce sales will be up 18%. That would put online shopping on track to make up a greater share of holiday sales this year. Last year, it made up 14.6% of total holiday retail sales, according to Mastercard's Spending Pulse.
Particularly as logistics companies like FedEx, UPS, and the USPS continue to struggle with unprecedented demand, the retailers that will be best-equipped to meet holiday demand will be the ones who can also ship out orders from their own stores, which may be closer to many customers than fulfillment centers.
But, most retailers can't roll out things like curbside pickup and ship-from-store overnight."[Many of] the large retailers that are effectively over-performing or beating Wall Street estimates… have started to — or made — substantial investments in [fulfillment] this before the pandemic even occurred," said Kyle Rees, director of research at Gartner. Best Buy, for example, has offered buy online pickup in-store for at least eight years, which helped ensure that the company had the infrastructure in place to roll out curbside pickup when demand for the service rose during the coronavirus. As a result, Best Buy reported that its online sales grew 242% during its second quarter earnings on Tuesday.
Most existing store layouts are not equipped to support services like ship-from-store and curbside pickup. "When you build a warehouse, you build it to be really convenient to go get the products off the shelves and find the shelves, and products tend to be organized by popularity or alphabetically," said Jason Goldberg, chief commerce officer at Publicis. "A store is designed for discovery, so it is not designed to be an efficient shelving arrangement to pick up products." Therefore, retailers that have leaned heavily into utilizing stores as fulfillment centers, like Target, have often had to spend a lot of money remodeling them, and creating a dedicated space for order fulfillment.
"When we first launched order pickup in 2013, we were literally working from a folding table setup in the backroom. It took us a number of years and lots of technology and process improvements to go from scrappy to smooth," said John Mulligan, Target's chief operating officer during an investor presentation last year.
It can also be challenging to train existing retail employees, who are used to focusing on serving and helping customers, to instead focus on speed and fulfilling online orders as quickly as possible. These are problems that exist when retailers add curbside pickup, but can be exacerbated when they add ship-from-store, which will allow them to fulfill more orders beyond just those placed by customers who are within driving distance of the store.
As such, it doesn't always make sense to ship online orders out from every single store. "You look for the metro areas, the zip codes that have really strong online ordering behavior, and you try to orient that against the stores that are at least maintaining or describing in-store traffic…to fulfill some of these orders so you can maximize the efficiency of shipping," said Chelsea Gross, director at Gartner. Gross added that it's still most profitable for stores when customers pick up their orders in store. But, as the holiday season approaches, big-box retailers who are able to support it may not have much choice and will still have to support ship-from-store.
This year is especially important, as analysts project more people to shop online this holiday season compared to last. Particularly as people do more shopping in general closer to the holidays, that will make it harder for carriers to deliver packages within a timely manner. If a big-box retailers wants to offer one or even two-day shipping, it may make more sense to ship that order out from a store versus a fulfillment center.
"Our biggest priority is making sure when you're shopping on Best Buy's digital sites, and we talked about doubling the amount of app downloads, we really want to make sure when you're looking at the item you want, that [the delivery date] is accurate and it's competitive," Best Buy chief operating officer Mike Mohan told investors during a call following the company's second-quarter earnings on Tuesday. "And that's the primary thing we focused on for this holiday."