Retailers are struggling to figure out mask policies as coronavirus cases rise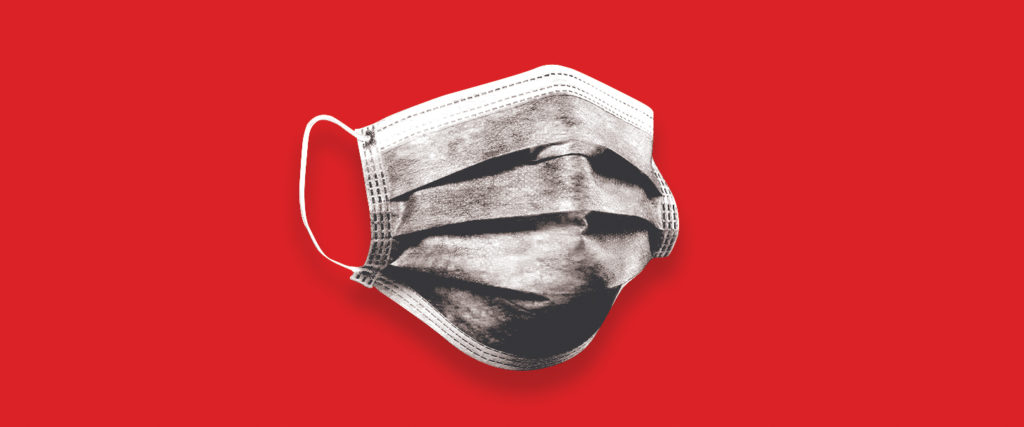 Since the beginning of the coronavirus pandemic in the U.S., most national retailers have held off on requiring customers to wear masks for entry, unless the state or city a particular store is in required it. Now, that's starting to change.
Yesterday, Walmart announced that it would require customers to wear face masks to enter stores starting on July 20. Industry trade groups like the National Retail Federation and the Retail Industry Leaders Association have previously wrote letters to the White House asking the government to pass a mandate requiring people to wear face masks in public. But now, in light of Walmart's announcement, the NRF issued a statement on Wednesday telling retailers to take matters into their own hands and set their own policies requiring customers to wear masks in their stores.
The statement read in part: "We hope today's announcement by Walmart – the world's largest retailer – that it will be enforcing a policy requiring customers to wear a mask to shop in their stores is a tipping point in this public health debate."
Up until now, most national retailers have been hesitant to require customers to wear for entry, so their employees don't have to be responsible for kicking unmasked customers out of stores. But now, some retailers are starting to rethink that, and instead require masks at all of their stores so managers employees can operate under one consistent set of guidelines. How successful these guidelines ultimately are, however, will depend upon what resources or additional manpower retailers give employees to enforce them, as well as how many exemptions they allow for.  How well retailers enforce mask mandates will not only have an immediate impact on the health and safety of their employees, but could also impact retention rates. Ultimately, it will be the front-line employees that will be responsible for enforcing these rules; if they feel like they aren't being given enough support by their company to do so, it could cause more employees to quit.
Dealing with a second wave
In addition to Walmart, Starbucks and Best Buy have also issued announcements in the past week saying that they will require customers at all of their stores to wear masks for entry. And following Walmart's announcement, Kohl's and Kroger also issued similar announcements.
Walmart CEO Doug McMillion said during yesterday's announcement that 65% of the company's more than 5,000 stores were in cities or states that had some kind of face mask mandate. "We know this is a simple step everyone can take for their safety and the safety of others in our facilities," McMillon said.
Meanwhile, coronavirus cases have continued to rise, particularly in states that have previously held off on issuing masks mandates, like Arizona and Texas. Other states that have seen a rise in coronavirus cases, like California, have also re-ordered some businesses like gyms, nail salons, and indoor malls (but not standalone retail stores) to close again. If they rise more, non-essential retailers' stores could be forced close for a second time.
"Retailers were initially looking for federal and state government to take the lead," said Neil Saunders, managing director of GlobalData Retail. "That clearly hasn't happened so, against the backdrop of rising virus cases, retailers have been forced to take matters into their own hands."
The problem of enforcement
Retail employees have reported that some customers have responded angrily or violently when asked by employees to wear a face mask or to leave the store. In the most tragic example, a security guard at a Family Dollar store in Michigan was shot and killed by a customer who had been previously told by the security guard to wear a face mask. So while many of them say that they want more customers to wear masks, they don't have to be the ones responsible for enforcing it.
"I do, and I don't," Bethany Howard, a Target worker in Tennessee told Modern Retail when asked whether or not she wanted her store to require customers to wear masks to enter. Currently, her store does not. She said that she has had some customers respond unkindly to her when she's asked them to stay six feet apart from her in store, and that "I can't imagine having to attempt to enforce wearing a mask to get into the store."
As a result, some retailers are either hiring extra security to enforce the new mask policies, or creating a new role that will be responsible for enforcing the mask policy. Walmart said that it would be creating the newly-designated role of "health ambassadors" in its stores, which existing employees can take on. Additionally, Walmart is also limiting its stores to one entrance going forward, so health ambassadors can more easily check for masks.
But, Walmart's policy also appears to leave wiggle room, as the company said in its announcement on Wednesday, that "we know it may not be possible for everyone to wear a face covering," without stating what those reasons may be.  Furthermore, Walmart said that health ambassadors, "will work with customers who show up at a store without a face covering to try and find a solution. We are currently considering different solutions for customers when this requirement takes effect on July 20."
"Having a dedicated person to enforce mask wearing when consumers enter the store is a sensible way of ensuring compliance," Saunders said. "It's not a failsafe solution but it hopefully helps solve some issues before customers enter the store rather than leaving it to other staff once they are in the store."