Retailers are turning to AI for in-store marketing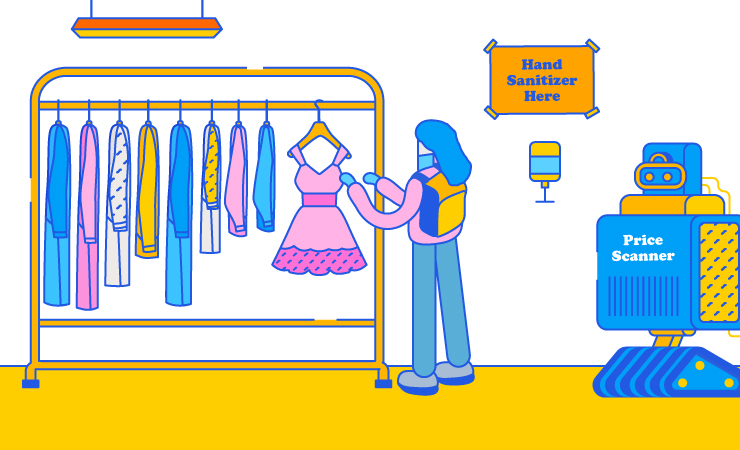 Retailers are increasingly using smart technologies — like facial recognition and artificial intelligence — as in-store marketing tools.
In recent months, tech solutions providers have accelerated partnerships with retailers to implement new tools — including smart signage and facial recognition sensors — to make for quicker and more seamless transactions. Meanwhile, they're also being used to drive more targeted in-store marketing as foot traffic picks up again. It's indicative of a shift; technology once deemed to be intrusive is now in vogue and stores are using them eke out as much value from the customer as possible.
There's certainly been an increase in in-store tech use of late. According to a new Capgemini survey of more than 5,000 consumers across 12 countries, including the U.S, in the months since the coronavirus hit, 54% of consumers now use AI-based systems daily. This includes high touch-related checkout such as contactless wallets, as well as well as augmented reality-based tools. Interestingly, almost half of respondents (46%) said they find AI-enabled interactions to be trustworthy, compared to 30% in 2018. Meanwhile, 77% expect to increase their use of touchless interfaces to avoid direct human interactions. 
Many of those programs are being used as marketing engines. Earlier this summer, AI facial recognition engine CyberLink said it was working with a number of U.S. brick and mortar retailers to implement its FaceMe facial recognition technology — promising to bring forms of authentication, access control and customer analysis to retailers and banks –– at point-of-sale and other high traffic areas. 
FaceMe's venture into retail is focused on detecting gender, age and even body language to glean better marketing data on customer demographics and behavior. The company declined to give more details about its retail forays. 
CyberLink said its product can help drive sales from existing customers. For example, the use of FaceMe at kiosks or self checkouts can help identify visitors and provide personalized customer experiences either by connecting customers into their loyalty program account, or through a demographic profile if they don't have an account, according to CyberLink senior vp of global marketing Richard Carriere. The company is currently testing the technology, hoping to target new clients — including department stores and big box stores chains. 
Meanwhile, other companies see advertising opportunities. Last month, Swiss startup Advertima unveiled its new AI-based shopper behavior analytics platform for retailers. According to Advertima, it offers targeted, real-time in-store advertising, such as smart signage, but doesn't rely on facial recognition. Its clients include international grocery chain SPAR, along with car manufacturers Volvo and Mercedes-Benz.
Lauren Raouf, principal at strategy consulting firm Clareo, said that the use of AI and facial recognition has the potential to bolster brick and mortar sales in the coming years. She explained that for in-store retailers, obtaining a more holistic view of the customer will allow brick-and-mortar stores to fight back against the e-commerce boom thanks to a better personalized customer experience.
At these same time, these new technologies must be used ethically. Raouf pointed to examples like Macy's, which was hit with a lawsuit involving the use of facial recognition technology, with a claim that the store was profiting from data the customer hadn't agreed to give.
She also warned about misuse of facial recognition. "There's a risk for bias among customers, especially those of color," Raouf said of the potential new layer of obstacles, especially since the technology has been largely unregulated in the U.S. until now. Apple, for examples, was hit with a $1 billion lawsuit for a false arrest tied to incorrect facial recognition.
Still, these technologies are becoming much more mainstream. For example, CVS has done away with print circulars and implemented personalized digital coupons through its app in recent months, generating custom discounts based on shoppers' purchase history.
"Both retailers and consumers should be excited for in-store AI," said Andy Austin, president of The Industrious, whose designed interactive brick and mortar spaces for clients like Best Buy and Target. 
The next step is making sure they're getting enough bang for their buck out of these expensive technologies. "Retailers now need to get back to the interactions they rely on for brand building," said Austin. "These tools allow them to grab those opportunities at every step."