Robomart offers shoppers a chance to 'hail' stores in the next wave of hyper-convenience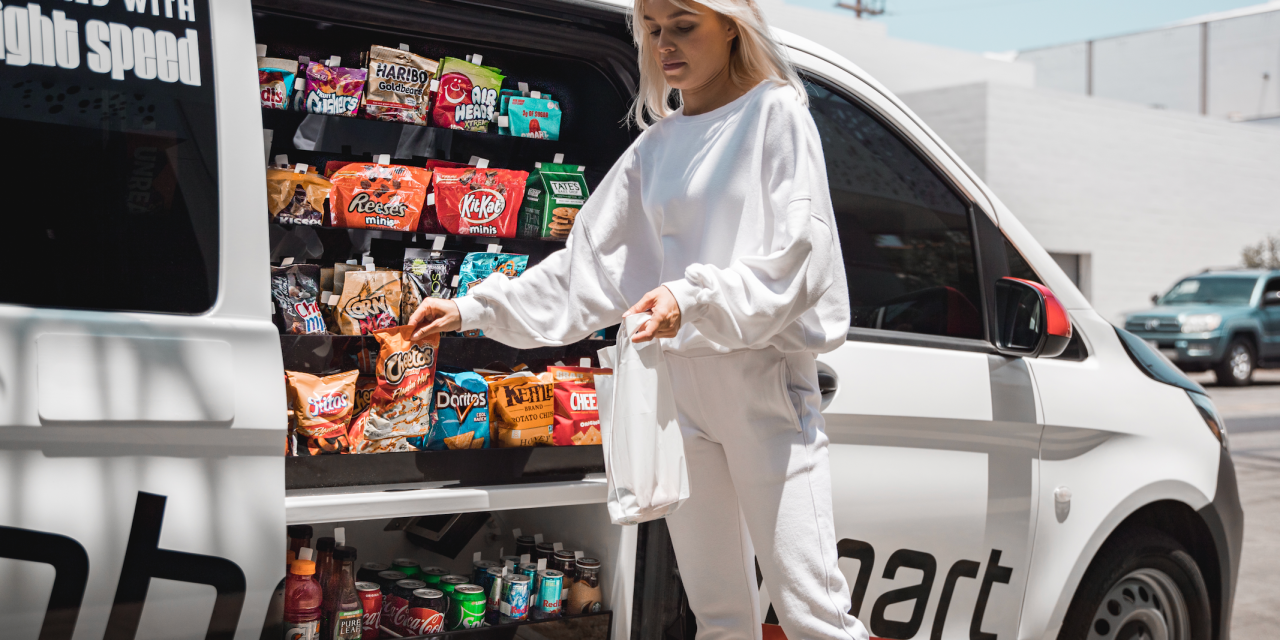 Robomart
Robomart is trying to make "store hailing" — by which a customer taps a button on an app that summons a store-in-a-van shop for a small fee — a thing.
Last week at the National Retail Federation show, Robomart announced it had received a patent for its one-tap hailing and checkout process. In turn, this year the platform hopes to scale from an invite-only pilot to test the program in West Hollywood, to an LA-wide service provider for brands to rent out mobile store fleets.
Amid a pandemic that made in-store shopping tricky, brands have been looking for ways to offer new iterations of brick-and-mortar stores — from outdoor shopping spaces to traveling popups. However, analysts interviewed by Modern Retail are skeptical that a platform like Robomart will scale, pointing to both profitability challenges of ride hailing apps and uber-quick delivery models, as well as the failure of similar models to take off.
Robomart app users can hail stores directly to their location, if they pay a fee of $2 to $5. Robomart won't be stocking the stores itself: brands and retailers, instead, will rent one or more of the store-on-wheels and determine which products they'll stock at which price-points. Robomart will provide the vehicle, staff the service and handle the backend of the transactions through its app and checkout tech. Currently, the minimum rental contract for a Robomart is a year. There are six different models for different types of brands: grocery, snacks, pharmacy, cafe, ice cream and fast food.
"We want [retailers] to see Robomarts as an extension of their store; it's the new retail channel for them," said Robomart CEO Ali Ahmed.
Customers, said Ahmed, will only have to worry about the hailing fee and the cost of any items they purchase. "Even though there's a driver, the windows are tinted and [users] don't interact with the driver. Everything happens through the Robomart app so they're not paying a tip, they're not paying any additional service charges."
For Robomart's West Hollywood pilot, the platform partnered with ghost kitchen company Reef Global, selling snacks like chips and candy. While Reef has attracted $1.5 billion in venture capital funding and struck partnerships with large restaurant chains like Wendy's and Burger King, it's recently run afoul of health inspectors in multiple cities, and failed some food safety inspections according to media reports. Reef will also be Robomart's first out-of-pilot merchant for a series of grocery and snack stores set to expand to the greater Los Angeles area this year.
While Reef used Robomart's snack and pharmacy models in the pilot, Robomart's other models offer different shelving, cooling and storage capacities. Ahmed said Robomart would also be soon announcing "several more merchants" who will try out these models this year.
In the pilot, purchase from order to completion averaged nine minutes and users used the service, on average, two times a week. However, users were invite-only.
This year, Robomart will expand across L.A. and Ahmed hopes to expand to "every major city" in the U.S. "over the next five years."
The trouble with hyper-convenience
With a focus on speedy delivery and app-based service, Robomart operates at the intersection of ride-hailing services like Uber and Lyft and super-fast delivery apps like Gopuff and Gorillas. These models promise the next wave of hyper-fast, hyper-convenient customer service and, in turn, win large investments from venture capitalists before proving profitability.
Dave Marcotte, an svp at Kantar Consulting, said that while the model may appeal to VCs looking for the next big thing in "the current cash-rich environment," VC-backed retail concepts can often fall apart when they move to an actual business model.
"The cost of fuel or re-charging, driver-operator and support infrastructure and supplies means that the product sold has to be either high-price and high-margin like clothes or high-volume and low margin like food," said Marcotte. "It is difficult to get to a business model that can generate the volume needed to attain a profitable ROI, even if the costs drop drastically. "
Ahmed argued that because Robomart has multiple revenue streams, "the model [will be] extremely profitable for us.
"We have a hailing fee from the consumer, we have an ongoing commission and an activation fee to book a Robomart from the merchant, as well as advertising," he added.
Ahmed also pointed to the fact that Robomart's model doesn't require order packing and can thus reach consumers more quickly than delivery services that need to pack consumer orders before heading out.
John Mercer, head of global research at Coresight Research, said over email that the mobile store model wasn't new. Mercer pointed to Moby Mart, an autonomous mobile grocery concept in 2018 that would drive itself to consumers in Shanghai.
"Five years on, the concept is back, this time in both non-discretionary and discretionary retail," said Mercer.
These models may have problems scaling profitably and sustainably. However, Mercer does believe that consumers are looking for more convenience. "For nondiscretionary retailers like grocery and convenience, [the mobile store model] reflects the hyper-convenience that consumers are beginning to expect," said Mercer.
Moreover, during the pandemic, brands and retailers have been increasingly interested in the mobile space and brick-and-mortar concepts with flexibility. Last year, for example, brands like Bonobos and Krewe embraced showrooms-on-wheels. Cuyana, meanwhile, partnered with Toyota's research arm, Toyota Research institute, for a series of quickly-set-up and quickly removable popups. As Covid restrictions ebb and flow and different retail regions of the country recover at different rates, mobile stores offer a sense of flexibility.
Still, Mercer argues the function of a store has evolved over the past few years, and that customers don't care solely about the convenience that a service like Robomart may offer. "[It's] more about experiencing the brand," he said.