Shopify's most recent YouTube integration aims to promote live shopping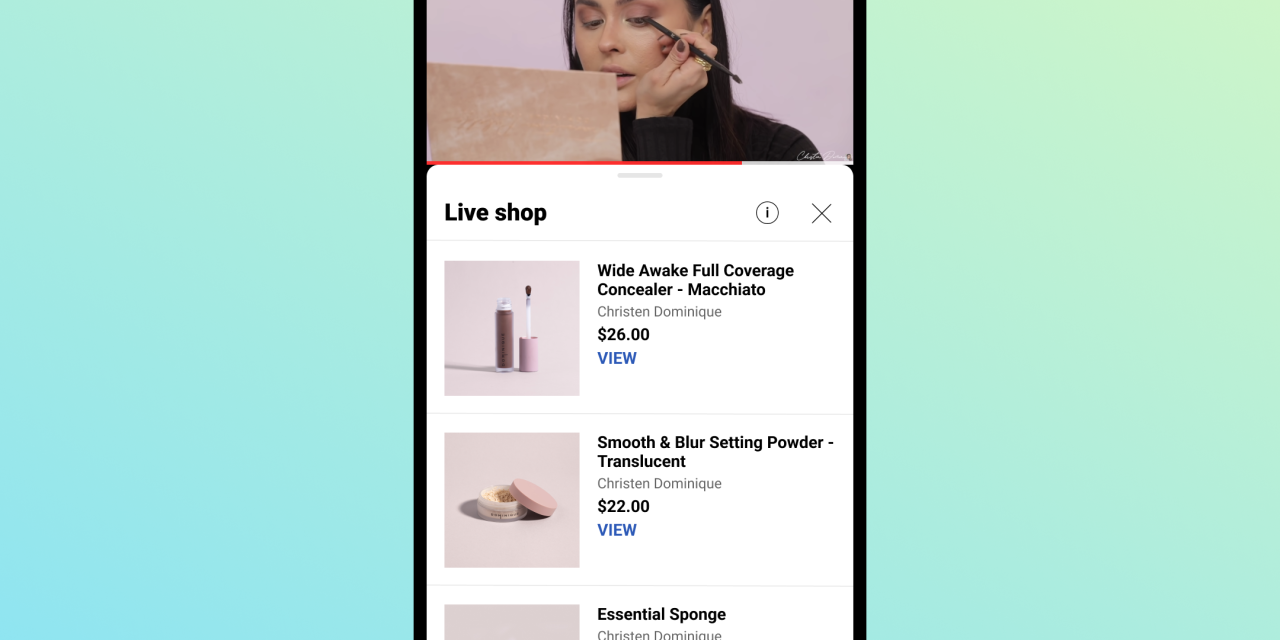 E-commerce giant Shopify on Tuesday introduced YouTube Shopping for merchants in an effort to compete in the lucrative livestream commerce market.
With this new integration, Shopify merchants can sell their full range of products on Youtube in three ways – livestreaming, videos and through a storefront. Sellers on Shopify will now have the ability to tag and pin products at key points during a livestream on Youtube. Every seller's Youtube channel will get a new tab that will display the entire range of its products. And Youtube videos created by these vendors will show a selected collection of their products in a product shelf at the bottom of each video. Merchants will also be able to track performance of these live and on-demand videos directly from their Shopify admin, with a full view of multichannel sales.
"Google is one of our merchants' most important channels in discovering new consumers," said Amir Kabbara, director of product at Shopify in an emailed response to Modern Retail. "Throughout our partnership, we've made continual improvements to the Google channel to streamline the selling process for merchants," he added.
"The new YouTube Shopping integration allows creators and merchants on Shopify to integrate their online stores directly with YouTube," said Kabbara. "Shopify acts as a merchant's retail operation system, which means product information syncs automatically with all sales channels, including YouTube, and that merchants have a unified view of their entire business, from product inventory to orders to customer details," explained Kabbara.
Shopify's Google integrations have evolved over the years from letting merchants set up ads or Google Shopping campaigns directly in the Shopify Admin back in 2018 to getting sellers' products listed on Google's search engine. The Canadian tech giant recently partnered with Google to integrate sellers' products across Google search, maps, images, lens and YouTube. This latest integration adds to that with features like 'onsite check on YouTube' which means consumers can purchase from some Shopify sellers without leaving the platform in the U.S.
Shopify has been trying to crack live shopping and influencer commerce over the last year with a bevy of recent announcements. It introduced its link-in-bio tool called Linkpop in March to monetize social media traffic from influencers. The company is also looking for new ways to invest in building a direct connection with the customer with acquisitions like Dovetale, a software startup that helps brands manage their influencer marketing programs.
These latest moves come at a time when rivals like TikTok have seen dismal sales on livestream and reportedly scrapped plans to expand its live e-commerce initiative in the U.S. and Europe.
Appetite for live shopping is growing, according to a Forrester survey commissioned by Shopify in October 2021. The survey found that 22% of U.S. consumers said they planned to complete a purchase as part of a livestream shopping event this year, up from 13% of consumers who said they had participated in a live shopping event in the last year.
Still, some experts aren't convinced the U.S. will soon adopt live shopping en masse.
"Overall, I think live commerce remains an interesting space for experimentation, but I've seen little evidence consumers actually want to see it." said Juozas Kaziukėnas, founder and CEO of Marketplace Pulse. "YouTube has been trying various shopping experiments for years and they haven't yet figure out how to make them work. So I wouldn't expect too much out of this."
"Amazon is the largest retailer experimenting with live commerce, but its lackluster content is embarrassing and few Amazon shoppers are even aware it exists," said Kaziukėnas. "There are also live commerce focused startups, but they tend to lack the selection of products and it's unclear if there is great demand from users to use separate apps for live commerce," added Kaziukėnas.
Not everyone is as pessimistic as Kaziukėnas.
Nilam Atodaria, global product director at media buying firm GroupM's influencer marketing division INCA expects live commerce to play a bigger role not just for influencer marketing, but in all social media marketing.
"Live shopping done correctly, as it is in large parts of Asia, is going to have a huge impact for e-commerce platforms," said Atodaria. "One of the keys to cracking live shopping is by utilizing influencers who have dedicated audiences and can act as a link between their followers and commerce platforms. That's why we're seeing influencers becoming a key focus for not only Shopify, but also Amazon. I wouldn't be surprised to see other retail giants adopt a similar strategy."
Kaziukėnas, however, isn't so sure that the U.S. is going to have a livestream shopping revolution similar to what happened overseas. "The idea that e-commerce features popular elsewhere can be transplanted into the U.S. is not always true," he added.
"Companies in the West haven't figured out the right formula for content quality, product selection and consumer touch-points to make live streaming work. Either the content is poor, or products are not interesting, or the whole experience lives in a separate app users don't have," said Kaziukėnas.