Earnings
// August 14, 2019 ■ 4 min read
'Shot themselves in the foot': Macy's struggles to wean itself off of steep discounts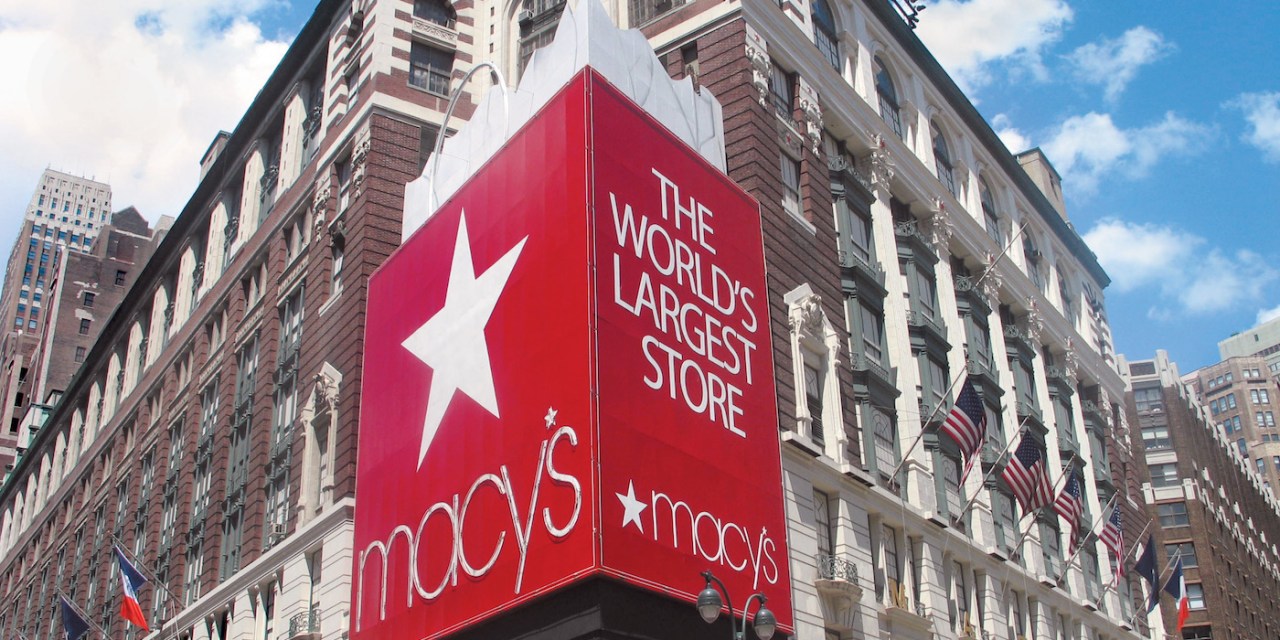 Macy's
As Macy's struggles to par down its inventory, it is turning to steep discounts in order to make way for new seasonal product. The company has said that it believes investing more in data analytics and overhauling its markdown strategy will help it avoid fewer discounts going forward, but analysts believe that its inventory is the bigger issue.
During its second quarter earnings on Wednesday, Macy's reported net sales of $5.55 billion, down slightly from $5.6 billion. But, net income dropped even more steeply, from $166 million during the second quarter of last year, to $86 million during the same time period this year.
CEO Jeff Gennette said in prepared remarks that Macy's "had a slow start to the quarter and finished below expectations," and that the company had to take more markdowns than expected to clear its spring inventory, but it believes it has the right level of inventory in place for fall.
Macy's, like many other department stores, is finding that offering huge amounts of in-store inventory in a wide variety of categories like beauty, home and apparel, is no longer an advantage. As department stores struggle to get ahold of how much inventory they need to carry in the new retail landscape, it creates another problem: until they get a better hold on inventory levels, they often have to rely on steep discounts to clear inventory at the end of the season.
The pressure is on Macy's to figure out a better promotional strategy sooner rather than later, as the threat of additional tariffs could eat into its margins. Additionally, as Macy's adds more Backstage "stores" — discount shop-in-shops that are located within existing Macy's stores, it only heightens the need for the company to give Macy's customers more reasons to pay full price for its items. Macy's now has more than 200 Backstage sections located in Macy's stores, with 47 of these having just opened this year.
"They shot themselves in the foot, because they train the customer to wait for that bargain," Jessica Ramirez, research analyst at Jane Hali & Associates said.
In April, Macy's named a new chief supply chain officer, Dennis Mullahy, who has overseen the testing of what the company calls a new "location-based markdown optimization strategy," which will be rolled out to all stores by the fall. Previously, Macy's divided its stores into one of six zones, and would mark down inventory by zone. Now, Macy's is shifting towards a model where it marks down inventory by store, based on customer demand. Macy's believes that this will better it better avoid more unnecessary markdowns.
CFO Paula Price added during today's call that it was working to simplify its promotional strategy, and investing in analytics to "get better data around the outcomes of our promotions" as well as to offer more personalized discounts to different segments of customers.
But, analysts say that there are broader issues at hand. Neil Saunders, managing director at GlobalData Retail said that Macy's in-store sale sections are often simply too cluttered.
"One of the issues with these areas is that because they are crammed with merchandise, much of it unwanted, it doesn't really drive volumes because customers have to do a lot of work looking through the assortment to find what they want," Saunders wrote in an email.
There are other ways Macy's is looking to improve its inventory assortment by taking on less overhead — last April, it launched a vendor direct program that allows vendors to fulfill and ship products directly to customers. That now makes up about 10% of Macy's e-commerce sales. Last week it announced its Bloomingdale's division was launching a rental service in partnership with Casstle, and today said it is piloting adding resale sections to 40 Macy's stores in partnership with ThredUp.
But, there's still more work to be done. Macy's said today that its women's sportswear private label brand this quarter due to a "fashion miss." Additionally, Price said that Macy's experimented this quarter with "selective price increases in categories like luggage, house ware, and apparel," but that "the customer had very little appetite for these price increases." Saunders attributes this to Macy's not having the right merchandise in place.
"There is a basic fashion and retail flair missing from the business," Saunders wrote.