Stitch Fix to stylists: Accept scheduling changes — or resign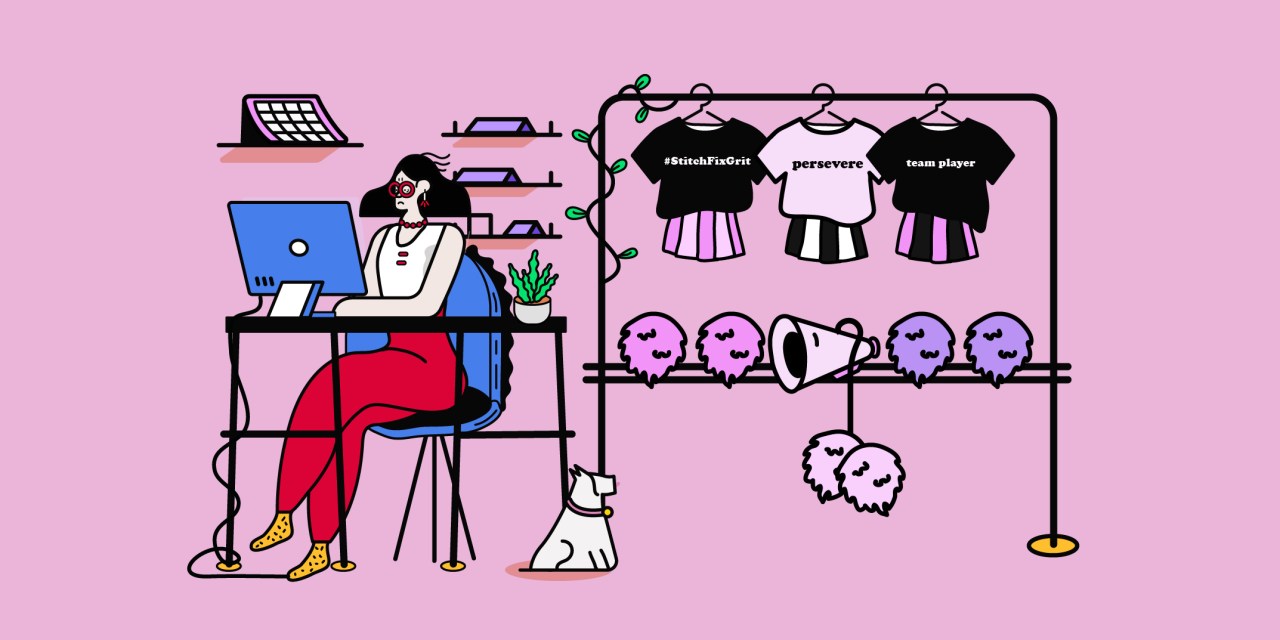 Digital styling service Stitch Fix informed employees yesterday in an internal message that the company would be making changes to when stylists can work. The stylists were told they have to accept in the next two weeks, or resign.
The message was posted yesterday morning on the Thread, an internal messaging system that Stitch Fix uses to communicate announcements to all stylists. Broadly speaking, the changes announced place more constraints on when Stitch Fix are able to work. Stitch Fix has long touted flexibility as one of the biggest selling points for its styling roles — Stitch Fix's application page for stylists states that stylists "love the flexibility to set a work schedule that fits into their daily lifestyle" — an attribute that stylists fear is going away with these new changes.
Stitch Fix had approximately 6,200 stylists as of its most recent quarter, which ended on May 1. Stylists are a mix of full-time and part-time remote employees, who work across the U.S. and the U.K. They are responsible for selecting which clothes a customer receives in a box, with the help of internal algorithms Stitch Fix has developed. The way Stitch Fix's styling service works is customers fill out a questionnaire about their style, which the stylist then uses to send them boxes of clothes, on whatever cadence the customer chooses. Customers send back any items they don't like.
One of the big changes announced this week involved work availability. Part-time stylists have to be available to work a minimum of 20 hours per week, up from 15 — although the number of hours part-time stylists work ultimately work per week is determined based on "demand and other business needs," read a message in The Thread.
All stylists can also now only work from 8 a.m. to 8 p.m. in their local time zone. Additionally, all stylists now have to submit a schedule that dictates exactly which hours in a day they will work. Previously, a stylist could say, for example, that they would work three hours on Tuesday, and determine that day which three hours they would work. Now, stylists are required to say in advance exactly when they will be working each day.
Stylists have to "comply with the new availability and scheduling expectations" effective August 15, the company told stylists. "Hourly Styling employees unable to adopt these new expectations, or who do not want to, will have the option to take a voluntary exit payment of $1,000 (pre-tax) if they resign and sign a release."
However, the message also read: "We may cap the number of voluntary exit payments available if the number of employees taking the exit payment option seems to be resulting in more resignations than the company can absorb."
These changes have resulted in, according to three current stylists Modern Retail spoke with, confusion about who will ultimately be eligible to receive these voluntary exit payments. In response to a list of questions, a Stitch Fix spokesperson did not say exactly what the cap is on voluntary exit payments. But, the company framed the changes announced yesterday as ones that would make it easier for stylists to work on customers' preferred timelines.
"Our Stylists are instrumental in building relationships with clients and creating the highly personalized experience Stitch Fix is known for. Like any company, as our clients' needs evolve, we continue to look at ways in which we can better serve them," a Stitch Fix spokesperson told Modern Retail:
The statement went on: "We recently made some updates to our styling operations which will allow us better align with when and how clients will most likely want to connect with their Stylist, now and in the future, as we expand our portfolio of styling services alongside our much-loved Fix experience. These changes, made in conjunction with our broader future of work plans, also support our DEI efforts and allow us to grow our teams in new markets and in new ways."
How the stylist role has evolved
Stitch Fix has been making significant changes to where and when its stylists work for the past year. As Modern Retail reported in June 2020  Stitch Fix laid off the majority of its 1,400 California-based stylists, as it became "too expensive and complex" to operate in California, according to the company's then-vice president of operations. The company still employs a small number of full-time stylists in California, and earlier this year. This year, Stitch Fix also moved away from a city-based hiring model for its styling role, and instead towards a "multi-state regional hiring model," in which it would make a certain number of stylist jobs available in a handful of regions, such as the Midwest
Throughout the coronavirus pandemic, stylists also expressed frustration with the number of hours they could work per week being capped at times, due to inventory constraints.
Earlier this summer, the company announced that part-time stylists would temporarily not be allowed to work Sundays and Mondays. That was due to "some effects on the overall efficiency of warehouse operations."Stitch Fix was experiencing as it shut down a warehouse in San Francisco, while it got another one up and running in Salt Lake City. Stitch Fix told stylists the change would be in effect through the summer, but did not give an exact end date.
During its fiscal third-quarter earnings, reported at the beginning of June, Stitch Fix reported net revenue of $536 million, up 44% year-over-year. Active clients totaled 4.1 million, up 20% year-over-year. In April, Stitch Fix also announced that Katrina Lake would be stepping down as CEO, with president Elizabeth Spaulding taking over the top job in August.
For stylists, the changes announced yesterday are representative of one of many ways that Stitch Fix has tried to exert more control over the stylist role in recent years. Many of these changes have come after Stitch Fix went public in 2017. As a public company, Stitch Fix faces greater pressure from investors to increase profits and revenue growth — which stylists say has changed the work atmosphere over the last few years.
In response to yesterday's announcement, two stylists told Modern Retail that they already had or would be resigning, while one said that they hadn't made a decision yet. All said that, at times, they worked outside the hours of 8 a.m. to 8 p.m. for a variety of reasons: one, for example had another full-time job, while another said that she sometimes preferred to work before 8 a.m. because it was easier to do it before her children woke up.
"I was already going to leave — and this pushed me over the edge," one of the stylists who was resigning told Modern Retail.
"[Stitch Fix] is not allowing people to have the flexibility that they actively promote this job to [have]," said another stylist who was resigning. "It's really hitting home that we are expendable."