The Airbnb of retail: Why DTC furniture startup Outer uses customer homes as showrooms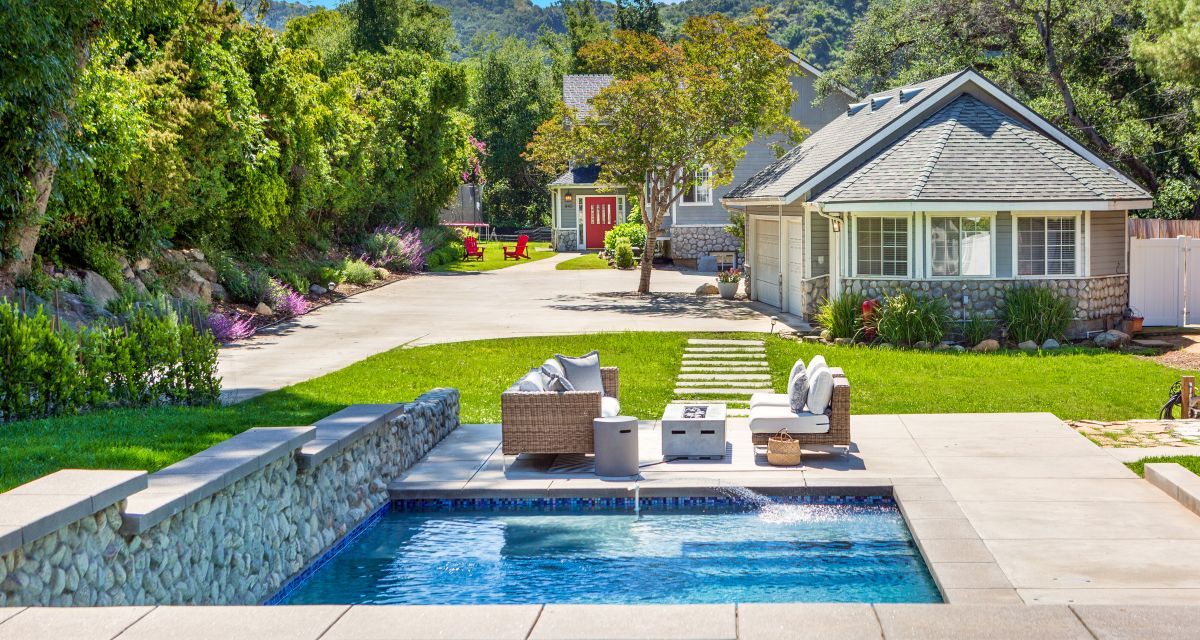 Retail companies often like to say that customers are their best spokespeople. Direct-to-consumer startup Outer is taking that literally.
The outdoor furniture company pays its customers to turn their backyards into "showrooms," which prospective new shoppers can check out as they're deciding whether or not to buy a sofa or a rug from Outer. It's something that Santa Monica-based Outer has done since launching in mid-2019, but 2020 was the year in which Outer started to prove that its model has traction. The company did more than $12 million in sales in 2020, compared to roughly $1.1 million in 2019.
According to the company, its showroom model was critical to achieving this revenue growth. Eighty percent of customers interact with showroom hosts in some way before buying, Outer co-founders Jiake Liu and Terry Lin told Modern Retail. Outer currently has about 500 showrooms in 49 states, but hopes to up that number to 1,000 by August 2021 — thanks in part to $10.5 million in fresh venture capital funding that the company announced this week. Investors include Sequoia Capital China, Mucker Capital, and angel investors like Harry's co-founders Andy Katz-Mayfield and Jefferey Raider.
Liu and Lin said they haven't ruled out opening retail stores in the future. It's clear that at least right now, the showroom model is cheaper than if Outer decided to open its own locations, as Outer doesn't have to pay costs like rent. This quasi-gig economy-like model, however, has pitfalls. Namely that as the company scales, it will increasingly rely on this customer-provided labor — meaning that it will have less control over the interactions customers have in showrooms. If customers or hosts have too many negative experiences, Outer could face more calls to take a greater role in how the two groups interact with one another, or to give more protections and benefits to hosts.
Turning customers into hosts
The showroom model has one big benefit: it allows Outer to expand more quickly than if it was just looking for storefronts to rent. It was even able to do this during the pandemic by offering prospective customers the option instead to talk with showroom hosts over Face Time or phone.
"For what we were trying to do — which is [sell] a higher AOV item, and from a brand that's not that well known — we knew the see, touch and feel was really important, and opening one store would not actually help us with where we were going," said Lin. An Outer loveseat starts at $2,400, while an eight-piece outdoor sectional runs for $8,995.
Customers apply on Outer's website to become a showroom host, and in exchange, get 10% off their next order, whether or not they are ultimately selected as a host or not. In order to get approved as a host, people are required to have previously purchased from Outer (or, wait until the product is shipped to them) and pass a background check. Shae Varholak, Outer's community and partnerships manager, said in an email to Modern Retail that hosts also go through a phone call with one of the company's showroom community managers before meeting with customers.
From there, approved hosts are encouraged to send photos of their space to Outer, which are then published on the company's website. They are also asked to write a profile description of themselves and their space. "If you are in Palm Springs, where it's really hot and dry, how does the furniture hold up to 365 days of sun, compared to if you are on the East Coast and have four seasons?" said Lin. "We want customers to see what our furniture looks like over the course of a month, six months, a year."
Potential new customers can then set up a time on Outer's website to speak with a showroom host via video, phone, email or text about what they like about the product. (Most in-person visits to showrooms are still suspended due to coronavirus concerns, though Outer plans to resume in-person visits later this year.) Outer tries to match potential new customers with a showroom host in their area, as well as with one that has the exact product or fabric color they're interested in.
Outer hosts are paid $20 to $50 per visit — Liu said they're constantly experimenting with what to pay hosts — regardless of whether or not the customer ends up buying from Outer. That's because Liu said they didn't want customers to feel like they were talking with a "very pushy salesperson."
Rebekah Kondrat, founder of consultancy Kondrat Retail and former director of retail stores at furniture startup Joybird, said that while she's previously heard of furniture companies try to strike deals with hotel lobbies or other public spaces to get their furniture displayed there, she's never heard of a furniture company paying customers to turn their backyards into showrooms, like Outer is doing.
"In furniture, the number one desire of the customer is to see what it looks like in their space," said Kondrat. While other furniture companies have tried to rely on new technology like augmented reality to help them visualize what a couch or chair might look like in their room, Outer's model comes closest to doing that in the real world. "I think it's a brilliant idea," she added.
However, by relying on its customers instead of trained employees, Outer also gives up some control over what a customer's first interaction with their product is. The issue then, Kondrat said, is that Outer might lose a sale because a customer doesn't like how a host styles the furniture, or they don't like the host themselves, and "it has nothing to do with the furniture company or its quality," she said.
The Airbnb model meets retail
In some ways, Outer has more in common with gig economy startups like Airbnb and Uber, rather than other retail companies. "Outer provides an online platform that allows individuals to purchase Outer-branded merchandise," the company's terms of service states. Showroom hosts are also classified as independent contractors, rather than employees. "Any showroom appointments will be made or accepted at a user's own risk," though the terms of service also lays out conduct expected of users, including that they cannot stalk or harass any other Outer user, or use the platform to promote any violent or discriminatory content.
When asked how they would handle any conflicts that they arose between customers and hosts, Liu and Lin said that they ask customers and hosts after each visit to rate their experience, and that they can pull a host off of the platform for any reason. The company added that it has not yet had to kick a host off of the platform.
Liu also said he believes that their host and customer base tend to be "self-selective." He added, "the fact that they are looking at Outer in the first place, means that they probably have higher disposable incomes." 
It's a line that other gig economy companies have used variations of before. "The vast majority of our community members genuinely respect and protect each other," Airbnb CEO Brian Chesky wrote in 2014, after one of the first high-profile incidents of an Airbnb hosts' house getting trashed. But, as the evolution of startups like Airbnb, Uber and Lyft have shown, as startups that rely heavily on independent contractors scale, they often have to continuously evolve their terms of service in response to new incidents — for example, Airbnb developing a new non-discrimination policy in response to incidents of hosts cancelling on Black users at the last minute.
"We don't hold anything sacred here," said Liu, and that the company will continue to evolve its showroom approach as it grows. The company's also not opposed to opening its own retail stores later down the line. Outer recently started displaying its products in Neighborhood Goods' Plano, Texas store, for example. 
Another added benefit of the showroom approach, is that Outer can collect more data on where their most potential new customers are, more quickly.
"Imagine all of our showrooms as buoys in the ocean," said Lin. "And depending on how much activity is happening that gives us a signal…that maybe we open a store [there]." 
Photo courtesy of Outer.