Q&A
// June 9, 2021 ■ 3 min read
'The goal is to make it accessible': Godiva's president of the Americas on new wholesale direction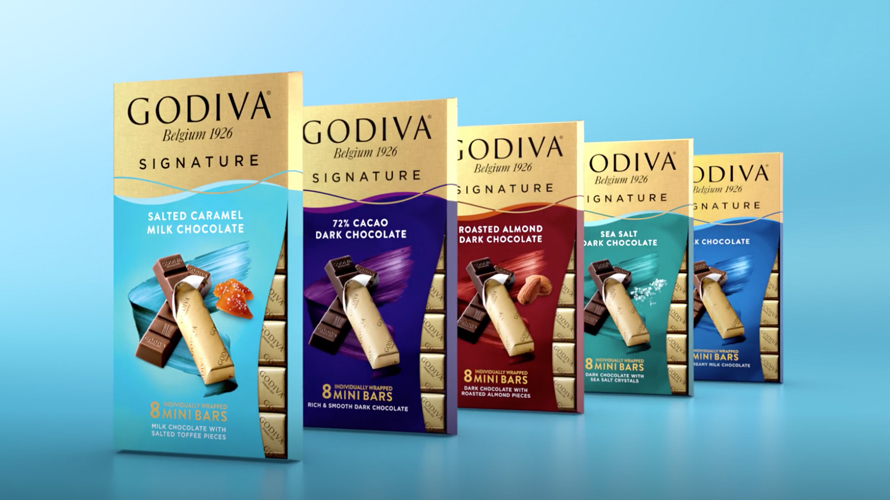 Image via Godiva
Since announcing the closure of all 128 of its North American boutiques, Godiva has ramped up its other sales channels. Specifically, the chocolate maker has shifted focus from cafes to online and wholesale sales. 
Now, the 95-year-old company is aiming to make its premium chocolates more accessible to customers, said Caroline Le Roch, Godiva's president of the Americas. The strategy for this market will be to make products available where consumers shop regularly. This includes big-box stores, grocery stores and pharmacy chains. In the past year, Godiva has launched wholesale partnerships with retailers like Target, CVS and Walgreens, along with strengthening existing ones with Barnes & Noble and Macy's.
Le Roch spoke to Modern Retail about the company's retail pivot and its newfound e-commerce ambitions. This interview has been edited for length and clarity. 
Earlier this year, Godiva closed all standalone stores and cafes in the North American market to focus on CPG. How has the strategy unfolded?
Our boutiques' traffic were already declining despite ongoing activations, so we made the bold move to close them in this market. For CPG, our focus is heavily on brick and mortar. So we needed to develop products for both e-commerce and the retail partners, such as the new mini bar formats. We also have to decide which products and price points work best for each channel. Our decisions are based on consumer insight, which shows that the best move is to extend our distribution.
Consumers know Godiva, but in the past thought of it as a special occasion or gifting brand. The goal is to make it accessible enough to be an everyday purchase. 
As a high-end brand, in the past you focused on selling at department stores and gift shops. How does the new strategy expand your retail presence?
We are premium and have a certain image we want to maintain. However, we're still able to create SKUs that cater to certain price points without compromising quality. We've had to ask our chocolatier team to embrace the changes. This includes adding a wider range of SKUs, featuring products for both retail shelves and online delivery.
The reallocation of resources from our stores to other channels is paying off, and we're already already seeing double digit growth in both brick and mortar and CPG, which grew 35% year-over-year as of April. 
How does e-commerce play into this new direction?
Our online presence has always been a priority, but Covid really highlighted its importance. Amazon is a key partner, as well as Macy's and Costco's websites, where we've implemented dropship. On our own site, we're trying to make the user experience, such as checkout, easier to navigate. We're also ramping up email marketing and search, including both generic and branded key terms.
Our e-commerce channel — which is a combination of our own website and partners' sites — grew 22% year-over-year as of April.
What are some of the challenges and learnings from the past year?
It's a bold move, and we've asked our employees to be agile in order to implement the new strategies. Some of the challenges have been in the sourcing of material and shipping. For example, we've invested in packaging, like gel packs, to ship chocolate to our e-commerce shoppers.
All this comes at a great cost. But the biggest learning is that there is a big appetite for our products, so we have opportunities to evolve beyond a luxury brand.