Q&A
// January 7, 2021 ■ 7 min read
Thinx CEO Maria Molland: Wholesale is a 'stamp of approval'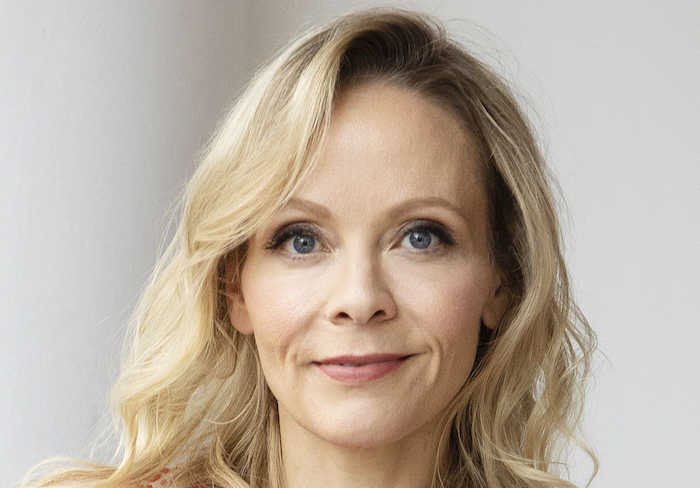 Since taking over as CEO of Thinx in 2017, Maria Molland has sought to turn the startup — and subsequently the period underwear category — from a niche player into something that's at home on the shelves of mass-market retailers. When Molland joined the company, Thinx was most known for battling the MTA over its subway ads and the high-profile departure of founder Miki Agarwal.
To bring about this change, Molland has started to invest more in traditional advertising, running the company's first TV ad in 2019, as well as expanded its wholesale presence. Thinx products are now available for sale in Nordstrom and Selfridges, a U.K. department store, as well as on Amazon. Thinx's products are also FSA-eligible, meaning people who have a Flexible Spending Account can put their dollars towards purchases of Thinx' products.
Of course, like over other startup, the coronavirus pandemic threw a wrench in Thinx's plans. The company had to postpone a May sale until later in the summer, in order to conserve inventory. It also had a small round of layoffs in the spring. Still, Thinx is closing 2020 with close to $80 million in revenue, and ended the year profitable.
Molland spoke with Modern Retail about Thinx's 2021 plans — she said the company plans to add a "mass-market" wholesale partner, and introduce more lower-priced products. She also discussed how Thinx plans to ward off competitors; though Thinx was initially a pioneer in the period underwear category when it launched in 2013, it now has to contend with a handful of competitors including Knix, Ruby Love and TomboyX.
This interview has been edited for clarity and length.
At the beginning of the year, how were you planning to expand the business, and did the pandemic upend it at all?
We've been spending a lot of time around product education. Convincing consumers that they should try something new is a challenge, and especially when they are not sure if product is going to work, and there is high reticence to try something that may potentially leak in a public setting. So we've been focusing on product education — we did over 300 new video ads in 2020, and 200 still ads, and a lot of iterations around what messaging is working, what creative is working. That built upon a TV campaign we did the year before.
Because of Covid — people were at home, and so there's less concern about trying a new product. So what we've seen is people adopting the product a lot faster. 
What type of messaging and ads have you found works for new customers to convince them to try the product?
A lot of it is around just how the product works, and how to wash it. Again we iterated a ton on both video and static ads to focus on that. Sustainability is a huge chunk of why people buy it, but it comes second.  In 2019, we did our first TV ad, it was more of an awareness campaign. Then we followed that up with online product education ads — people would come to our site and we would retarget them with the product education ads. Now, we just launched in late November another very product-focused TV ad that we are testing in various channels through Tatari. We are scaling that up this year, and will be be spending a lot more on TV.
Our website traffic in 2020 was actually down relative to the year before, partly because in 2019 we did that TV campaign, which brought a ton of traffic. But our conversion rate was way, way up — literally double. I think it's attributable to a few things things. One, we had greater brand awareness because of the TV ad; two, we had more product education ads, so people who were more willing to try it because they understood it. And I think third, because you are sitting at home wanting to try new things, there's less risk associated with trying a new product that you are potentially worried might have a leak in a public place. So all three of those things I think contributed to greater conversion rate.
Adding new wholesale partners seems to have been a focus for Thinx the past couple of years — what do you think the benefits of wholesale are for your brand?
Unlike a lot of other product categories, women still buy feminine hygiene products in mostly mass-market retail — so within Target, CVS. We knew we need to be in those areas. On top of that wholesale — especially premium wholesale — has played a role around brand awareness for us. For a product category that is unknown, they are looking for brands like (Nordstrom or Selfridges) to give their stamp of approval.
How did the pandemic impact your wholesale business?
The wholesale business has been just tremendous. Now for some of our premium wholesale partners, like Nordstrom or Selfridges, a lot of the growth was from online. And a lot of the (exclusively) online channels within wholesale performed incredibly well, like Amazon and the FSA store.
We saw our wholesale accounts grow internationally as well —  we really look at wholesale as a way of getting our brand out there and being top of mind in international markets, because we don't do local advertising there.
This has always been our strategy is that we started out with premium wholesale, with the goal of moving towards mass-market retail once we had a range of different prices across our assortment. It has always been the plan to launch in early 2021 to mass retail, and so that's what we are going to be doing.
What are your other plans for 2021?
We are moving into a broader product assortment across lower-price point, mid-price point, and higher-price point. There's some product innovation that we're doing to get the price points lower. Secondly, we're going to be launching some additional product lines, like activewear — which is actually launching next week.
We're creating a more flexible supply chain, and that means adding a new manufacturer. We're going to be doing that in November, and then we're adding a lot to our warehouses around the world.
Lastly, bringing in a lot more people that will enable us to grow and have the experience to get us to the next stage. Over the last two years we've been so focused on product market fit. Now, we are 'like how do we scale this thing as fast as possible,' because of more competition coming in and a lot more investment is coming into this space. 
Thinx has been around since 2013 — are you starting to think about an exit? We have written a lot about the IPO market for consumer startups, if companies are considering SPACs, how is Thinx thinking about an exit if at all?
We're doing incredibly well, and we have a goal to get to $500 million in another four years, and I believe we can get there on our own without having to exit or bring in a large strategic partner that potentially runs the company more than us running the company. We will raise more money, because the competition is increasing dramatically, and so in order to stay out in front we need to take more money and apply it to the things we've learned.
We did take strategic money last year in September 2019 from Kimberly-Clark — they are the markers of Kotex, and have a very big global brand. There is more we can do there from a a partnerships perspective. I have looked at the SPAC market — I feel like you need to be a much bigger company. It might be something down the road, but not in the near future.